Cryptos and Equities Tumble Amid Covid Resurgence: Markets Wrap
However, stocks less impacted by lockdown restrictions made decent gains, Etsy, the online craft marketplace, jumped 7% intraday.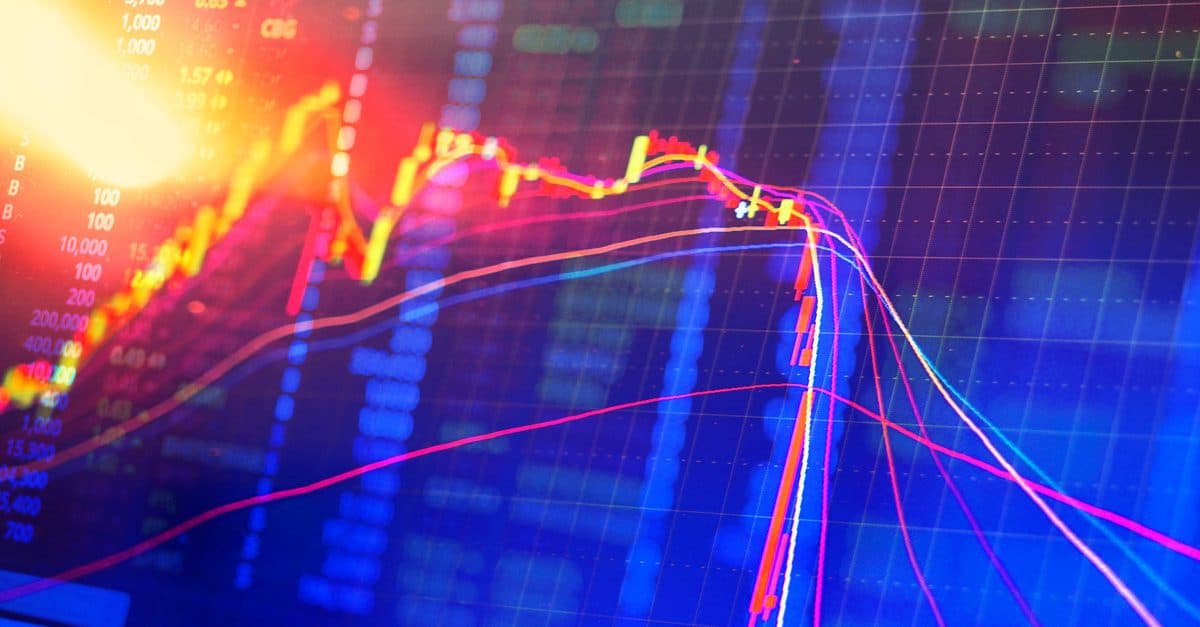 key takeaways
Robinhood said bitcoin was its most traded cryptocurrency in 2020.
American Airlines Group and Occidental Petroleum both fell around 5%, respectively.
Wall Street indices slumped on Monday as wary investors accessed looming inflationary pressures and fears over rising Covid cases.
The Dow Jones Industrial Average dropped nearly 900 points intraday, its biggest hit since October. The broad string of sell-offs also hit the tech-heavy Nasdaq Composite which fell more than 1% in the morning. Travel and energy stocks took the biggest hits. American Airlines Group and Occidental Petroleum both fell around 5%, respectively. All major gauges closed in the red.
However, stocks that are less impacted by lockdown restrictions made small gains, including Etsy and supermarkets like Kroger. The online craft marketplace was up around 7% intraday. 
Equities
The Dow was down to 34,687, shedding -0.86%
S&P 500 fell -1.59% to 4,258
Nasdaq declined -1.06% to 14,274
Bitcoin and ethereum followed suit. Despite many coining bitcoin as a hedge against inflation, the cryptocurrency continued to fall with US stocks on Monday. Many suspect pandemic restrictions or inflation to be spooking investors. The slide in crypto comes a week after Federal Reserve Chair Jerome Powell said a centralized digital currency would be more viable than several cryptocurrencies.
Crypto
Bitcoin is trading around $30,742.33, shedding -3.42% in 24 hours at 4:00 pm E
Ether is trading around $1,820.36, down -4.90% in 24 hours at 4:00 pm E
ETH:BTC is at 0.059, down -0.55% at 4:00 pm E
VIX jumped 21.95% to 22.50 at 4:00 pm E
Insight
Junaid Ghauri, CIO of Pareto Technologies, weighed in on the history of correlation between major equities and bitcoin.
"If you track the history of bitcoin's correlation, you'll find as the market capitalization grows, it also increases correlation with traditional assets as well at times. That's happening because of institutional participation, particularly speculative institutional participation," Ghauri told Blockworks. "A lot of these guys have mandates that are very similar across the board. They'll deploy a similar type of arbitrage or marketing strategy with US equities as they will with bitcoin. Once you have these guys who are already making markets and traditional markets get involved in crypto markets, that ends up driving up correlation. They end up treating bitcoin like risk-on and risk-off metrics very similar in terms of their engagement with bitcoin relative to US equities."
OPEC+ drama subsided as the alliance agreed to raise production following infighting between Saudia Arabia and the United Arab Emirates. Oil prices fell on the news. However, lumber shot up 6%.
Commodities
Brent crude is down to $68.67 a barrel, falling -6.69%
Gold was little changed, down -0.10% to $1,813.10
Fixed Income
U.S. 10-year treasury yields 1.197% as of 4:00 pm ET
Currencies
The US dollar strengthened 0.15%, according to the Bloomberg Dollar Spot Index
In other news…
Robinhood said bitcoin was its most traded cryptocurrency in 2020, according to an amended S-1 form on Monday. Bitcoin scored over $54 billion in daily average market volume in Q1 of this year. Although crypto accounts for 17% of Robinhood's revenue, the company warns investors that the trading frenzy may soon slow down.
We're watching out for…
US existing home sales will be on Thursday.
European Central Bank rate decision will be on Thursday.
The Tokyo Summer Olympics begin on Friday.
That's it for today's markets wrap. I'll see you back here tomorrow.