Equities Plunge on Debt Ceiling Concerns; Major Cryptos Tumble: Markets Wrap
US stocks slides as the S&P 500 posted its biggest sell-off in four months.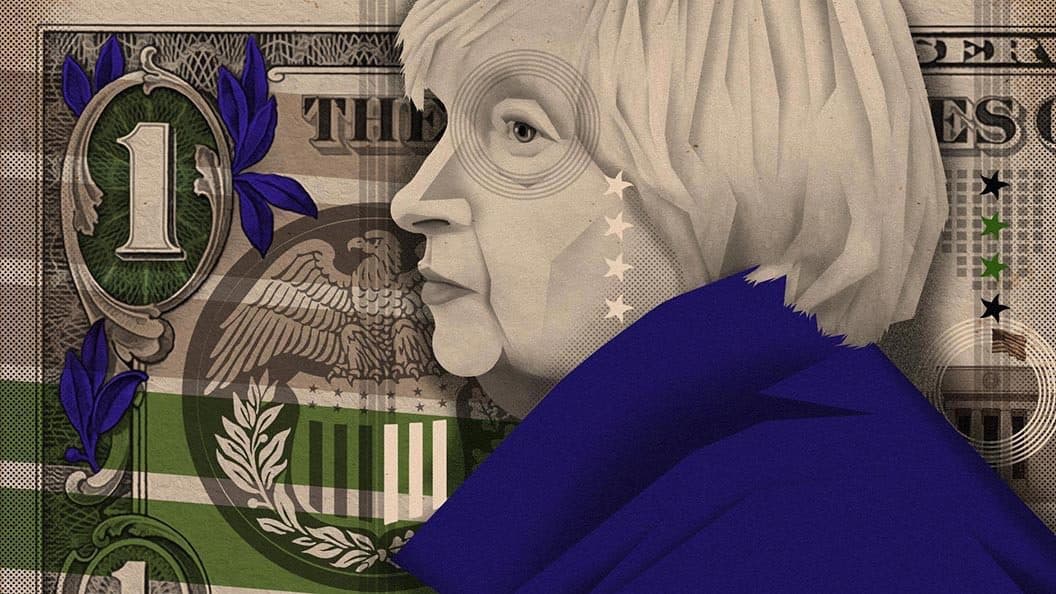 BLOCKWORKS EXCLUSIVE ART BY AXEL RANGEL
key takeaways
$UNI has advanced nearly 9% on-day
Brent crude surged to an almost three-year high on Tuesday morning to $80.15 per barrel
Investors allocated capital away from riskier assets on Tuesday as Treasury Secretary Janet Yellen warned of "catastrophic economic consequences" if the debt ceiling is not raised in the coming weeks. Following Yellen's remarks, the S&P 500 posted its biggest losses in four months.
"It is imperative that Congress swiftly addresses the debt limit. If it does not, America would default for the first time in history," Yellen said to the Senate Banking Committee. "The full faith and credit of the United States would be impaired, and our country would likely face a financial crisis and economic recession."
All major Wall Street gauges closed in the red on the debt ceiling news as bond yields rise in value.
Equities
The Dow declined -1.61% to 34,308.
S&P 500 was down -2.04% to 4,352.
Nasdaq declined -2.85% to 14,549.
Major cryptos fell on Tuesday. Bitcoin and ether are both down, shedding 14.83% and 12.24% on the month, according to Messari. The total crypto market capitalization continues to slide, declining 6.02% on-day.
In a sea of losses, $UNI advanced almost 9%, as of press time. The token is ahead 25.48% in the past month, notching its place as the 11th largest crypto by market cap.
Decentralized exchange tokens like $UNI surged on Monday following regulatory comments from the People's Bank of China on cryptocurrency transactions. Despite hitting a month-low over the weekend of $17.63, the token reached an intraday high of $25 on Tuesday.  
Crypto
Bitcoin is trading around $41,658.34, declining -3.15% in 24 hours at 4:00 pm ET.
Ether is trading around $2,849.64, down -3.6% in 24 hours at 4:00 pm ET.
ETH:BTC is at 0.068, declining -1.69% at 4:00 pm ET.
DeFi
Terra ($LUNA) is trading at $34.14, down -11.6% and trading volume at $1,198,789,950 in 24 hours.
Uniswap ($UNI) is trading at $24.14, advancing 8.7% with a total value locked at $4,103,738,048 in 24 hours at 4:00 pm ET.
DeFi:ETH is 34.3% at 4:00 pm ET.
Elsewhere, Brent crude surged to an almost three-year high on Tuesday morning to $80.15 per barrel. Later, the commodity simmered down, shedding 1.26% to $78.53 in the afternoon.
Commodities
Brent crude was down to $78.53 per barrel, declining -1.26%.
Gold fell -1.06% to $1,733.
Currencies
The US dollar strengthened 0.4%, according to the Bloomberg Dollar Spot Index.
Fixed Income
US 10-year treasury yields 1.541% as of 4:00 pm ET.
In other news…
Genesis Global Capital and Akuna Capital completed the first over-the-counter block trade of a basis trade at index close transaction on Chicago Mercantile Exchange bitcoin futures contracts, Blockworks reported. Announced on Tuesday, investors can now lock in exposure to bitcoin reference rate, also called BRR. BTIC has been commonly used in equities markets, but this is the first that BTIC has been made available for cryptos.
We are looking out for
House Financial Services Committee hearing on the Treasury's pandemic response on Thursday
University of Michigan consumer sentiment data will be released on Friday
That's it for today's markets wrap. I'll see you back here tomorrow.
---
Are you a UK or EU reader that can't get enough investor-focused content on digital assets? Join us in London on November 15th and 16th for the Digital Asset Summit (DAS) London. Use code ARTICLE for £75 off your ticket. Buy it now.
---