Paul Tudor Jones' Tudor Group Reportedly Working on Digital Disruption Fund
Paul Tudor Jones has previously endorsed bitcoin and Ethereum, two forms of digital disruption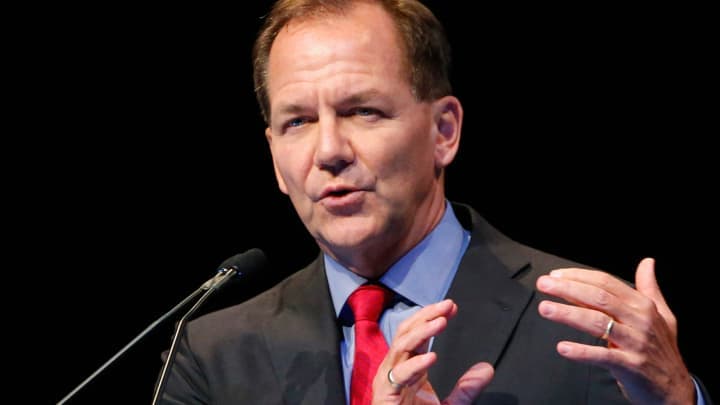 Paul Tutor Jones, founder and CIO of Tudor Investment Corp.
key takeaways
Reports from Bloomberg say that Paul Tudor Jones' Tudor Group is working on a digital disruption fund that likely has a crypto angle
Tudor Group has declined to comment
Bitcoin reminds billionaire fund manager Paul Tudor Jones of undervalued internet stocks of 1999. Now reports from Bloomberg say that Jones' Tudor Group is setting up a digital disruption fund that will likely have a crypto angle. 
"Bitcoin reminds me so much of the internet stocks of 1999 because the internet was in its infancy. No one knew how to value it because of the world of possibility that lay ahead. What you can be certain of is that probably 20 years from now, our kids and grandkids, whatever, all of us, we'll be using some type of digital currency. Digital currency will be used by every sovereign," Jones said during a December 2020 interview with Yahoo Finance. 
In addition, Jones has likened cryptocurrencies such as usable industrial metals such as "copper, platinum, and palladium." In order to access the growing, disruptive world of things like decentralized finance, Jones argued, you need Ethereum, an "industrial digital asset". 
When reached for comment, the Tudor Group declined Blockworks' invitation to speak more on the subject. 
Blockworks sources at the group confirmed the fund but could not share details on the record.
During a June interview with CNBC, Jones said he likes bitcoin as a portfolio diversifier to protect portfolios amid the uncertainty of potential actions the Federal Reserve could take.
"The only thing I know for certain is I want to have 5% in gold, 5% in bitcoin, 5% in cash and 5% in commodities at this point in time," Jones is quoted as saying. "I don't know what I want to do with the other 80%. I want to wait and see what the Fed's going to do because what they do will have a big impact."
Jones personally has been an active investor in crypto infrastructure, participating in FTX's $900 million round that valued the exchange at $18 billion.
According to 13F filings, Tudor Investment Corp, Jones' eponymous fund owns approximately 6500 shares of Riot Blockchain, worth around $248,000, 15,000 shares of miner Marathon Digital, worth approximately $479,000. As of last quarter, the fund doesn't hold shares of Coinbase or Galaxy Digital, two of the more prominent publicly listed crypto companies.
The price of bitcoin continued climbing on the news, up 5% in the last 24 hours and is currently at $49,600 according to CoinGecko. 
Want more investor-focused content on digital assets? Join us September 13th and 14th for the Digital Asset Summit (DAS) in NYC. Use code ARTICLE for $75 off your ticket. Buy it now.