Andrew Yang Would Support a Dedicated Digital Asset Regulator
Former presidential and NYC mayoral candidate says it is "natural impulse" of agencies like the SEC to stifle innovation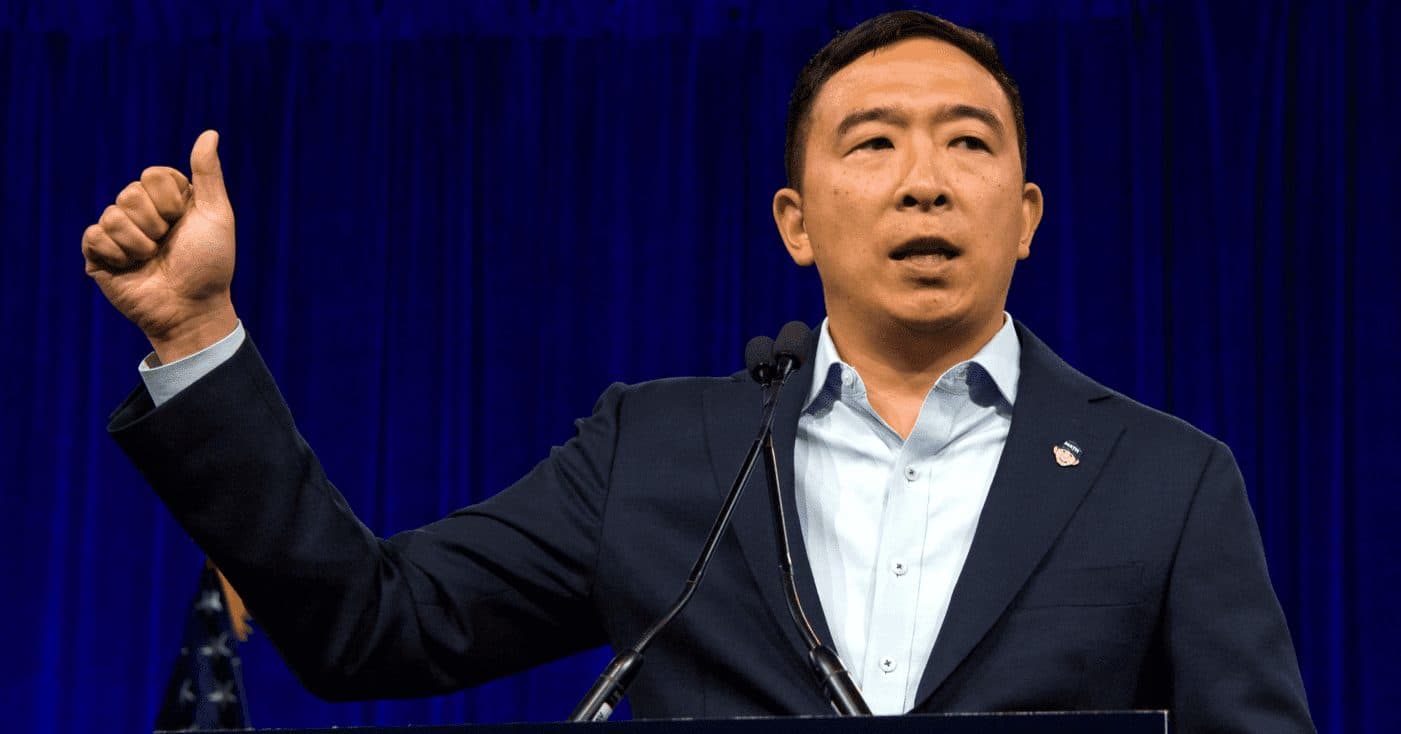 Andrew Yang; Source: Shutterstock
key takeaways
Crypto and decentralized finance "has the potential to be one of the most dramatic and significant episodes of value creation in the history of the world," Yang said
Congress setting up a new crypto regulator is "conceivable", according to attorney Daniel Payne
Former presidential and New York City mayoral candidate Andrew Yang said he is in favor of a regulatory agency exclusively focused on crypto, noting that the current regulators naturally look to stifle the growing space.
Yang, who left the Democratic Party to start the Forward Party, said during a Twitter Spaces on Thursday that he would support having a new regulatory agency dedicated to crypto instead of those such as the US Securities and Exchange Commission (SEC). 
"That would be a very, very big step forward to have dedicated regulators who aren't from what you consider the older investment [world] trying to regulate some of these new digital currencies and associated products," he said during the interview, which was hosted by Toroso Asset Management Portfolio Manager Michael Gayed.
Officials at the SEC, for example, are focused more on risk than innovation, Yang added, noting that people at those types of agencies have a "natural impulse" to shut down what might be unfamiliar.   
"The task has to be to try and manage that impulse, so they don't do anything asinine or destructive," Yang said. "I'm a huge fan of decentralized finance and cryptocurrency, in large part because it has the potential to be one of the most dramatic and significant episodes of value creation in the history of the world."
An uncertain regulatory landscape
SEC Chairman Gary Gensler has said in recent months that cryptocurrency companies and exchanges will not be able to operate outside of regulatory oversight much longer.
Gensler has also compared stablecoins — cryptocurrencies that aim to peg their value to an external reference, such as the US dollar — to "poker chips at the casino."
The SEC has rejected the proposals of fund managers to launch ETFs that would invest directly in bitcoin, despite regulators approving such offerings in Canada, Brazil and Europe. The US agency has, however, allowed products that invest in bitcoin futures contracts trading on the Chicago Mercantile Exchange (CME), which is regulated by the US Commodity Futures Trading Commission (CFTC). 
The US Department of the Treasury's Financial Stability Oversight Council released its annual report on Friday, which urged federal and state regulators to "continue to examine risks to the financial system posed by new and emerging uses of digital assets." The report adds that the council will further assess potential risks of stablecoins.
Executives at various crypto companies testified before the House Financial Services Committee earlier this month, urging lawmakers to consider how the current lack of regulatory clarity around the crypto space could push innovators to other countries.   
Dedicated crypto regulator 'conceivable'
Congress passed the Dodd-Frank Wall Street Reform and Consumer Protection Act in 2010, and President Barack Obama signed it into law. The act created the Consumer Financial Protection Bureau (CFPB) in an effort to consolidate the consumer protection powers that had historically been scattered across the federal government.
"Given Congress set up the CFPB not too long ago and the calls for regulation of crypto are growing louder, it is entirely conceivable that Congress could set up a new crypto regulator," Daniel Payne, a fintech and blockchain attorney at Murphy and McGonigle, told Blockworks. 
Despite Yang's call for a separate agency to handle crypto regulation, SEC Commissioner Hester Peirce said during a virtual Bloomberg Financial Innovation Summit last month that regulation around digital assets has been slow in part because there are several governing bodies fighting for jurisdiction. 
She questioned at the time whether adding another regulator would be a good idea. 
Emilie Choi, the president and chief operating officer of cryptocurrency platform Coinbase, said during a Bloomberg-hosted webinar on Wednesday that though the company has embraced working with the dozens of regulatory agencies in the US, it would prefer working with one regulator.
"New bills are being drafted and introduced, and the issue has not become too polarized yet," Payne said. "If a new crypto regulator were created, it would make sense to set it up in connection with new crypto legislation."
---
Get the day's top crypto news and insights delivered to your inbox every evening. Subscribe to Blockworks' free newsletter now.
---