MicroStrategy Buys 1,900 More Bitcoins
Michael Saylor-led firm purchases more of the crypto asset at average price below $50,000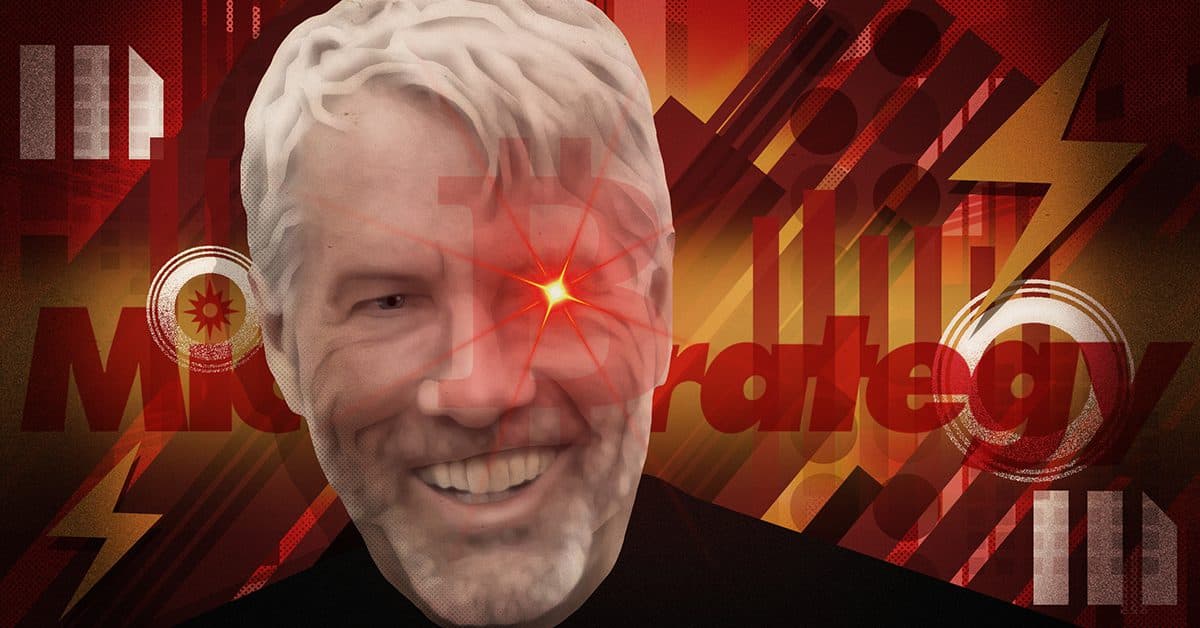 Michael Saylor, CEO, MicroStrategy; Blockworks exclusive art by Axel Rangel
key takeaways
MicroStrategy now holds 124,391 bitcoins, which it bought for nearly $3.8 billion
Bitcoin's price has risen by 74% in the past 12 months, CoinGecko data shows, while the stock price of MicroStrategy went up by roughly 47% over that span
MicroStrategy, one of the largest advocates of buying and holding bitcoin, has purchased more of the crypto asset before the year's end. 
The Virginia-based business intelligence company has bought an additional 1,914 bitcoins for about $94 million in cash, an average price of roughly $49,200, according to a Dec. 30 disclosure. 
As of Dec. 29, the firm held 124,391 bitcoins, which it bought for nearly $3.8 billion, MicroStrategy CEO Michael Saylor said in a Twitter post on Thursday. The average price it has paid for all of its bitcoin to date is roughly $30,160.
MicroStrategy had announced buying an additional 7,000 bitcoins at the end of November for an average price of about $59,200. 
Saylor noted the supply cap of 21 million bitcoins during an earnings call in July, adding that there is a "land grab" to acquire as much as possible. 
Illiquid supply, defined as bitcoin held in addresses that spend less than 25% of their incoming coins, is at an all-time high, Noelle Acheson, head of market insights at Genesis, said in a statement after MicroStrategy's 7,000 BTC buy in November. About 76% of BTC in circulation can be considered illiquid, she added.
A spokesperson for MicroStrategy declined to comment on its bitcoin-buying plans for 2022 or if it would look to buy other crypto assets.
"We don't wish to express a general opinion or take an investment risk with regard to which platform, which application and which use case of bitcoin will be most successful," Saylor said in July. "We think that the least risky, most diversified investment strategy is to simply hold bitcoin."
Bitcoin's price
Bitcoin's price has risen by 74% in the past 12 months, the CoinGecko data shows. Over that span, the stock price of MicroStrategy went up by roughly 47% to $574, as of Noon ET on Thursday, according to Google Finance. 
The price of bitcoin was about $47,680, as of Noon ET, according to CoinGecko. That price was down about 2% from seven days ago and down about 18% in the trailing month.
A total of 129,800 option contracts worth more than $6 billion are set to expire on Friday, according to Skew data, CoinDesk reported. Price volatility has historically preceded monthly options expiration, industry professionals have indicated.
Voyager Digital CEO Steve Ehrlich said in a statement that the next year for bitcoin, which he called "the face of crypto to the world," is pivotal. When bitcoin hits new highs, he added, it attracts attention and price action to the crypto markets as a whole. 
"Bitcoin will reach and surpass $100,000 in 2022," he said. "$100,000 is the next major psychological barrier for investors. It might take some consolidation time, but once bitcoin breaks that barrier, I expect it to fly."
Bitcoin breaking $100,000 would put the market capitalization at about $2 trillion, Ehrlich noted, which is nearly 20% of the market cap of gold. 
"The higher bitcoin climbs relative to gold," he said, "the more investors will wake up and see bitcoin as a digital alternative to hedge against the traditional equity markets."
---
Get the day's top crypto news and insights delivered to your inbox every evening. Subscribe to Blockworks' free newsletter now.
---