South Dakota Governor Turns Down Crypto Regulation Bid
Legislators cited concerns about the bill's treatment of crypto, even though the word is never mentioned in the text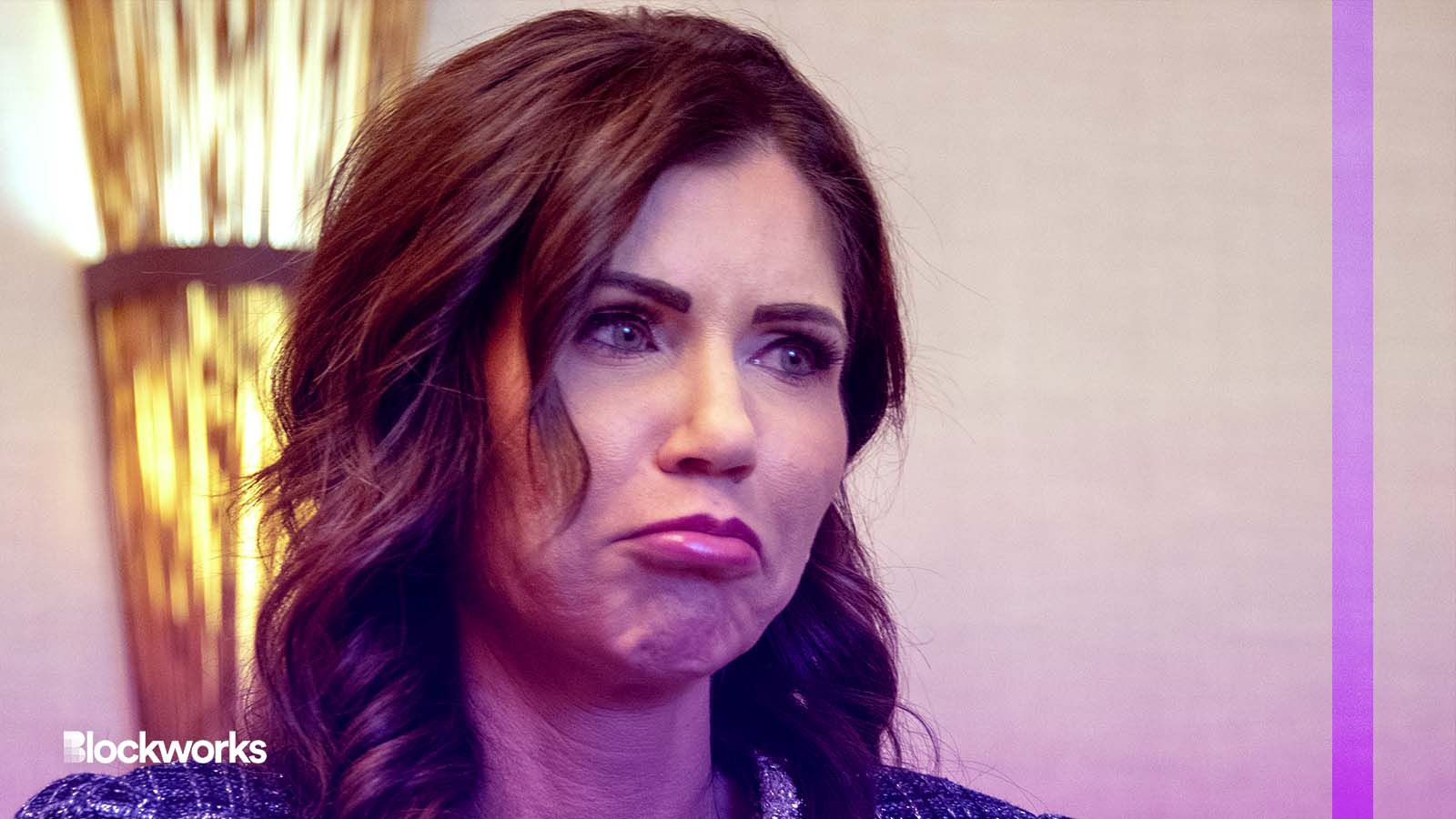 South Dakota Gov. Kristi Noem | mark reinstein/Shutterstock modified by Blockworks
South Dakota is keeping its crypto regulatory policy as-is for now. Legislators cited concerns about the bill's treatment of crypto, even though the word is never mentioned in the text. 
Republican Governor Kristi Noem vetoed House Bill 1193, which would amend the state's Uniform Commercial Code (UCC) to exclude all digital assets from the definition of money except for a central bank digital currency. 
Noem's main issue with the proposed law was that it could "pave the way for a government-led CBDC," she told conservative personality Tucker Carlson earlier this month. 
"I believe it's to pave a way for the federal government to control our currency, and thus control people," Noem added. "It should be alarming to people and it's being sold as a UCC guidelines update."
The bill never mentions the term CBDC, but it does define "money" as any medium of exchange "currently authorized or adopted by a domestic or foreign government."
Bitcoin, even though it has been adopted as legal tender in El Salvador, would likely not fit the definition, considering bitcoin is not backed or controlled by El Salvador — or any other government. And bitcoin was created long before El Salvador's adoption of the asset. 
Money is not "an electronic record that is a medium of exchange recorded and transferable in a system that existed and operated for the medium of exchange before the medium of exchange was authorized or adopted by the government," the bill said. 
Noem vetoed the bill last week, but the South Dakota House of Representatives opted to uphold the decision Monday evening in a 37-30 vote. The House would need a two-thirds majority to override the veto. 
Other states are looking into similar UCC update bills, Noem said. 
Proponents argue that the changes outlined in the bill say it could have laid the foundation to link governments and cryptocurrencies.
---
Get the day's top crypto news and insights delivered to your email every evening. Subscribe to Blockworks' free newsletter now.
Want alpha sent directly to your inbox? Get degen trade ideas, governance updates, token performance, can't-miss tweets and more from Blockworks Research's Daily Debrief.
Can't wait? Get our news the fastest way possible. Join us on Telegram and follow us on Google News.
---