The ETH-BTC Ratio Chart Looks Really Good — Here's Why
BTC is now just 10% ahead of ETH on a year-to-date basis after the former's decline narrowed the gap with the latter by around 5% in May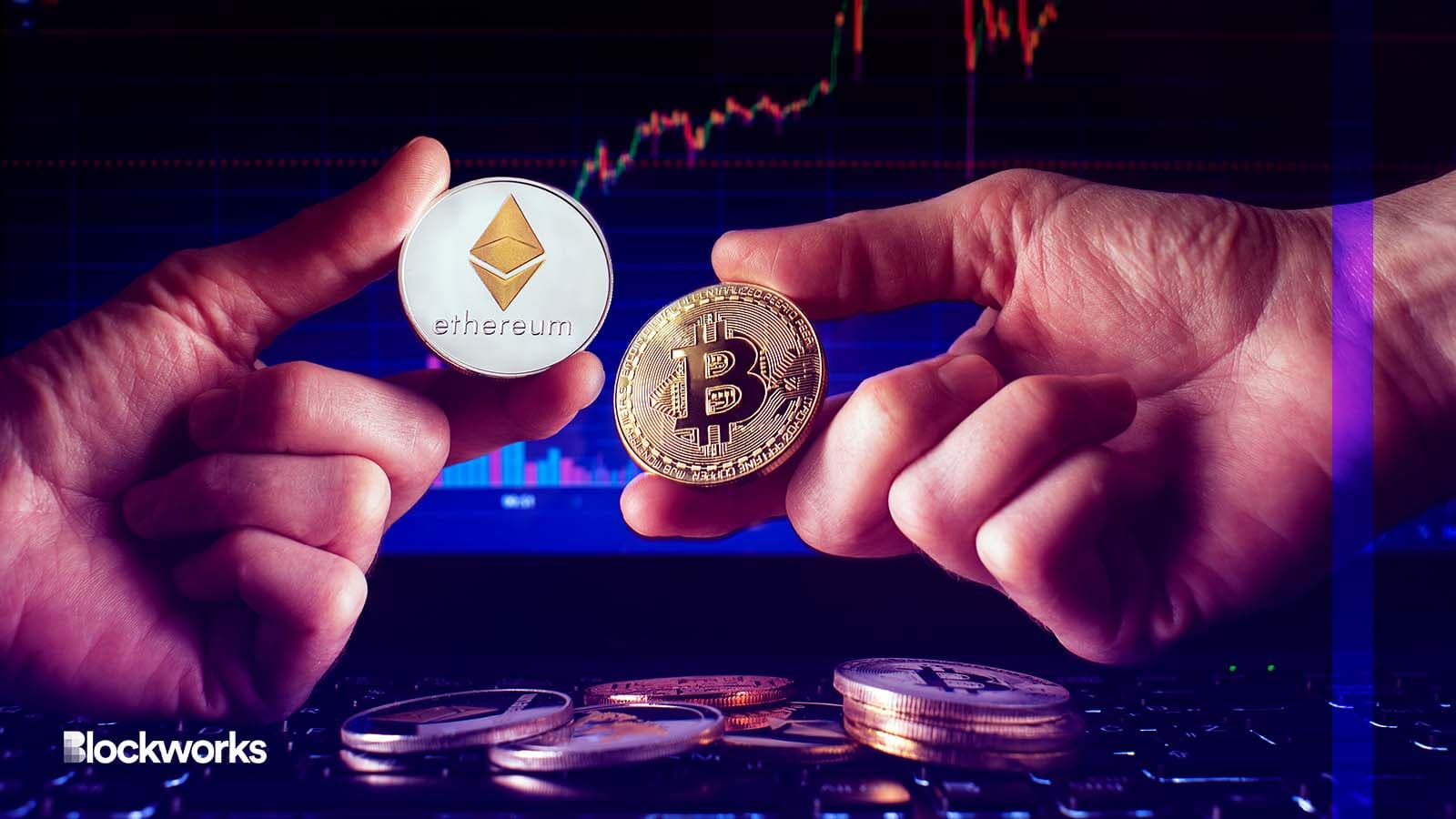 DUSAN ZIDAR/Shutterstock modified by Blockworks
Ethereum's (ETH) value against bitcoin (BTC) has been holding steady for more than two years, having maintained the same relative range since January 2021.
In the past month alone, ether's growth has been closely aligned with the world's largest digital asset. Though both are still down about 3.5% over the period, data from Blockworks Research shows.
Still, BTC is now just 10% ahead of ETH on a year-to-date basis after the former's decline narrowed the gap with the latter by around 5% in May.
Eyeing the value of both assets relative to one another, observers may be drawn to the fact that ether has continued to increase when denominated in bitcoin over the last seven years.
Two primary factors are likely contributing to Ether's surge: staking yield and fee burns.
Data from Staking Rewards shows the yield from staking, linked to Ethereum's proof-of-stake (PoS) mechanism, has resulted in an 8% annual return for staked ETH over the last year. 
Bitcoin does not provide the same level of rewards as Ethereum, due to its reliance on the proof-of-work consensus mechanism. This mechanism primarily benefits miners, making it arguably less accessible for individuals to participate in.
Having a PoS yield, a shrinking ETH supply and a smaller "tradable float" due to many ETH being locked and staked are all "extremely bullish properties," Greg Magadini, head of derivatives at Amberdata told Blockworks.
"We can see that EIP-1559 and the PoS Merge in September 2022 triggered the highest option open interest ever on Deribit," Magadini said.
Fee burns, enacted via Ethereum's EIP-1559 update, have also removed more than 3.3 million ETH from circulation since August 2021. Data from Ultrasound Money indicates that this has further driven up the asset's value.
Still, Ethereum's new PoS network will need to be tested "in time," Strahinja Savic, head of data and analytics at capital markets and advisory platform FRNT told Blockworks.
The budding network will also need to survive many stress tests before new, previously uninvolved, investors begin to become interested in staking, Savic said.
"Ethereum has done a great job at capturing the imagination of crypto traders. However, Ethereum faces considerable headwinds right now. Namely, the macro environment is challenging for traditional risk assets," Savic added.
Even so, Ethereum, which launched six years after bitcoin, is still in a significant growth phase, Danny Chong, CEO of Binance Chain and Ethereum-based DeFi protocol Tranchess told Blockworks.
Pointing to ETH's solid growth, Chong cites its success over other cryptos in recent years as well as its "quick-paced development" and high demand, which sets it up for wider adoption. 
"Post Shanghai, with the increase in liquidity and institutional players coming in, Ethereum is showing positive signs of growth," Chong said.
"Developers continue to build on Ethereum, demonstrating confidence that it's a viable ecosystem for new protocols," the CEO added. That could lead to the metaverse emerging as a supporting narrative for the continuous development of Ethereum, he noted.
Market sentiment forecasts an additional 2.5% growth potential for the asset over the next month, while bitcoin's bull run returns are diminishing, having fallen to 60% since the last run when measured from October 2020 to a peak of over 500% a year later.
Chong also foresees market diversification, with Binance Smart Chain as a potential competitor, albeit currently trailing ETH, which leads the DeFi market with a whopping 74% share. 
"Binance's chain still has a lot of catching up to do," Chong said. "I think that, in the future, people will be looking for diversity and the opportunity to explore other options," he added. "So far, the most advanced one we can see is Ethereum."
---
Get the day's top crypto news and insights delivered to your email every evening. Subscribe to Blockworks' free newsletter now.
Want alpha sent directly to your inbox? Get degen trade ideas, governance updates, token performance, can't-miss tweets and more from Blockworks Research's Daily Debrief.
Can't wait? Get our news the fastest way possible. Join us on Telegram and follow us on Google News.
---