Visa Steps Into the Metaverse With First NFT Purchase
The company purchased CryptoPunk #7610 for $150,000 in ethereum last week, benchmarking Visa as the first major payment network to start a non-fungible token collection.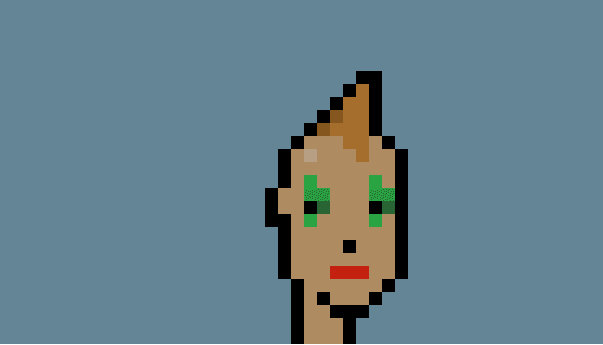 key takeaways
Visa's Head of Crypto said CryptoPunk has become a "cultural icon for the crypto community"
Digital asset bank Anchorage Digital facilitated the NFT purchase, the company said
Visa took a step into the metaverse with its first non-fungible token (NFT) purchase. The company bought CryptoPunk #7610 for $150,000 in ethereum last week, benchmarking Visa as the first major payment card network to start an NFT collection. 
The main goal of the purchase is to help the company and their clients understand the burgeoning NFT market, according to Visa's Head of Crypto Cuy Sheffield. "To help our clients and partners participate, we need a first-hand understanding of the infrastructure requirements for a global brand to purchase, store, and leverage an NFT," he wrote in a company blog post. 
Launched by Larva Labs in 2017, CryptoPunks are considered some of the first NFTs in the space. Ranging from $80,000+ in value, there are roughly 10,000 different CryptoPunks, which Sheffield describes as a "cultural icon for the crypto community."
Visa's CryptoPunk #7610, which resembles a young woman with a green mohawk, is its first step into the NFT commerce world — but probably not the last, the payment giant said. 
"We think NFTs will play an important role in the future of retail, social media, entertainment, and commerce," Sheffield wrote in the blog. "We're a company steeped in the history of commerce and payments — but with our eyes on the future. With our CryptoPunk purchase, we're jumping in feet first. This is just the beginning of our work in this space."
In a note to Blockworks, he added, "NFTs are a new form of commerce, and enabling commerce is at the core of what we do at Visa. We've played a role in major commerce transformations over the past 60 years, and purchasing a CryptoPunk is an exciting next step in this journey. As we continue to explore the space, we're thrilled to now own a piece of internet and NFT history. We may be one of the first major brands to purchase a CryptoPunk, but we certainly won't be the last."
Atomic Form co-founder Garrette David said the payment processing giant could also be trying to appeal to younger demographics that own crypto assets through the publicly announced NFT purchase. 
"It's definitely in line with what I would call a new generation client outreach program by S&P 500 companies. It's just a purchase, right? It's just different [because] they've made it publicly known," David told Blockworks. "I think they are going to be a member of the metaverse, broadly. It will be interesting to see them take advantage of all the ways that they could participate using the CryptoPunk that they bought." 
NFT market keeps the heat on
Visa is just one of many big name institutions to dip its toes in the NFT world. In March, Christie's sold a non-fungible token by the artist Beeple for over $60 million. Separately, Binance launched a NFT marketplace with an auction showing works of Salvador Dali and Andy Warhol.
OpenSea, one the largest NFT marketplaces, reached over $1 billion in sales in August, according to Coin Metrics Network Data. One anonymous buyer purchased 104 CryptoPunks for $7 million in a single block on July 31.
Want more investor-focused content on digital assets? Join us September 13th and 14th for the Digital Asset Summit (DAS) in NYC. Use code ARTICLE for $75 off your ticket. Buy it now.