Yellen 'Very Supportive' of SEC, CFTC Crypto Enforcement
US Treasury Secretary Janet Yellen declined to comment on the lawsuits against Binance and Coinbase specifically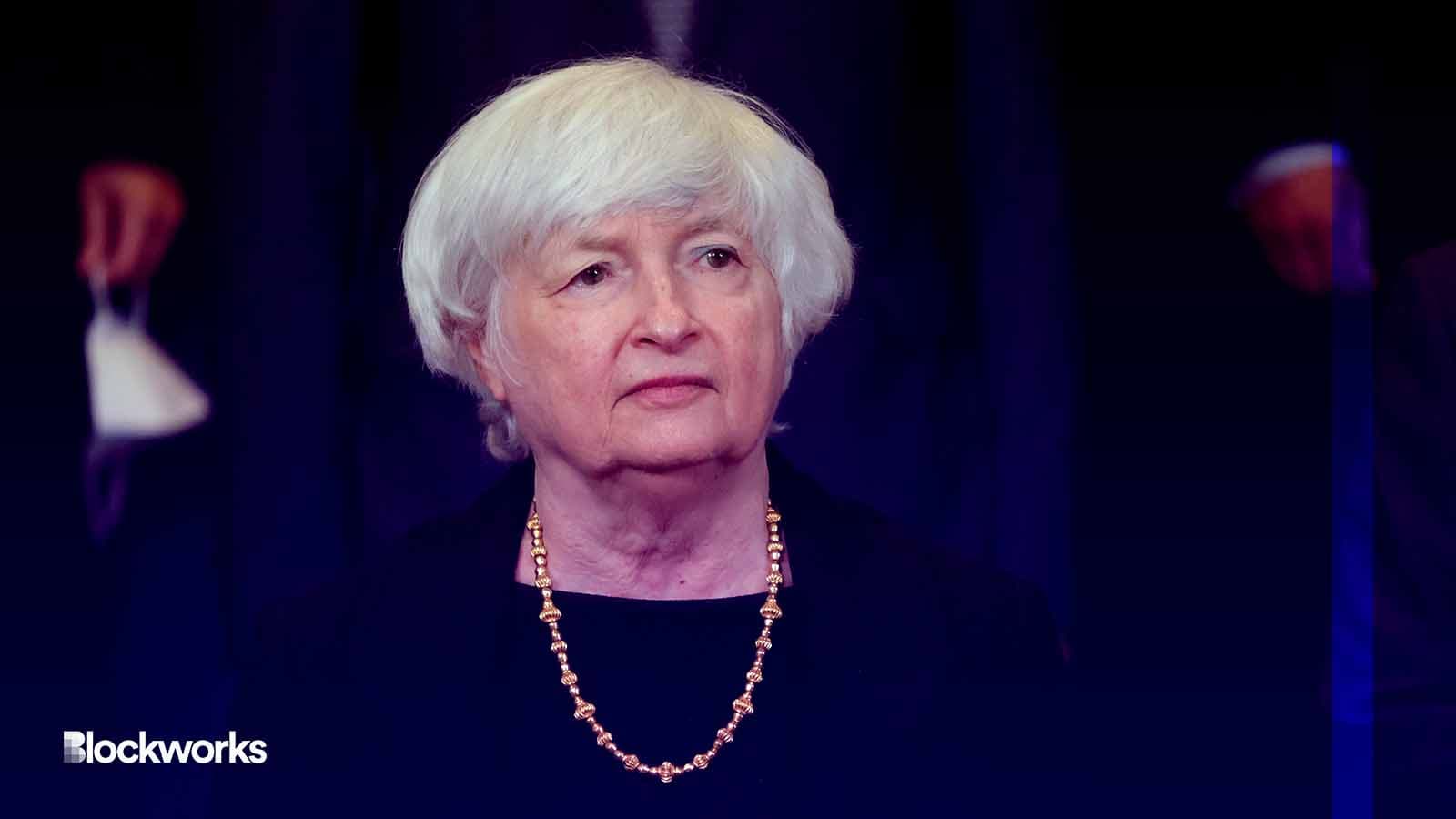 US Treasury Secretary Janet Yellen | Alexandros Michailidis/Shutterstock modified by Blockworks
US Treasury Secretary Janet Yellen said Wednesday morning that in light of the recent SEC lawsuits against Coinbase and Binance, she supports American financial regulators' attempts to "protect consumers and investors" who are involved in crypto.
"The SEC, the CFTC, and other regulators have the ability and tools to protect consumers and investors and I'm…very supportive of seeing those agencies use the tools they have," Yellen said on CNBC's Squawk Box. 
Despite giving a thumbs up to the SEC and the CFTC, which also sued Binance back in late March, Yellen declined to comment on the individual cases against Coinbase and Binance.
In her televised appearance, she appeared to reference the Treasury Department's contributions to the Financial Stability Oversight Council's (FSOC) report that warned about the risks of crypto. FSOC, which is also chaired by Yellen, determined in October 2022 that cryptocurrencies could "pose risks to US stability, under certain conditions."  
On top of supporting enforcement against crypto companies, Yellen said she wants to see Congress act. She said "additional regulation" for crypto firms is appropriate.
"I see some holes in the system where additional regulation I think would be appropriate," Yellen said. "We would like to work with Congress to see additional legislation passed."
So far, Congress hasn't had much success legislating crypto; not a single bill has become law as of yet, and the process remains split largely along party lines. 
Most recently, a Republican draft bill introduced Reps. Patrick McHenry, R-N.C., and Glenn Thompson, R-Penn., would be a big step in resolving the ongoing dispute between the CFTC and the SEC over which tokens are securities or commodities. The bill, if passed, would allow token issuers to petition for their currencies to be considered commodities.
Much of Congress' attention has been focused on cutting off CBDCs at the knees, with two different bills having been introduced to that effect. The Digital Dollar Pilot Prevention Act was penned by Rep. Alex Mooney, R-W.V. and has 16 cosponsors, all of them Republicans. 
And Rep. Tom Emmer, R-Minn., introduced his idea of a CBDC ban with the CBDC Anti-Surveillance State Act in February. It has 31 cosponsors — again, all of them Republican.
On the topic of stablecoins, Democrats and Republicans have each released their own draft bills. On their face, the drafts from McHenry and California Democratic representative Maxine Waters are quite similar, but the Republicans' bill would put more power in the hands of individual states. 
Blockworks previously reported that even bipartisan bills are struggling to navigate key committees and reach the floor for a proper vote. This includes the Responsible Financial Innovation Act, introduced last year by Sens. Cynthia Lummis, R-Wyo., and Kirsten Gillibrand, D-N.Y. The bill is focused on bringing digital assets into the legal fold of the US, but so far hasn't been reintroduced in the new congress.
---
Don't miss the next big story – join our free daily newsletter.