Sam Bankman-Fried faces an uphill battle in fraud case, former mentor Scaramucci says
"I just think it's really sad that he's giving the cryptocurrency world a bad moniker as a result of all this," Scaramucci said.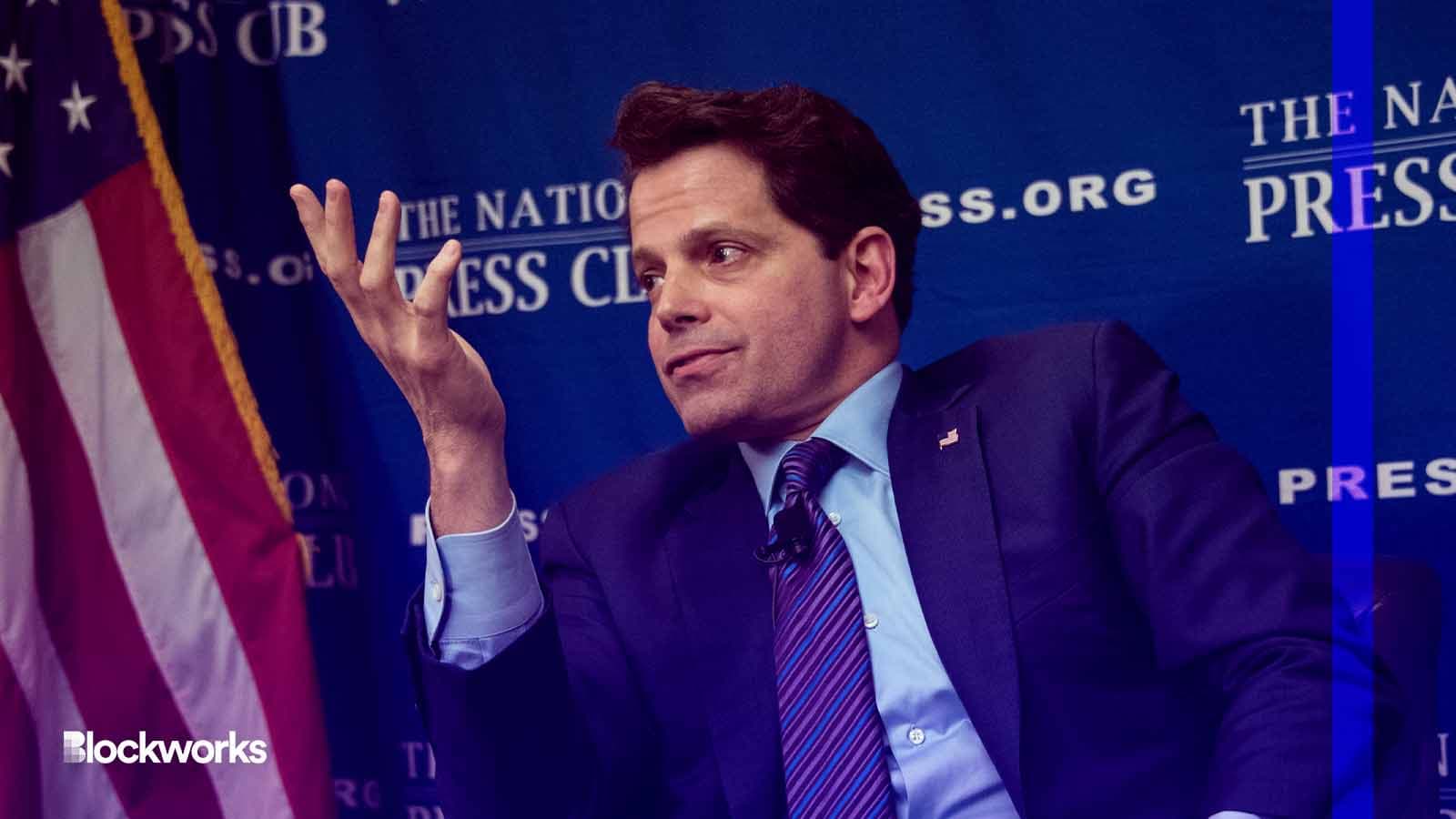 Former White House Communications Director Anthony Scaramucci | Al Teich/Shutterstock modified by Blockworks
Skybridge Capital founder, Anthony Scaramucci, believes that Sam Bankman-Fried will face challenges in resolving his current situation.
Scaramucci, who was a mentor and close friend to Bankman-Fried, invested $10 million worth of FTX's token (FTT), after the embattled exchange acquired 30% of SkyBridge Capital in 2022.
As part of the agreement, SkyBridge had to invest $40 million in cryptocurrencies for its corporate balance sheet. 
In a CNBC interview released Tuesday, the hedge fund manager acknowledged the trust that many venture capitalists had in the former FTX CEO. 
Read more: FTX Ventures Buys 30% Stake in Scaramucci's SkyBridge Capital
Bankman-Fried currently faces seven federal charges, including two allegations of wire fraud and five charges of conspiracy. His trial is currently underway. 
Prosecutors disclosed on Tuesday that the government never presented Bankman-Fried with any form of plea agreement in exchange for admitting to the charges.
Scaramucci — who said he won't be a witness in the case — told CNBC it will be "very, very tough" for the former billionaire CEO to prevail.
"I think this has been a very rough thing for very many people," he said.
"If someone is committing fraud, they can commit fraud in any industry across the spectrum. And so, I just think it's really sad that he's giving the cryptocurrency world a bad moniker as a result of all this," he added.
Don't miss a moment of SBF's time in court. Stay up to date with all trial coverage from Blockworks.
Scaramucci says that, like a million other investors, he had faith in Bankman-Fried.
He highlighted the reasons for the trust placed in Bankman-Fried, such as FTX's significant market share in crypto trading.
He also noted that author Michael Lewis discussed how people in venture capital saw Bankman-Fried as potentially being the "Mark Zuckerberg of crypto."
When asked how long he thought the trial would go on, Scaramucci said: "It's hard to say. He needs his day in court. I think this probably goes on until Christmas."
As FTX faced its downfall, Scaramucci urged Bankman-Fried to cooperate with regulators about enquiries into the exchange's collapse.
He earlier told CNBC that in November, he traveled to the Bahamas, where FTX was headquartered, in an attempt to help the company.
But after meeting with a "contrite" Bankman-Fried and his team, it became evident that the situation was beyond salvage.
When FTX initially invested in SkyBridge, Scaramucci referred to Sam Bankman-Fried as a "visionary."
In the past year, SkyBridge's portfolio has experienced a decline, with assets under management totaling about $1.8 billion as of June 2023. This includes around $580 million in digital asset-related investments.
---
Don't miss the next big story – join our free daily newsletter.