Ark Invest, 21Shares Team with White-label Alpha Architect to Propose Futures-based Bitcoin ETF
Planned product comes less than a week before SEC set to make rulings on similar planned offerings.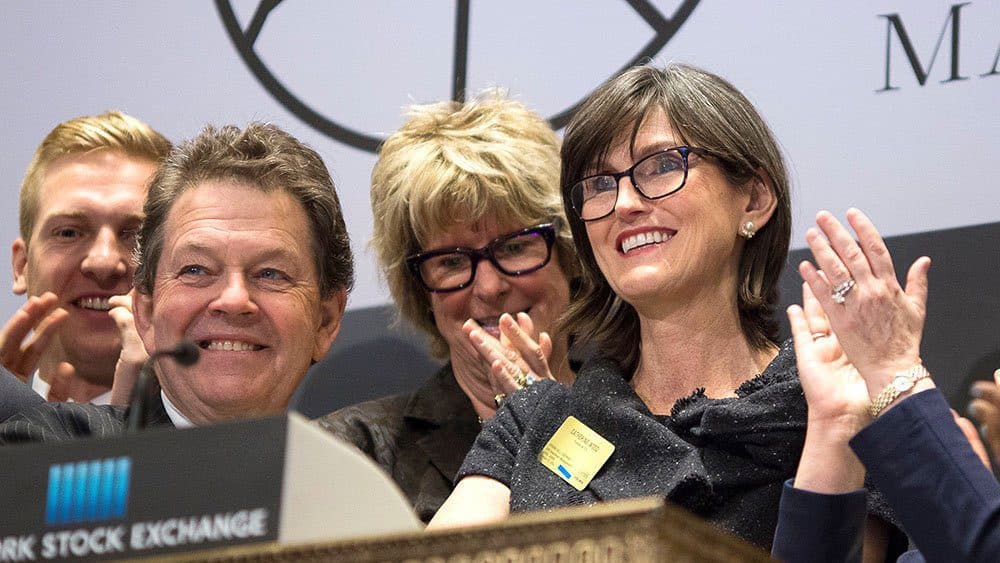 ARK Invest CEO Cathie Wood with her mentor Art Laffer on the NYSE podium on Oct. 21, 2014; Source: ARK Invest
key takeaways
The 75-day period for the SEC to rule on the ProShares' proposed futures-based ETF, which was the first such product registered for, ends on Monday
Ark and 21Shares had teamed up to file for a physically backed bitcoin ETF in June
As the SEC gets set to rule on the first proposed futures-based bitcoin ETFs next week, Ark Invest and 21Shares have added a proposed offering to the mix under a white label provider. 
The ARK 21Shares Bitcoin Futures Strategy ETF (ARKA) is an actively managed fund that invests in cash-settled exchange-traded bitcoin futures contracts traded on, or subject to the rules of, commodity exchanges registered with the Commodity Futures Trading Commission (CFTC), according to a regulatory disclosure filed on Wednesday.
The investment adviser is white label provider Alpha Architect, and 21Shares will serve as the fund's subadviser. Ark Invest has agreed to provide marketing support to 21Shares but will not make investment decisions or provide investment advice, the filing states.
In addition to bitcoin futures contracts, the planned offering may also invest in US Treasuries, money market funds, cash and other instruments to provide liquidity, serve as margin or collateralize the fund's investments in bitcoin futures, the document notes.
The fund does not invest directly in bitcoin or other digital assets.
SEC Chairman Gary Gensler said during a virtual forum in August that his agency would "look forward" to reviewing ETFs that were limited to investing in bitcoin futures contracts.
SEC approval could be imminent
Some industry watchers expect the SEC to approve one or several futures-based bitcoin ETFs next week. The 75-day period for the agency to rule on ProShares' proposed bitcoin strategy ETF ends on Monday, and similar funds by Valkyrie, Invesco and VanEck — filed for in the days following ProShares' proposal — may gain approval or be rejected at the same time or in the days thereafter. 
Valkyrie updated its bitcoin futures ETF prospectus on Wednesday, adding ticker BTF to the proposed product. 
Balchunas then tweeted about the new filing from Ark and 21Shares — also with a ticker listed — which he said is "yet another good sign SEC gonna approve."
The futures-based bitcoin ETF filing comes after Ark and 21Shares filed for a physically backed bitcoin ETF in June. 
As a dozen or so spot bitcoin ETFs sit in registration, industry watchers have pointed out attributes of futures-based ETFs that may make them less attractive to investors, such as roll costs and contango. 
Executives at Grayscale Investments, which is looking to convert its Grayscale Bitcoin Trust (GBTC) into an ETF, have urged the SEC to approve physically backed bitcoin ETFs at the same time to ensure "a level playing field."