Coinbase Seeks Brand Exposure with Germany's Second-largest Soccer Club
The exchange is reinforcing an existing partnership and will be Borussia Dortmund's premium partner for at least another six months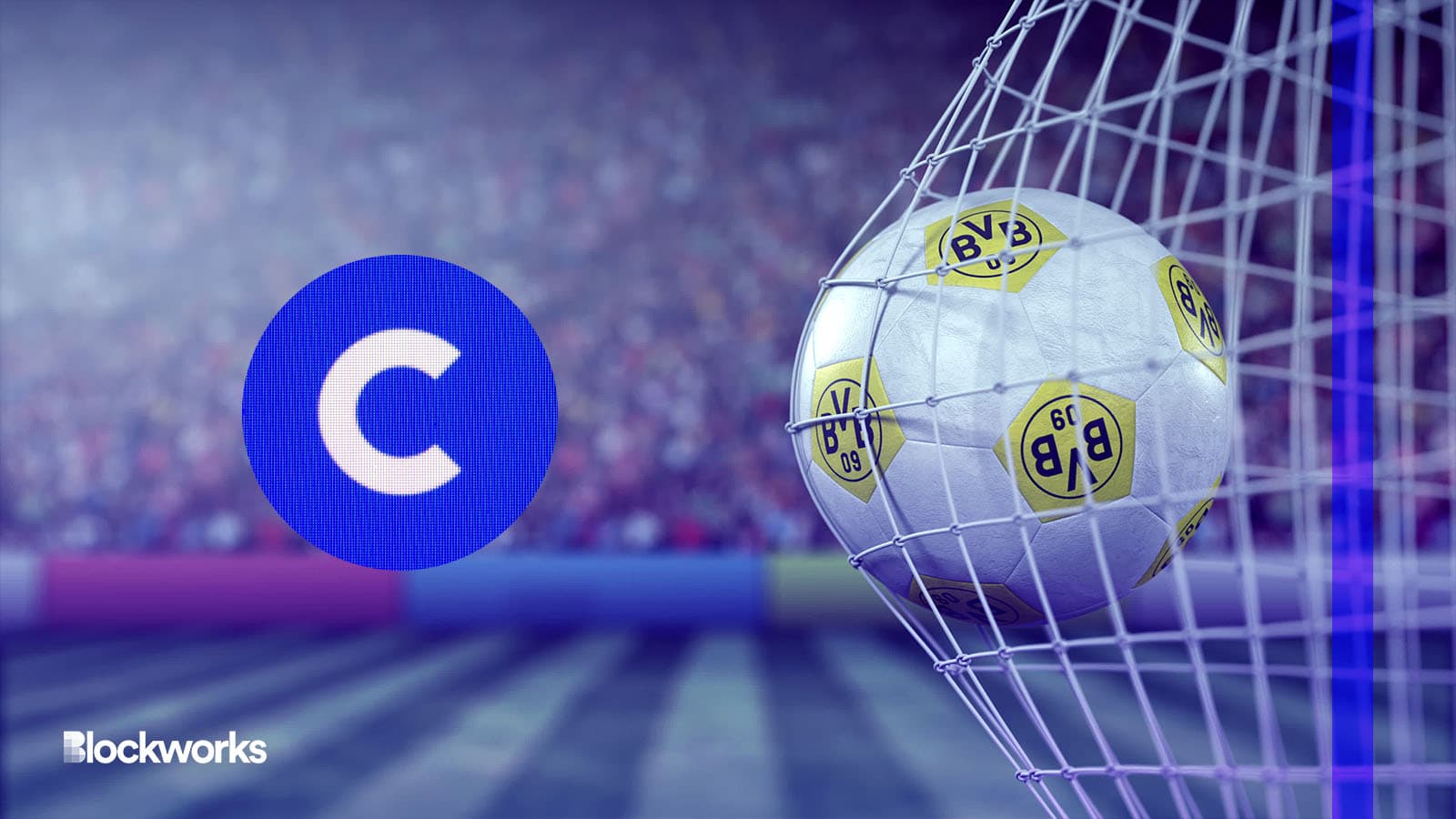 Source: Shutterstock / Novikov Aleksey, modified by Blockworks
Cryptocurrency exchange Coinbase isn't shying away from advertising despite cutting costs in other areas. 
The exchange is strengthening ties with German soccer club Borussia Dortmund (BVB), local outlet Handelsblatt reported. 
After establishing a partnership in July 2021, the club displayed ads for Coinbase on screens in its stadium and held crypto-related educational workshops for its employees.
That partnership is now leveling up as advertising will expand across marketing channels, including ads on the club's stadium perimeter board, which will enhance virtual exposure for Coinbase at local events.
A Coinbase spokesperson previously told Blockworks the exchange intends to keep all its current sports sponsorship commitments.
For now, the partnership has a time period and will reportedly last until June. The club's managing director Carsten Cramer indicated that prudence is due to the crypto industry still being relatively new. "That's why we want to keep our flexibility open," he told Handelsblatt.
Borussia is the name of a local Dortmund brewery. The football club which dates back to 1909 is  listed on the Frankfurt Stock Exchange, so it has a responsibility to shareholders to be cautious about its partnerships.
Coinbase was the first company to gain a license for crypto custody from the German Federal Financial Supervisory Authority (BaFin) in June 2021, which was a significant reason for the club's decision to partner with the company.
Now, some five companies hold the same permit.
Neither Coinbase nor BVB have mentioned how much BVB is getting for the sponsorship,  though Cramer said they "didn't receive the most tempting offer."
The soccer world has become an attractive sector for crypto partnerships. Crypto[dot]com was a prominent brand in last year's FIFA World Cup held in Qatar. And Coinbase already inked sports partnerships with the National Basketball Association, the Women's National Basketball Association and other affiliates in 2021.
Still, the exchange was impacted by the crypto winter and cut more than 2,000 jobs in the last year. It also recently decided to pull out of a major crypto market, saying it would shut down operations in Japan. 
Coinbase and BVB expect to decide whether to extend their partnership by April or May.
---
Don't miss the next big story – join our free daily newsletter.