Crypto Sports Deals Have Slowed — But They Aren't Dead
Sports rights holders are likely to continue engaging with crypto companies willing to pay large sums, but after FTX's fall, the deal structures are likely to look different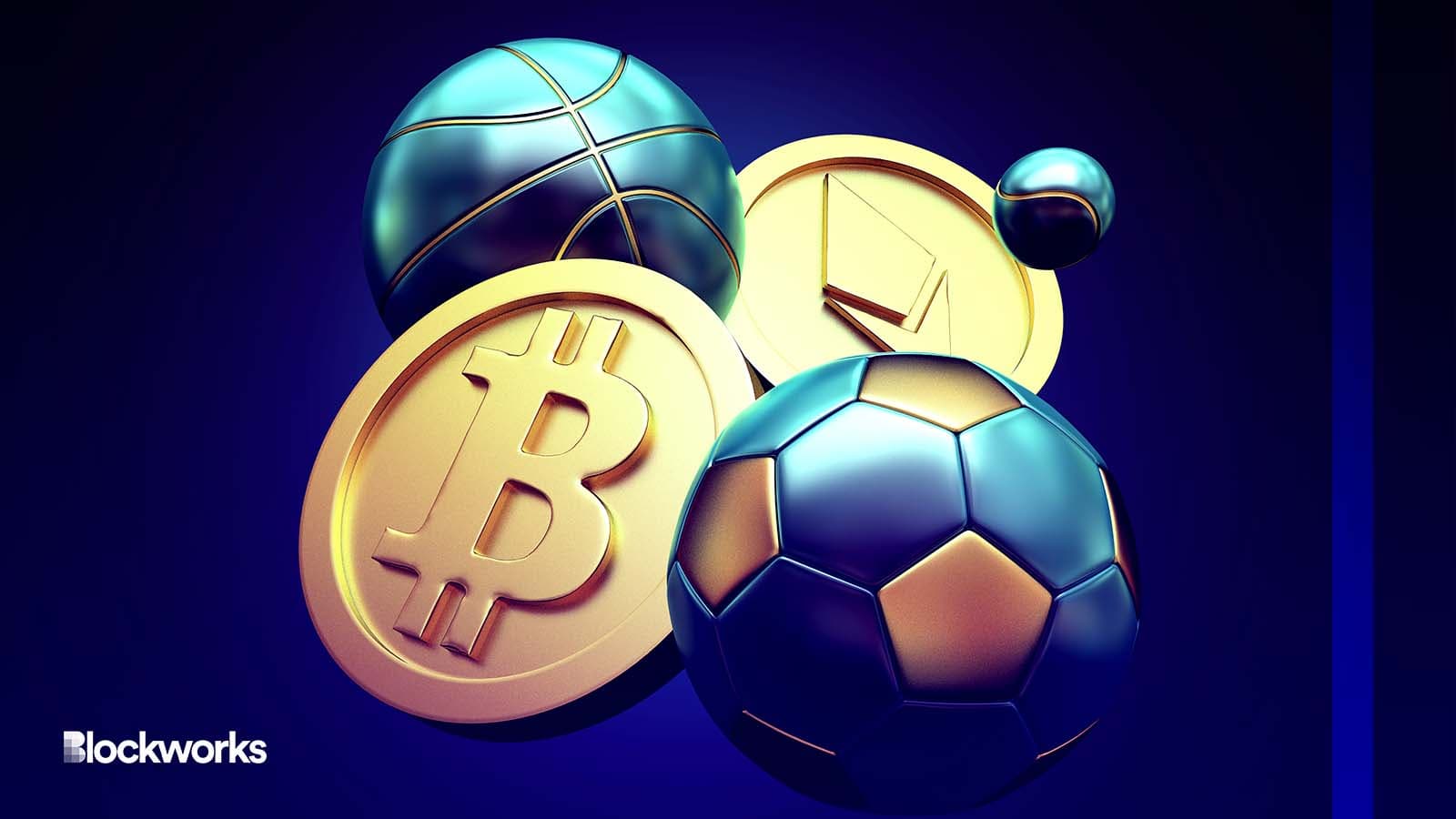 VictorWard/Shutterstock.com modified by Blockworks
Partnerships between sports brands and crypto companies — a dime a dozen through the bull market — are likely to slow and shift after a whirlwind 2022, according to industry participants.
The FTX moniker was stripped from the Miami Heat's arena last month. The MLB cut ties with the collapsed crypto exchange. And Voyager Digital's deal with the NBA's Dallas Mavericks ran into a wrinkle: the crypto company's bankruptcy. 
Though a handful of the industry's firms are still interested in doing deals, despite dropping marketing budgets, the structures and terms of the arrangements appear poised to morph. Backs are now on the lookout for more crypto crashes to potentially pop up.
Sponsorships drop off in 2022's second half 
Circa 2021, crypto brands began outbidding prominent existing sponsors beset by the pandemic's economic fallout, according to Conrad Wiacek, head of sport analysis and consulting at GlobalData. 
Wiacek pointed to FTX inking a 19-year, $135 million deal in March 2021 for naming rights to the Miami Heat's arena, previously the domain of American Airlines. 
"Where traditional sponsors might have kept the sponsorship going if they could keep a flat rate, crypto companies were throwing money around, basically," he told Blockworks.
Crypto collectively shelled out cash for those deals during the first half of 2022 — good for an estimated $515 million, according to GlobalData. The sports industry wasn't far behind at $444 million, while alcohol brands and insurers spent about $280 million and $235 million, respectively.  
But crypto clocked in at sixth place by the end of 2022. Its companies cumulatively spent a scant $3 million on deals during the second half as crypto winter intensified, a rough six months worsened still by the crash of FTX in November.
Crypto.com was the fifth-highest roller through June, standing at nearly $79 million — trailing AB In-Bev, Nike, Vivo and Qatar Airways. 
That total remained about flat the rest of the year, as Crypto.com fell from fifth to 13th on the list of highest annual spenders, according to the December GlobalData report.
Crypto.com in 2021 bought the naming rights to the Los Angeles Arena formerly known as the Staples Center as part of a 20-year, $700 million deal. Its splashy spends continued last year with a Super Bowl ad in February, as well as a five-year deal with the Australian Football League, plus an agreement to sponsor the 2022 FIFA World Cup.  
It's not clear whether the exchange plans to renew for the next World Cup. And some of its longer-term deals could be in jeopardy too, according to Wiacek. 
"Something like the Crypto.com arena deal, unless there is a bounce-back in the industry, I would be surprised if that makes it to term," he said.
A Crypto.com spokesperson declined to comment. 
Who is still spending?
OKX Chief Marketing Officer Haider Rafique told Blockworks that sports sponsorships are a major part of the company's go-to-market strategy — and there's no plans to change that this year.
"These activities play a key role in raising brand awareness, creating opportunities to tell our broader company story and better service our customers," Rafique said. "This is true in bull and bear markets alike."
Still, OKX is in the digital assets minority now. Rafique is eyeing a likely dramatic slowdown in related and upcoming dealflow. 
Liquidity for crypto companies is still an issue, according to the marketing officer, upping the ante for executives to earmark funds soundly. 
Coinbase, Crypto.com and Blockchain.com were among the crypto firms putting in place additional layoffs last week. 
"This can only be a good thing," Rafique said of the deal slowdown. "It will ensure that the proper due diligence is being done across the board, and it will balance the valuations of these deals, which were heavily inflated due to the sheer overcrowding of the market." 
But partnerships are still being struck, according to Wiacek — despite shrinking durations and smaller check sizes.
Digital asset trading company Blockfills inked a deal toward the end of November 2022 — just 10 days after FTX filed for bankruptcy — with the Chicago Blackhawks for the upcoming NHL season. Wiacek pegged the arrangement as in the neighborhood of $700,000.
And South Korea-based crypto exchange Upbit partnered with Italian soccer club S. S. C. Napoli earlier this month as a sponsor for the next two seasons. The company's logo is set to appear on the back of the team's uniforms as a result. Exact terms of the deal were not disclosed. 
Amber Group, on the other hand, plans to minimize its marketing spend in the coming months. 
The company terminated its sponsorship of Chelsea FC as part of larger cuts that included layoffs, Bloomberg reported. The partnership resulted in Amber's WhaleFin trading platform being inked on Chelsea's kits. 
Though Amber Group had raised a $300 million venture round around the same time, a spokesperson told Blockworks that tough market conditions have led to ensuing strategy tweaks. 
"We have gone back to the drawing board to refocus on our core engines of growth — our institutional and high net worth clients," the spokesperson said. "This also means we are making significant cuts to our marketing expenses as we deprioritize our consumer business lines."
Meanwhile, a spokesperson for Coinbase told Blockworks the exchange has no plans to move away from previously announced — and signed — commitments.
Coinbase and the NBA, for example, worked out a multi-year partnership in October 2021 that made the exchange the exclusive crypto platform partner of the NBA, WNBA, NBA G League, NBA 2K League and USA Basketball.  
"We will continue to support the players, teams and organizations we've partnered with while educating a new generation on the [crypto economy,]" the representative said.  
How deals are likely to change
After FTX's slate of sponsorships fell apart, prospective crypto sponsors may run into more complex questions when it comes to revenues and their vetted ability to adhere to regular and agreed upon payments, according to Joshua Kay, an associate at the law firm Wiggin.
They may also find some of the more premium long-term sponsorships — such as the naming rights of a stadium — are not available, he told Blockworks. 
As for terms of the deal, Kay added, the sponsor may be required to pay all or most of the sponsorship fees up front rather than on a season-by-season basis. A specific exit plan for the deal may become a prerequisite, too.
Alex Harvey, an associate for the sports unit at law firm Sheridans, said reducing the lengths of agreements may well make sense now. 
Standard termination rights for a company entering insolvency or breaching laws would be appropriate, according to Harvey. Other contractual protections, such as broad warranties and indemnities, ought to be par for the course, in his view. 
"Crucially, they should also include robust termination provisions which allow them to immediately terminate the deal in certain circumstances," Harvey said. "For example, if the crypto brand does something which brings them into public disrepute."
Harvey told Blockworks that while sports entities are likely to take a "risk-averse" approach to crypto for the time being, a significant shift over the long term doesn't appear to be in the cards. 
"The vast majority of sports rights holders currently partnering with crypto brands are entering into those deals fully aware of the reputational risks, but they are nevertheless prepared to absorb those risks given the eye-watering sums on offer," he said. "Provided the financial incentives remain, there's no reason to suspect that will change."
---
Don't miss the next big story – join our free daily newsletter.