Voyager Digital Partners with Dallas Mavericks
Five-year agreement to focus on educating people about the ease and benefits of crypto investing.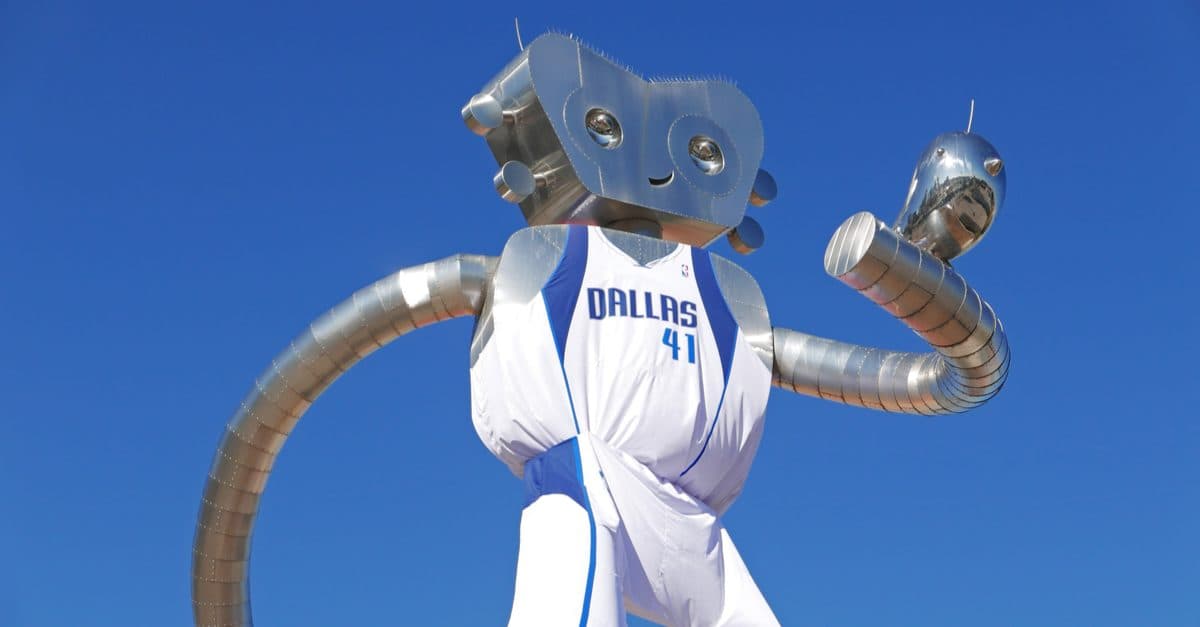 The Traveling Man sculpture by Dallas artist Brandon Oldenburg; Source: Shutterstock
key takeaways
Mavericks owner Mark Cuban has recently touted bitcoin and Ethereum, and his team began accepting dogecoin as a payment for merchandise earlier this year
Voyager, which now has more than 2 million verified users, looking to expand to Europe in 2022
Voyager Digital has partnered with the Dallas Mavericks as crypto firms continue to infiltrate the sports realm to bolster brand awareness and drive cryptocurrency adoption.
As part of the five-year agreement, the two organizations will seek to make cryptocurrency more accessible through educational and community programs, as well as fan engagement promotions. 
"There's a lot of hype, there's a lot of discussion, but most people don't really understand the fundamentals behind it, and we're really going to try to bring that level of education to our fans and to our joint customers," Mavericks owner Mark Cuban said during a press conference Wednesday.
He added during the event that he transferred a portion of his own Polygon (MATIC) tokens to the platform because Voyager paid a higher return rate than Aave, the application he was using before.
The partnership also includes naming rights to the Mavs Gaming Hub, the official gaming and event venue for the Mavs NBA 2K League team, which will be announced at a later date. There will also be on-rotation, digital, and in-arena signage during games.
"Blockchain, cryptocurrency, bitcoin have all been around for 10-plus years, but in the end people are just starting to learn about it," said Steve Ehrlich, Voyager's CEO and co-founder.
Voyager Digital is a publicly traded cryptocurrency platform with more than 2 million verified users that allows investors to trade more than 60 currencies. 
The company has partnered with the Mavericks because of the team's leadership role in the NBA, established equity and recognition in crypto, as well as their fans' understanding and adoption of crypto, Ehrlich explained. 
He noted that he wants to engage more with the Dallas community, and Texas overall, which he said has become a crypto hub. Ehrlich added that though Voyager is currently US-centric, the company is looking to expand its presence to Europe by the end of March 2022, starting with France.
The Mavericks began accepting dogecoin (DOGE) as a payment for merchandise in March, and also offered special pricing for those paying with the crypto asset during the organization's summer sale. Despite dogecoin being created as a joke, Cuban previously told CNBC that "the community for DOGE is the strongest when it comes to using it as a medium of exchange." 
Cuban is bullish on bitcoin and ether. He posted on Twitter earlier this week that bitcoin's huge advantage is that it has "zero competition" as a store of value. He also recently told CNBC that ether likely "has the most upside" as an investment.
Cuban argues that though coins like SHIB and DOGE are not investments, their low cost make them a potential good way to enter the crypto space and learn more about it.
The partnership is the latest example of Voyager, as well as other firms, gravitating toward partnerships with sports leagues and athletes to expand their presence.
Voyager announced an agreement in June with NASCAR driver Landon Cassill to pay him in a portfolio of cryptocurrency, including Litecoin and the Voyager Token. Last month, the company named NFL tight end Rob Gronkowski as a Voyager brand ambassador and shareholder.
FTX has also made sports partnerships a priority, becoming the first cryptocurrency exchange to sponsor a professional sports league with its five-year partnership with Major League Baseball. 
It has tapped high-profile athletes such as Tom Brady, Steph Curry and, most recently, David Ortiz to be brand ambassadors.
FTX also sponsored the Miami Heat's sports arena as part of a $135 million deal in March. 
"What FTX did with the Heat was great, and they're also trying to push their retail software application," Cuban said. "But at the same time, I think we're trying to make this driven more towards education and exposing more people in an educated manner to crypto through Voyager."