Coinbase Stock Hits Sixth All-time Low This Month
The company's stock price was down roughly 6% on Thursday as exchanges seek to ease investor concerns following FTX crash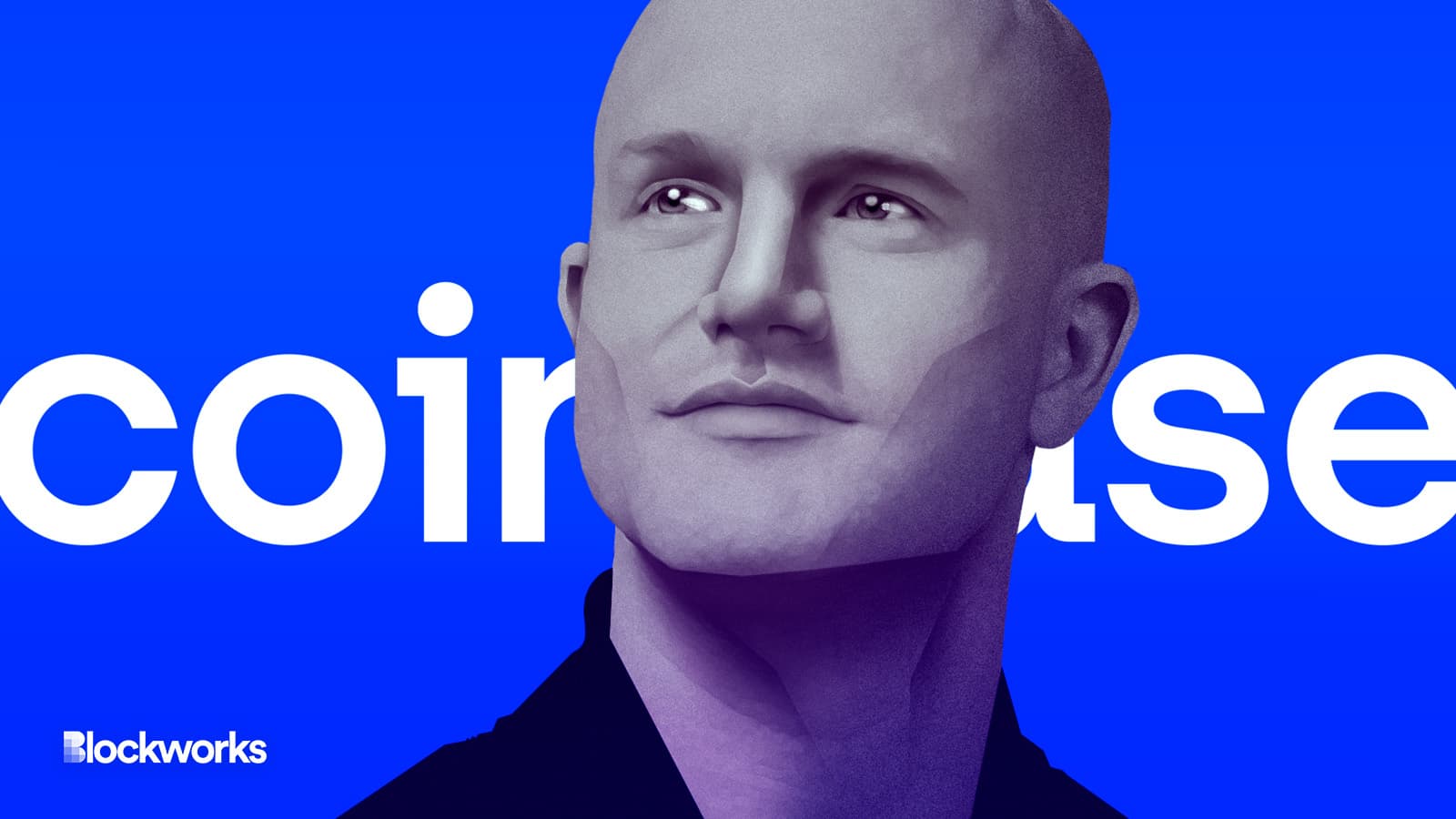 Coinbase CEO Brian Armstrong | Blockworks exclusive art by Axel Rangel modified by Blockworks
Investors have grown accustomed to seeing Coinbase stock price hit all-time lows lately, as it dipped below $38 Thursday to record its sixth daily record low in December.
The price was at $37.70, as of 11:30 am ET — down more than 6% on the day. Coinbase shares have dropped by nearly 85% year to date.
Bitcoin's price, meanwhile, has dropped by roughly 75% since reaching its all-time high of nearly $70,000 in November 2021.
The latest all-time lows for Coinbase occur in the weeks following an insolvency crisis at crypto exchange FTX that led to its bankruptcy filing and the arrest of FTX founder Sam Bankman-Fried. 
Coinbase and other centralized crypto exchanges have been quick to start implementing — or point to existing — transparency initiatives, such as proof of reserves reports, in an effort to ease investor concerns. 
Rival exchange Kraken, however, said some industry players have recently attempted to pass off "diluted and misleading methodologies" as a proof of reserves audit.
Centralized exchanges seek to regain trust
Coinbase Chief Security Officer Philip Martin said in a Nov. 25 blog post that the company, which already proves its reserves via audited financial statements, was exploring more crypto-native methods to prove reserves. 
The firm, which is the largest US crypto exchange by trade volume, unveiled a $500,000 developer grant program to incentivize others to do the same.
But Josef Tětek, a bitcoin analyst at crypto hardware wallet company Trezor, alongside other industry participants, have pointed to the crash of FTX and others — such as Celsius and BlockFi — as a reminder of the importance of self-custodying digital assets.
"It's all based on trust," Tětek said of using exchanges and their custodial wallets. "But as bitcoiners often repeat: don't trust, verify. And the only way to verify that you own any coins is to exclusively control the corresponding cryptographic keys and not, as is the case with exchanges, submit that privilege to them."
Binance CEO Changpeng Zhao claimed in a Wednesday Twitter space that 99% of people holding crypto on their own today would end up losing it. Other prominent industry voices reject that characterization of self-custody risks.
Buying Coinbase dips
Ark Invest sold off roughly 1.4 million shares of Coinbase in July — worth about $79 million at the time — across several of its ETFs. It bought about 800,000 shares of the stock in November for its Innovation ETF (ARKK) in the days before and after FTX's bankruptcy, according to trade data. 
Ark held $290.55 million in Coinbase stock as of September's end, making it one of the firm's largest institutional holders, behind BlackRock, Andreessen Horowitz and Vanguard. 
Ark has since added to its Coinbase position once again. It has acquired more than 375,000 shares in the past week, a haul currently worth almost $13 million.
Ark Invest Research Director Frank Downing said in a webinar Tuesday that the firm believes Coinbase is set to be a "share gainer" in the medium and long term. 
He added that the publicly traded company could have a "moat" over competitors in the future as regulations in the space are expected to tighten.
---
Don't miss the next big story – join our free daily newsletter.