G20 nations endorse IMF and FSB guidelines for crypto regulation
The G20 called for effective, timely and uniform crypto regulations to avoid regulatory loopholes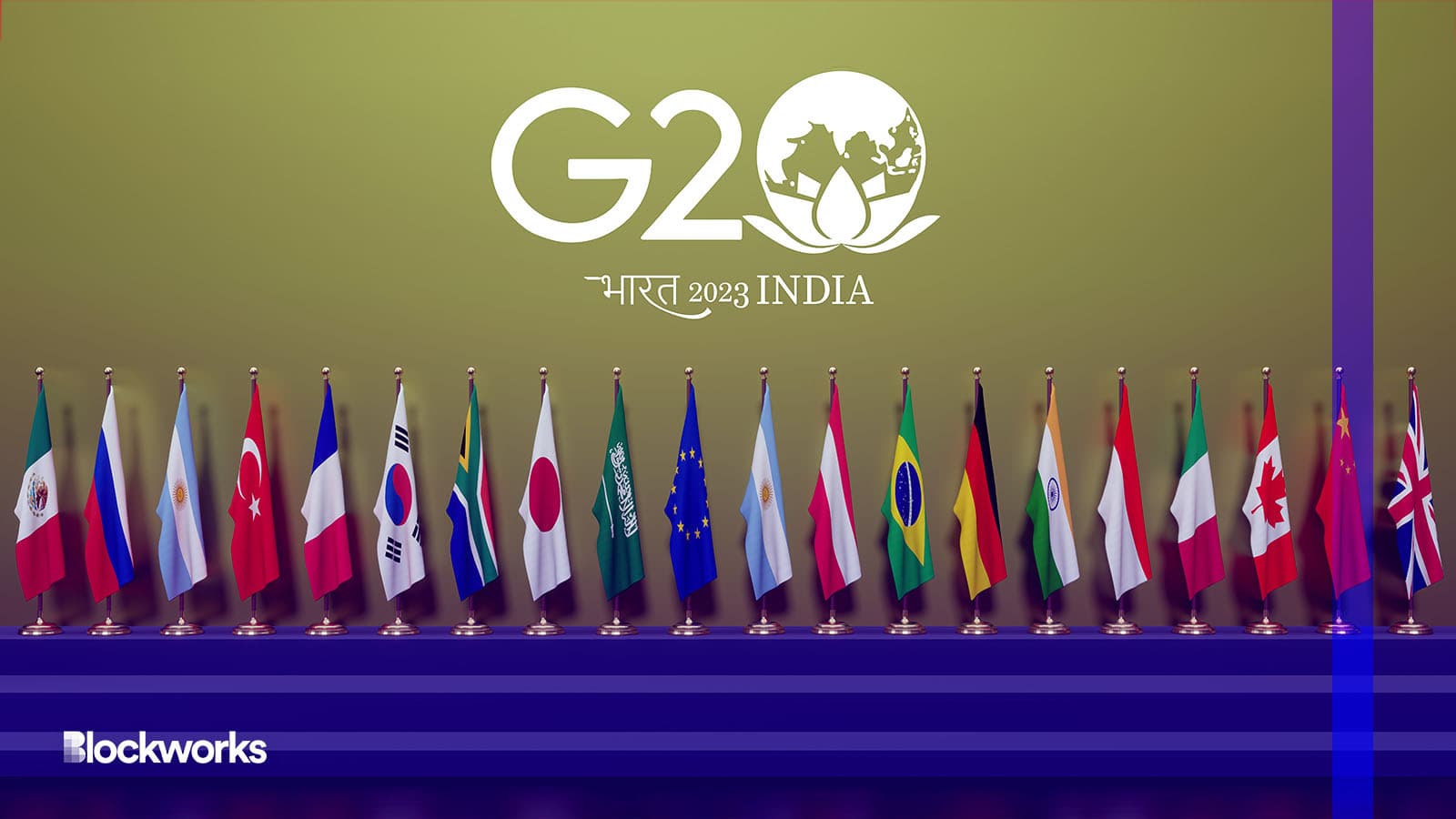 Fly Of Swallow Studio/Shutterstock, modified by Blockworks
G20 member countries took a significant step toward regulating cryptocurrencies by endorsing guidelines set forth by the International Monetary Fund (IMF) and the Financial Stability Board (FSB). 
This move is seen as laying the groundwork for future regulatory frameworks in the crypto space.
The collaborative recommendations were unveiled on Sept. 7 in response to a request from the Indian G20 presidency. 
Their guidelines offer thorough advice for authorities to manage macroeconomic and financial stability risks arising from crypto-asset activities and markets, including those related to stablecoins and DeFi.
Members of the G20 — including Brazil, Canada, Germany, the UK, the US —  unanimously approved the Delhi Declaration, addressing challenges across political, economic and environmental spheres.
They committed to closely monitoring the fast-changing risks associated with the crypto ecosystem.
"We ask the FSB and SSBs (standard-setting bodies) to promote the effective and timely implementation of these recommendations in a consistent manner globally to avoid regulatory arbitrage," they said.
They welcomed the IMF-FSB Roadmap for a coordinated policy on crypto risks, including money laundering and terrorism financing, especially in emerging economies.
A senior India government official told local outlet Deccan Herald that the declaration's approval suggests a comprehensive crypto ban is unlikely. 
The official noted that a ban by a single nation would be hard to enforce if other countries don't follow suit.
This marks a significant change in India's stance on crypto, especially in light of previous calls for an outright ban by RBI Governor Shaktikanta Das.
While India has yet to fully regulate crypto, it has imposed a flat 30% tax on profits from cryptocurrency transactions.
The upcoming meeting of Finance Ministers and Central Bank Governors in Marrakesh, Morocco this October is expected to continue the G20's dialogue on cryptocurrency regulations.
IMF Director Kristalina Georgieva noted that "more work lies ahead, including in the realm of digital money and cryptoassets."
---
Don't miss the next big story – join our free daily newsletter.