What Grayscale's ETF Bid Signals — or Doesn't — About Spot Bitcoin Fund Prospects
The SEC approving a fund that holds bitcoin ETPs — products it has previously denied — would make it look silly, Bloomberg Intelligence analyst says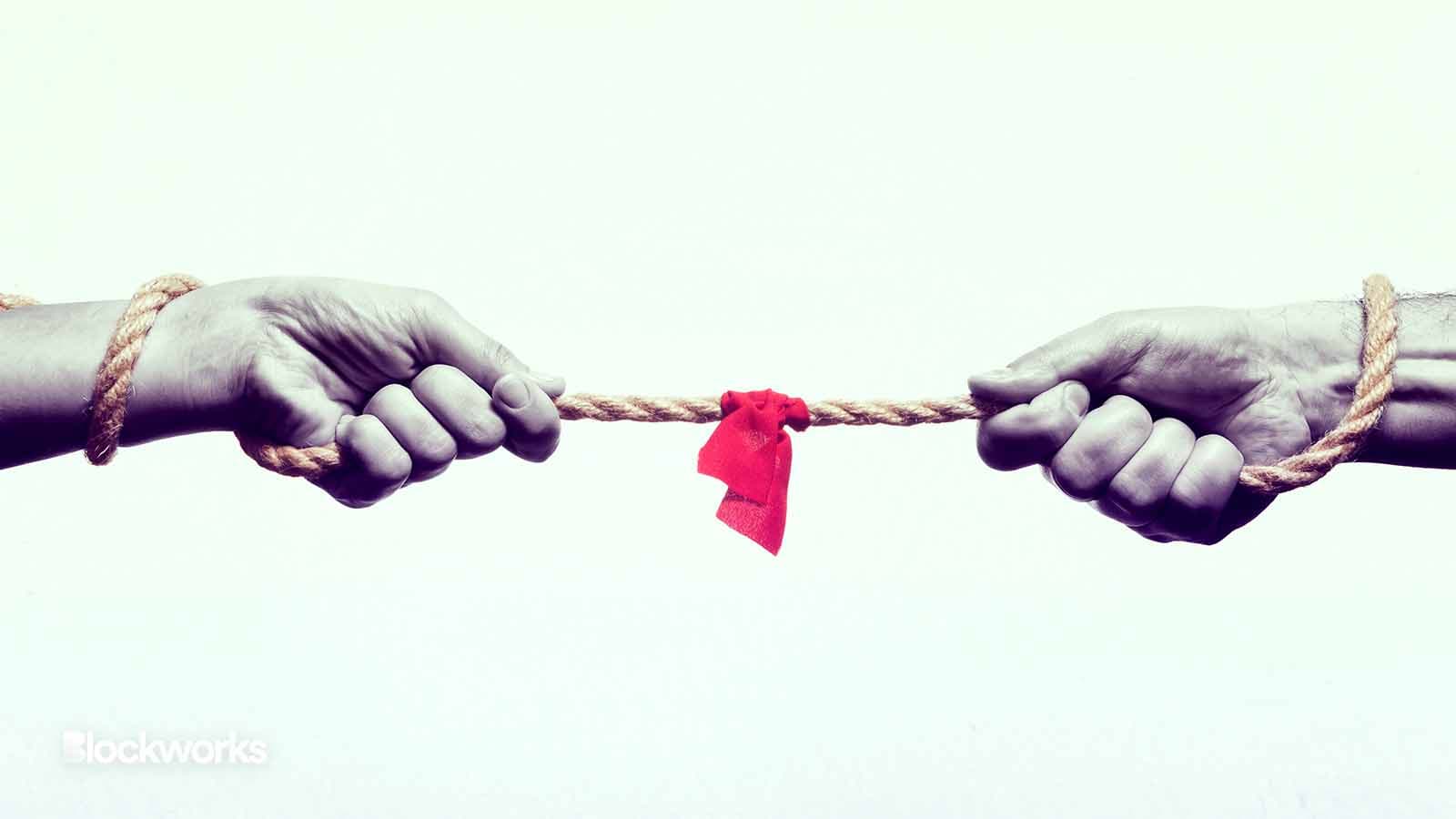 SvetaZi/Shutterstock modified by Blockworks
Grayscale's latest plan for an ETF that invests in bitcoin ETPs trading outside the US has grabbed the industry's attention. 
Bloomberg Intelligence Analyst James Seyffart called it "an almost outright attack on the SEC" in a Tuesday tweet.
Nate Geraci, president of The ETF Store, also took to Twitter, noting the product proposal may be a signal the crypto-focused asset manager is acknowledging a spot bitcoin ETF may be far off. 
Grayscale sued the SEC last year for denying its proposal to convert the Grayscale Bitcoin Trust (GBTC) to an ETF. A ruling is expected in the coming months. 
But Seyffart told Blockworks he isn't sure the filing speaks to the firm's chances of winning. Though he believes Grayscale has a good chance of coming out of the case victorious, he added that a win would not guarantee GBTC's conversion to an ETF. 
"I view this move as a sort of backup plan but also a way of signaling to the SEC the problems with their reasoning for denying a GBTC conversion," he explained.
Grayscale's planned Global Bitcoin Composite ETF would invest in ETPs "listed on major non-US exchanges" that hold or are backed by physical bitcoin — and bitcoin mining companies too. It would carry a BTC ticker.
Though the SEC has not approved a spot bitcoin ETF in the US, such offerings exist in Canada, Brazil and parts of Europe.
The idea of launching an ETF that holds a portion of its portfolio in the same type of product the SEC has not yet allowed is "somewhat comical," Seyffart said.  
Elisabeth Kashner, director of ETF research and analytics at FactSet, said Grayscale has found a novel way to challenge the SEC by implying that ETPs domiciled outside the US are simply exchange-listed securities that can be included in a US ETF.
"Grayscale's persistence and creativity will be up against the SEC's unease with crypto exchanges, which has only been strengthened given the recent collapses," she told Blockworks. "There are two tenacious dogs in this fight."
Lara Crigger, editor-in-chief at data firm VettaFi, called the concept of a fund-of-funds for the bitcoin space "intriguing."
"But I can't see it passing muster with the SEC," Crigger added.
Seyffart said in a tweet he believes the SEC will have to permit the product after approving bitcoin futures ETFs in 2021 — due to that market being federally regulated. 
"The same argument can be made for spot bitcoin ETPs in Canada, Europe, Brazil etc.," he noted. 
Seyffart added such an approval could "really gonna make the SEC look silly," considering the ongoing legal battle between Grayscale and the securities regulator. 
The SEC declined to comment on the Grayscale proposals.
A bid for two other ETFs
Grayscale also filed to launch an ETF that would offer "actively-managed exposure to ethereum futures contracts."
Though the SEC has approved bitcoin futures ETFs in 2021, bids that year by several firms to launch similar products focused on ether did not end in launches.
VanEck and ProShares filed for funds that would invest in ether futures contracts, as well as pooled investment vehicles and ETPs that provide exposure to ETH.
The fund groups chose to withdraw those applications just days later. Some industry watchers presumed at the time that the SEC told the firms such ETFs would not be approved anytime soon. 
Meanwhile, Grayscale's third proposed fund, which would focus on companies and digital assets focused on privacy, likely has the best chance of getting approved, Crigger said. 
But, she noted, it could struggle to differentiate itself from other blockchain-oriented funds — namely one like Amplify Investments' Transformational Data Sharing ETF (BLOK).
BLOK, which launched in 2018, has roughly $450 million assets under management. The fund is up 31% year to date.
"There are already so many ETFs that hold blockchain stocks," Crigger said. "I'm not sure most investors understand what blockchain-based privacy tech even is, apart from all the other blockchain-related business activities out there."
Alongside the three ETF filings, Grayscale revealed Tuesday the formation of Grayscale Funds Trust, a Delaware-domiciled "statutory trust structure" that the firm said in a tweet "enhances our capabilities as a global asset manager."  
A Grayscale spokesperson told Blockworks in an email Tuesday that the company's goal is to "continuously improve, streamline and modernize our clients' investment experience." 
The representative declined to comment further about the proposed funds.
---
Don't miss the next big story – join our free daily newsletter.