Crypto funding: NFT music service backed by Snoop Dogg leads with $20M
NFT music marketplace and liquid staking developer headline $94 million week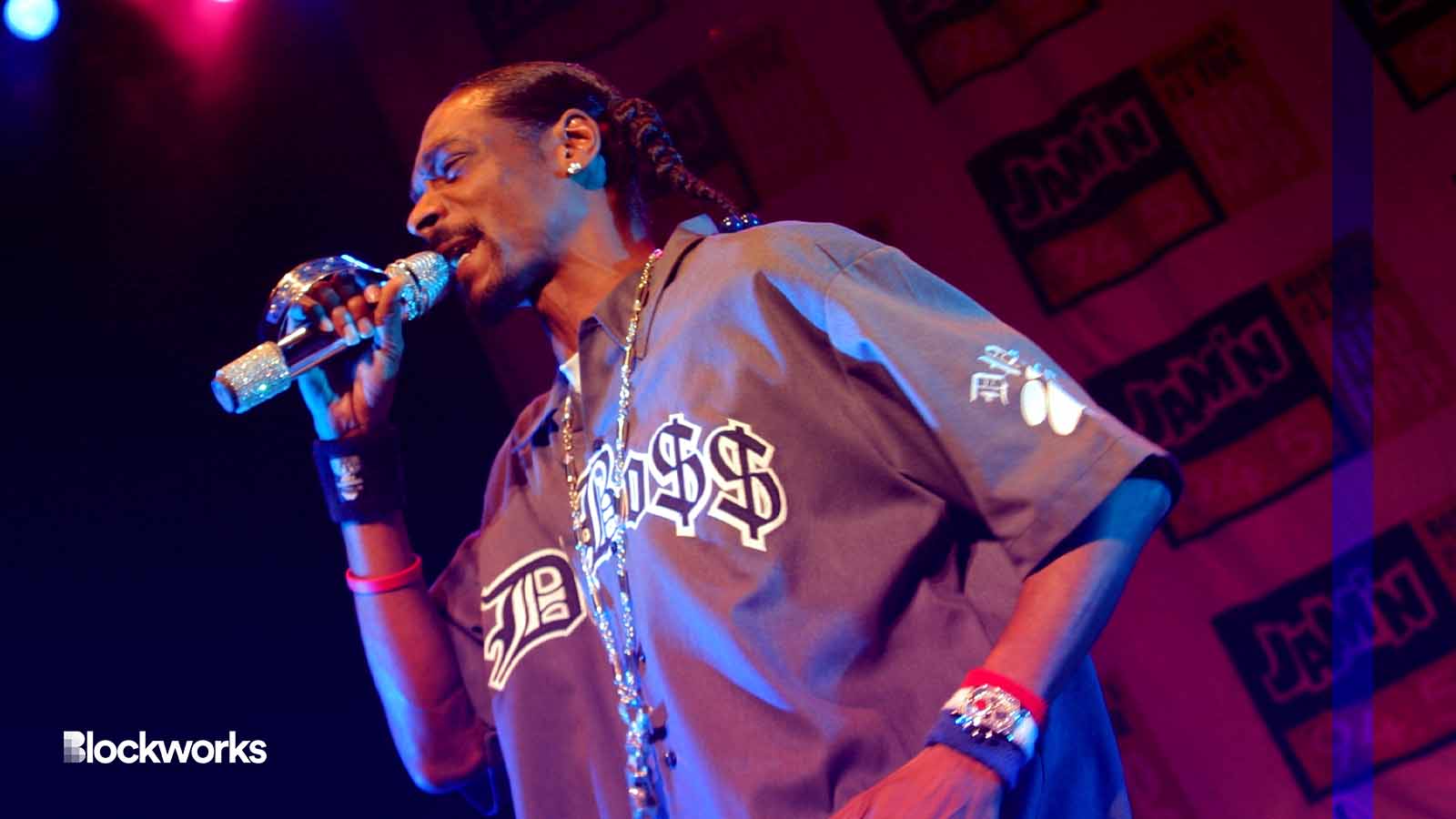 Rapper Snoop Dogg | Adam J. Sablich/Shutterstock modified by Blockworks
Sixteen crypto startups raised over $94 million this week, with Web3 music marketplace Sound leading the pack. 
Sound secured $20 million in a Series A round led by a16z crypto with participation from Palm Tree Crew, Scalar Capital, Coinbase and others. 
Music celebrities also kicked in support, including rapper Snoop Dogg, singer-songwriter Ryan Tedder and record producer Tay Keith. 
The project, which was founded in 2022, seeks to provide a better model for artists to make money. The status quo for artists is to simply drop a song on Spotify or Apple Music and hope enough people listen to make money. 
Spotify, for example, has paid artists as little as $0.0033 per stream, according to a 2021 Business Insider investigation. Under that regime, artists would need to get just over 300 streams to make $1. 
On Sound, artists can sell their music as song NFTs, however, some musicians appear to opt for free public mints. Owners of these NFTs can publicly comment on the song tied to the digital asset, essentially using it for bragging rights. 
Users can verify they were "a fan from way back in the day," according to a Q&A from Sound. The platform utilizes Ethereum and layer-2 network Optimism.
Sound has seen the number of song NFTs minted more than double, to a total over 130,200 since January 2023, according to data from Dune. In a press release announcing the fresh fundraise, Sound claimed it has "generated $5.5 million in revenue for a select group of creators" in the past year.
Now, following the raise, Sound said anyone is welcome to release music on the platform and start earning money through NFT sales.
A focus on liquid staking
Alluvial, the software developer behind liquid staking protocol Liquid Collective, raised $12 million, adding on to a previous $6.2 million haul. 
Ethereal Ventures and Variant co-led the Series A round with participation from Brevan Howard Digital, Avon Ventures and Nascent Capital, among others.
The Ethereum Shapella upgrade in April finally gave network participants the ability to withdraw ETH that had been staked. About 18 million ETH ($35.9 billion) was staked at the time.
In the months after the upgrade, staking on the Ethereum network has skyrocketed. Right now, there are more than 664,000 active validators and another roughly 82,000 that are awaiting approval, according to beaconcha.in. That's about 33% growth since January.
Firms like Alluvial and DeFi protocols such as Lido and Frax Finance are trying to capitalize on that demand. 
Liquid staking provides a unique benefit to validators because they get a liquid staking token (LST) in return for their decision to participate in the securing of the network. Aside from trading, they can use that LST on other DeFi protocols to earn even more yield.
As such, liquid staking tokens have been performing quite well as of late.
Alluvial said the $12 million investment would be used to further its "enterprise-grade liquid staking solution in the market."
Other notable fundraises
Led by Shima Capital, Artela locked down $6 million in seed funding to build a base-layer blockchain network for large-scale decentralized applications.
Lunar Crush, a crypto market aggregation platform that tracks trending trades, is looking to expand into social media feed creation after it raised $5 million at a $30 million valuation.
KTX.Finance, a decentralized perpetuals exchange that went live in June 2023 on BNB Chain, got $4 million in a seed round led by Hashed. 
AI-backed security startup Olympix closed a $4.3 million seed round to enhance its product offerings.
Giza, another AI-based platform but for smart contracts and Web3 protocols, raised $3 million to continue blending AI and blockchain.
Binance Labs committed $15 million to Xterio, a Web3 gaming platform and publisher. 
The Web3 Foundation, which is behind Polkadot, announced a wave of grants worth $780,000 that will fund 36 Web3 projects
---
Don't miss the next big story – join our free daily newsletter.