Selling the Top: Peter Thiel's VC Firm Made $1.8B From Crypto
Founders Fund reportedly no longer has a big investment in crypto after closing down most of its eight-year bet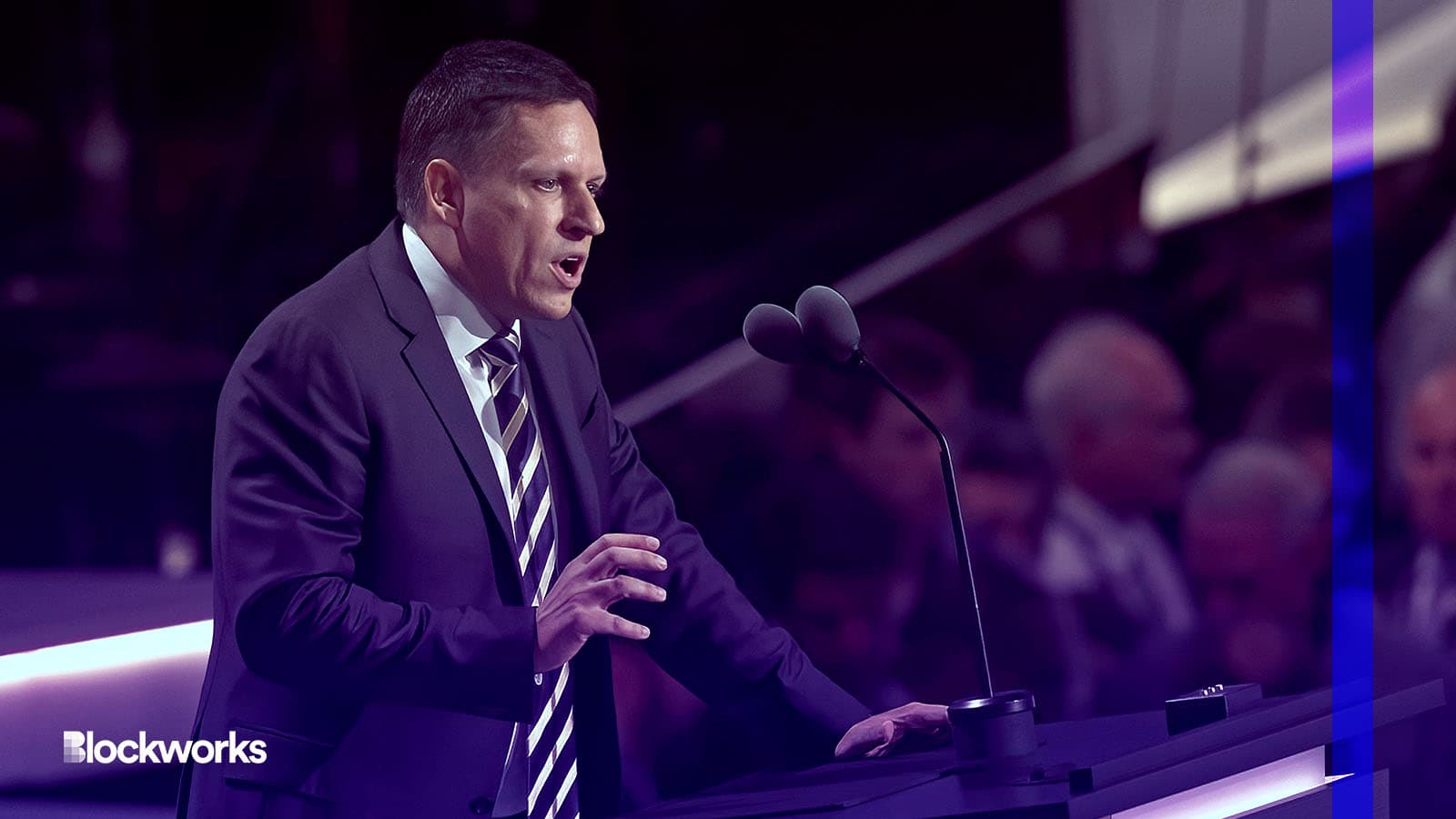 Source: Shutterstock / Mark Reinstein, modified by Blockworks
Billionaire Peter Thiel's Founders Fund made a timely crypto trade last year. 
The venture capital firm sold most of its cryptocurrency holdings before last year's market crash, pulling in $1.8 billion from the trade, the Financial Times reported on Thursday. 
The fund, known to invest in groundbreaking technologies, built a position in crypto over time. It made its first bitcoin investment in 2014, and a majority of its crypto holdings were made up of the original cryptocurrency, partners of the fund told TechCrunch in March last year.
Founders Fund, which has $11 billion in assets under management, sold a big chunk of its crypto at the end of March 2022, a source told the FT. Bitcoin traded around $41,976 at the time, down around 40% from its all-time high.
That well-timed trade was made before the crash of algorithmic stablecoin TerraUSD (UST) in May, which marked the start of the crypto market carnage. 
A representative for Founders Fund didn't return Blockworks' request for comment by press time. 
Notably, Thiel made a pro-bitcoin speech just a month after his fund reportedly sold most of its crypto. He said the rise in bitcoin's price was an implication that the "central banks are bankrupt" and that it signaled "the end of the fiat money regime." He also spoke out against bitcoin's critics, calling billionaire investor Warren Buffett "Enemy No.1" and a "sociopathic grandpa from Omaha." 
When bitcoin was hovering near $60,000 in 2021, Thiel reportedly said that it was a sign the US political system was not stable. "I don't know that you should put all your money into bitcoin at $60,000 a bitcoin right now," he said. "But surely the fact that it is at $60,000 is an extremely hopeful sign."
Separately, Thiel said at an event in Miami, in October 2021, that he felt he was "underinvested" in bitcoin. He also suggested he had some hesitation in investing in it because he thought "the secret was already known by everybody," then added that "I think the answers are still to go long" on bitcoin. 
Crypto wasn't the only investment Founders Fund offloaded. Between 2020 and 2022, the fund had eight other big exits including Airbnb and Palantir, a move that allowed it to return about $13 billion to investors, the FT reported.
---
Don't miss the next big story – join our free daily newsletter.