Are NFTs the New Loyalty Cards? Starbucks Thinks So
Through the Starbucks Odyssey program, users complete challenges to win NFTs and token-gated experiences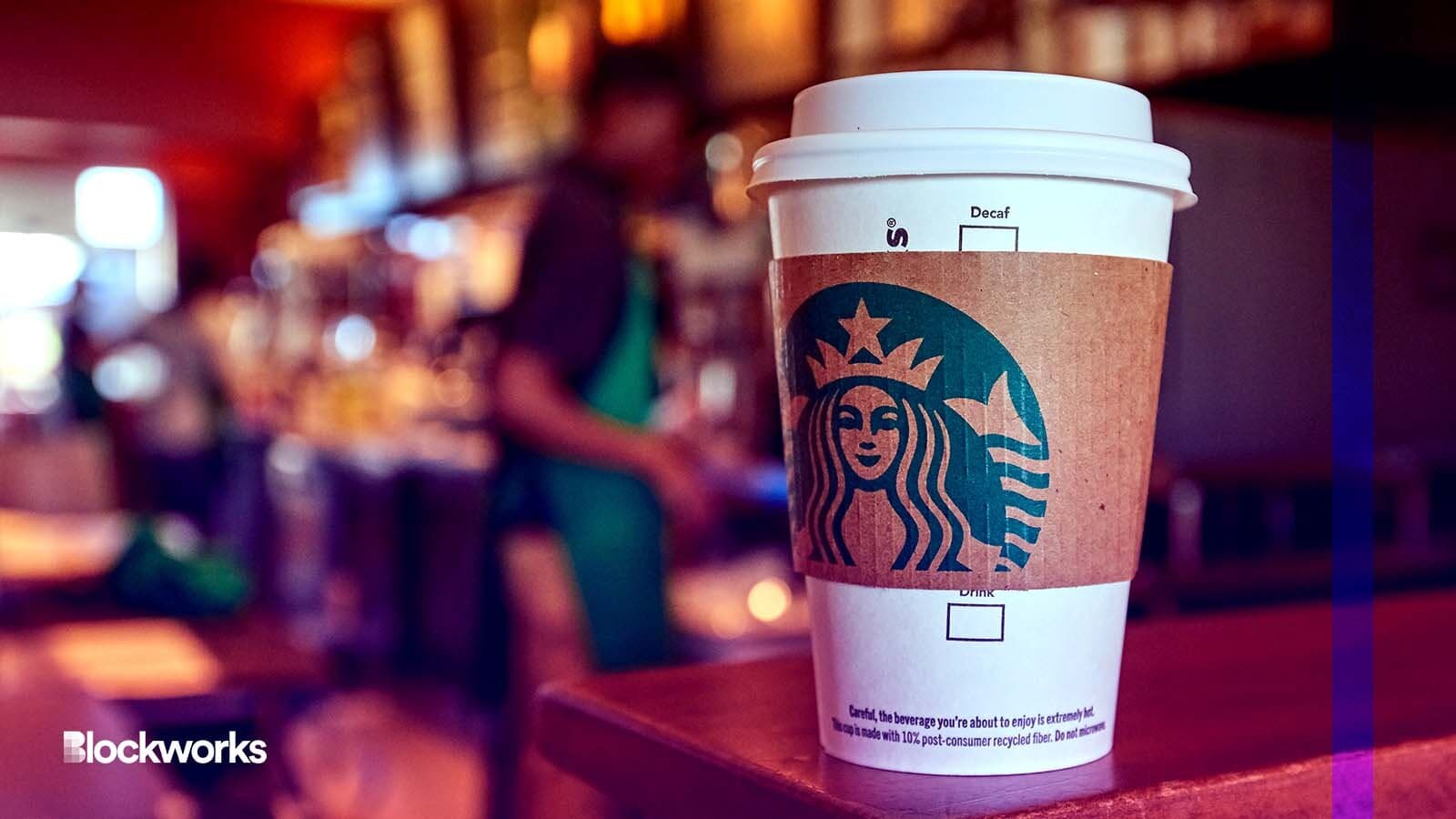 Harun Ozmen/Shutterstock.com modified by Blockworks
Brand loyalty programs become ever more relevant during the holiday season when consumers can expect rewards in the form of discounts, giveaways or gift packages.
Starbucks is brewing up a new flavor of rewards programs using Web3 technology. The coffeehouse chain recently launched its Starbucks Odyssey program in beta to a few thousand customers and employees in the US who have been on a waitlist since September.
Blockworks' Jason Yanowitz, the host of the Empire podcast, spoke to Adam Brotman, the co-founder of the Web3 consultancy Forum3 that worked closely with the Starbucks rewards team to devise the Starbucks Odyssey platform. Brotman also happens to be the former chief digital officer of Starbucks.
Brotman said blockchain-based digital collectibles can be an incredible loyalty, storytelling and brand engagement tool. 
"The consumer is changing," Brotman said, when asked why NFTs are needed when Starbucks already has a successful mobile-based program that rewards money spent with discounts. The consumer, in Brotman's view, "wants to be an owner, a participant, a community member…to be part of the story of the brand."
These changing consumer habits provided an opportunity for Starbucks to build another layer on top of its existing loyalty program, rather than a replacement. 
Starbucks Odyssey was inspired by a December-only promotion for Starbucks Rewards members called Starbucks for Life, Brotman told Blockworks in a follow-up interview.
The more money users spend during December and play in-app mini games, the more stickers they can earn — and the higher their chances of winning free coffee or confections. 
Now instead of earning stickers and stars, users can be rewarded with digital collectibles.
NFTs as coupons with personality
Brotman framed the concept as "an always-on game layer," and the objective of the game is to "get as many points as you can" by engaging in "journeys," or challenges, and leveling up. 
Some examples of journeys, according to Brotman, include "going to a Starbucks store you've never been to this week, or trying a Starbucks drink you've never tried," or watching a video on Starbucks' agronomy practices at a company farm in Costa Rica.
When users complete these journeys, they earn the right to claim a Polygon-based NFT collectible known as a stamp, which also has points embedded in the metadata. In the case a user wants to buy more points, collectibles can be traded on a secondary marketplace built into the Odyssey platform by Nifty Gateway.
These NFTs then act as access passes to certain prizes and experiences, such as a trip to a Costa Rican coffee farm or access to an online coffee-making class or earning free coffee for a month. Every redemption period lasts three months, so it won't be until April 2023 that beta users can redeem rewards. 
"What if your points could come to life," questioned Brotman, comparing NFTs to coupons or vouchers "that have personality."
Brotman also mentioned Nike as another company that is "approaching the [Web3] space in a smart way" when it comes to customer loyalty. The brand, which owns the NFT project RTFKT, recently launched an NFT marketplace called .Swoosh that rewards the community for engaging and co-creating virtual products.
---
Don't miss the next big story – join our free daily newsletter.
Follow Sam Bankman-Fried's trial with the latest news from the courtroom.