Blockworks Announces Fundraise at $135 Million Valuation
Funding will accelerate the research and data offering and enable global expansion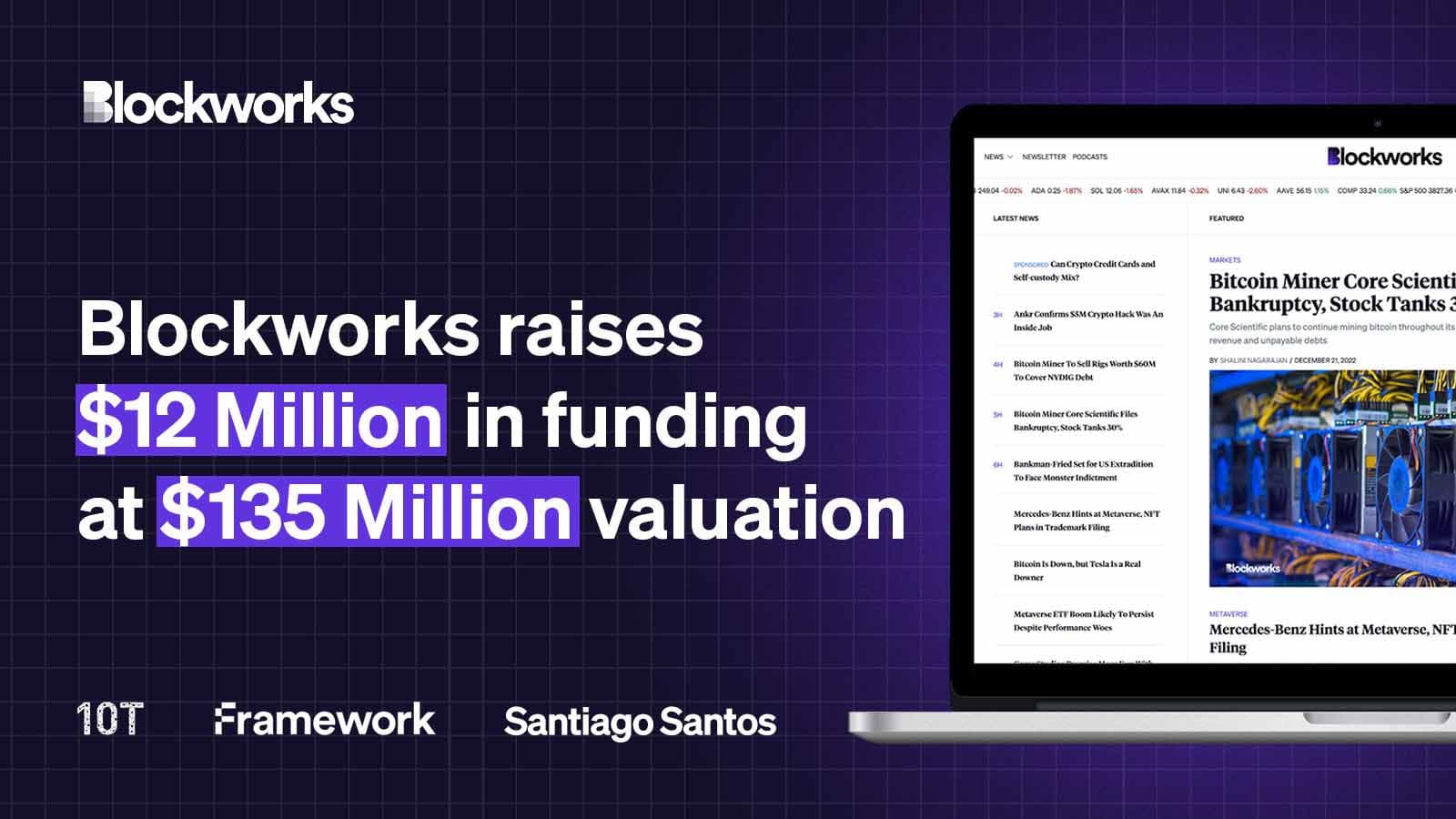 Dear Blockworks community,
Our mission at Blockworks has always been to create a level playing field for information. 
We launched Blockworks with the thesis that as crypto grew, the industry and its participants would demand better information. 
For the past five years, that's what we've built. From world-class conferences to professional journalism and from podcasts and newsletters to deep research, we've helped drive forward many of crypto's most important conversations.
Together, our team of journalists, researchers, data analysts, writers, podcast hosts, and operators make up the most trusted media and information brand in crypto.
Today, we're excited to announce a $12 million dollar investment led by 10T Holdings with participation from Framework Ventures and Santiago Santos. This investment ushers in the next era of Blockworks, deepens our ability to provide more powerful information to our audience, and marks a big step forward towards our mission.
Expanding our vision
Since we launched more than five years ago, the quality of crypto media and journalism has improved drastically. However, crypto research, data, and analytics remain fragmented across disparate platforms. Protocol financials and key metrics are kept shrouded in mystery, there are no widely accepted valuation frameworks, and governance is opaque and non-inclusive.
Solving this is the next challenge that we're taking on at Blockworks. 
For the past year, we've been building Blockworks Research, a powerful investment platform that brings together data, analytics, research, governance, and real-time news. Financial institutions and deeply crypto-native investors rely on Blockworks Research to make better decisions. This investment allows us to double-down on this effort to bring better information to the industry. 
As Blockworks evolves from a media brand to a full-scale information platform, our community will continue to receive the unbiased, quality content they expect from Blockworks, and they'll also get access to deep analytics, thoughtful research, valuation frameworks, and governance.
The future is bright
The future has never looked brighter for crypto than it does today.
Our growth thus far has been grassroots and community driven. We couldn't have done this without our amazing community — thank you for your support and belief in what we're doing. We're excited to continue growing and evolving with you by our side.
We're thrilled to take this next step in our journey and grow our team, invest in new technology,  expand internationally, and bring you even more high-quality content that will help you navigate the ever-changing world of crypto.
Crypto is still in its early days, and so is Blockworks. Here's to the next chapter. We can't wait to see what the future holds.
Sincerely,
Jason and Mike
---
Don't miss the next big story – join our free daily newsletter.