Coin Cafe Settles With NY AG, Ordered to Pay $4.3M Back to Customers
The settlement reached between the New York Attorney General and Coin Cafe is tiny compared to some other crypto players who were targeted this year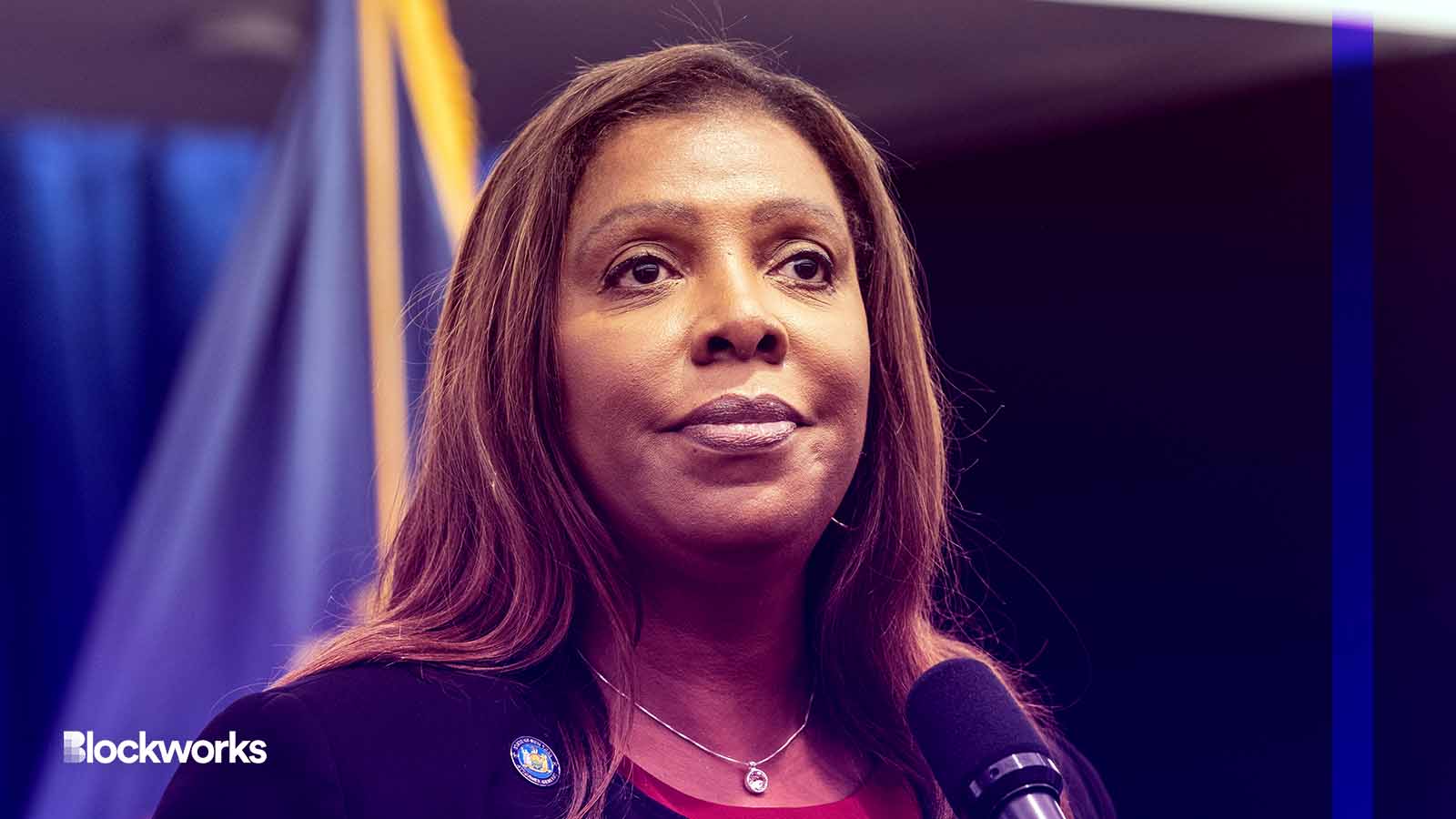 lev radin/Shutterstock modified by Blockworks
New York Attorney General Letitia James reached a settlement with Coin Cafe that says the crypto trading platform must pay back $4.3 million to its customers. 
With this move, James has signaled that she will continue to closely watch crypto companies; especially ones operating in New York, like the Brooklyn-based Coin Cafe. In her previous suit against KuCoin, she alleged that ether is a security, sparking a debate between US regulators.
As part of the deal, Coin Cafe admitted that "it routinely charged and increased fees without properly informing investors," according to a statement from the Office of the Attorney General. Coin Cafe will provide refunds to all US investors who request them within the next year. Additionally, the company said it will proactively reach out to investors to inform them if they are eligible for a refund.
Coin Cafe began surreptitiously charging "storage fees" back in September 2020. These were essentially a penalty for customers who didn't buy, sell or transfer crypto out of their account within a 30-day period. It increased the amount it charged for those fees multiple times, the AG said. In October 2022, it drastically hiked up these storage fees. 
"[Coin Cafe] charged investors the greater of 7.99 percent of the account or $99 worth of Bitcoin per month if an investor did not buy, sell, or transfer Bitcoin on the Coin Cafe site within 30 days," the AG's statement claimed. "The fees were not disclosed on the website, and the notifications to investors did not make clear that investors would be charged increased fees."
The company reduced hundreds of investors' accounts to zero with these fees, the AG added. 
However, when we consider the bigger picture, the fraudulent activities of Coin Cafe appear minuscule compared to the regulatory actions taken against several other crypto companies in 2023. Here are some notable cases:
The Commodity Future Trading Commission (CFTC) ordered unregistered bitcoin (BTC) commodity pool operator Mirror Trading International Proprietary Limited to pay $3.4 billion for allegedly illegally handling forex transactions in late April.
Coinbase agreed to a $100 million settlement in January with the New York State Department of Financial Services, after the agency found the exchange violated anti-money laundering laws in 2018 and 2019.
Crypto lending platform Nexo paid a $45 million fine in January and took down its Earn Interest Product, which promised investors annual interest of as much as 20%. Following cease and desist letters from multiple states, Nexo wound down operations in the US.
---
Get the day's top crypto news and insights delivered to your email every evening. Subscribe to Blockworks' free newsletter now.
Want alpha sent directly to your inbox? Get degen trade ideas, governance updates, token performance, can't-miss tweets and more from Blockworks Research's Daily Debrief.
Can't wait? Get our news the fastest way possible. Join us on Telegram and follow us on Google News.
---