ETFs Fuel Bitcoin Rally, $70K on the Horizon
The launch of a BTC ETF signals favorable regulatory outlook for bitcoin and underlying market dynamics support a larger rally in store for bitcoin investors.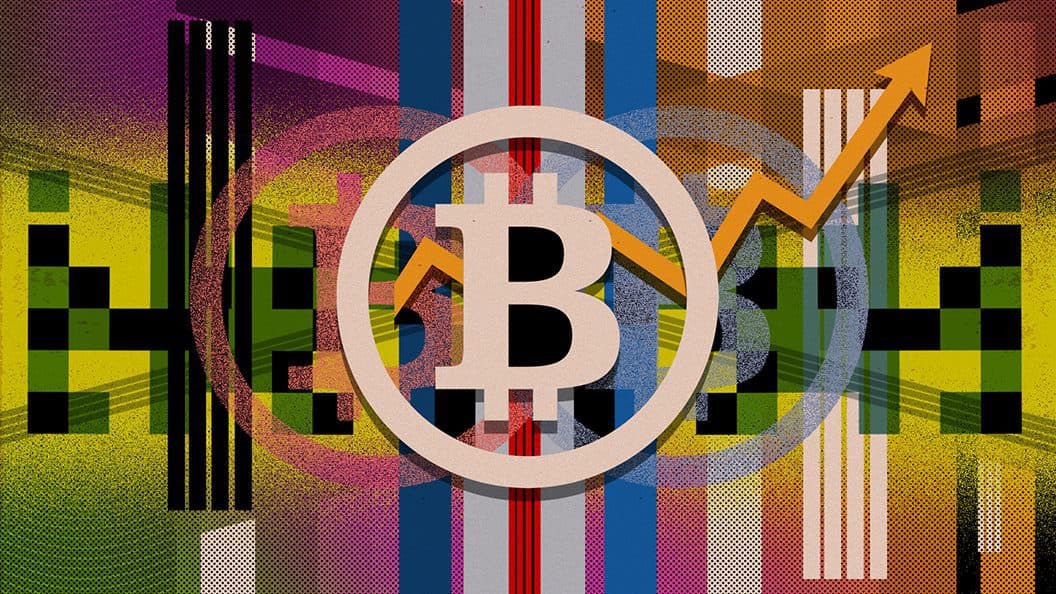 Blockworks exclusive art by Axel Rangel
key takeaways
Newly launched BTC ETF, BITO, helps fuel a bitcoin rally past all time highs on favorable signs from regulators in the US.
Despite trading at similar prices as April of 2021, there is less leverage in the market and on-chain data supporting the rally has more room to run.
Bitcoin has surpassed its previous all-time high of $64,895, last seen on April 14, 2021.
Back then, bears rejoiced as they declared BTC dead (again) over the course of a 55% drawdown through the latter half of July.
Many market participants are attributing the bullish price action to the highly anticipated futures-backed BTC ETF, BITO, which began trading yesterday.
The ETF showcased one of the largest debuts in terms of volume traded on an opening day in history, recording nearly $1 billion in trading volume, Blockworks previously reported.
While the debut of a BTC ETF is a watershed moment for the digital asset industry, it is perhaps the message its approval sends from regulators in the US that makes it so important. In the last month, Jerome Powell has stated "I have no intentions to ban" cryptocurrencies, and SEC chairman, Gary Gensler, said he "has no plans of banning crypto". 
However, actions speak louder than words. The SEC allowing a BTC ETF to launch gives potential market participants the confidence to begin dipping their toes in the water. One of the main reservations surrounding cryptocurrencies has been the lack of regulatory clarity. 
Ray Dalio, the founder of the world's largest hedge fund, Bridgewater Associates, said "At the end of the day, if it's really successful, they'll kill it," in regards to bitcoin. But with China's recent crackdown on digital assets, many industry players are urging lawmakers to take the opposite approach and position the US as a leader in the innovative industry.
Bitcoin Market Structure
There is a lot less leverage in the market today than there was in April of 2021 when BTC last traded in the $60,000's. Futures open interest has yet to surpass all-time highs seen in April. The annualized basis yields are a third of what they were earlier this year, and although perpetual funding rates are racing higher, they are not at the same levels as they were six months ago. 
While there may be a short-term pullback in price to wash out any excess leverage that has built up on the exuberance of surpassing all-time highs, the on-chain data shows that the next leg higher could just be getting underway. 
On-chain analyst, Dylan LeClair, explains, "When the STH:LTH (short-term holders:long-term holders) realized price ratio is increasing, it means that the cost basis of STHs is increasing relative to LTHs, and conversely when STH:LTH realized price ratio is decreasing, the cost basis of LTHs is increasing relative to the cost basis of STHs. This is extremely insightful, as the price of bitcoin rises when the marginal seller is exhausted."
As seen in the chart below, the STH:LTH Realized Price Ratio is just beginning to bottom out, indicating a lot of further upside remains for BTC's price. 
As of reporting, bitcoin was last trading at $66,408.37, up 5.84% over the last 24 hours. Over the last six months, bitcoin (blue line) has gained 69.92% versus its inflation hedge counterpart, gold (orange line), which is down -5.93% over the same period.
---
Stay up to date on bitcoin moves and more. Get our daily newsletter that helps thousands of investors understand the markets. Sign up for free.
---