Helium hotspots go live in bid to turn Miami network profitable
The Web3 telecommunications company is rolling out plug-and-play hotspots that Miami residents can purchase for $250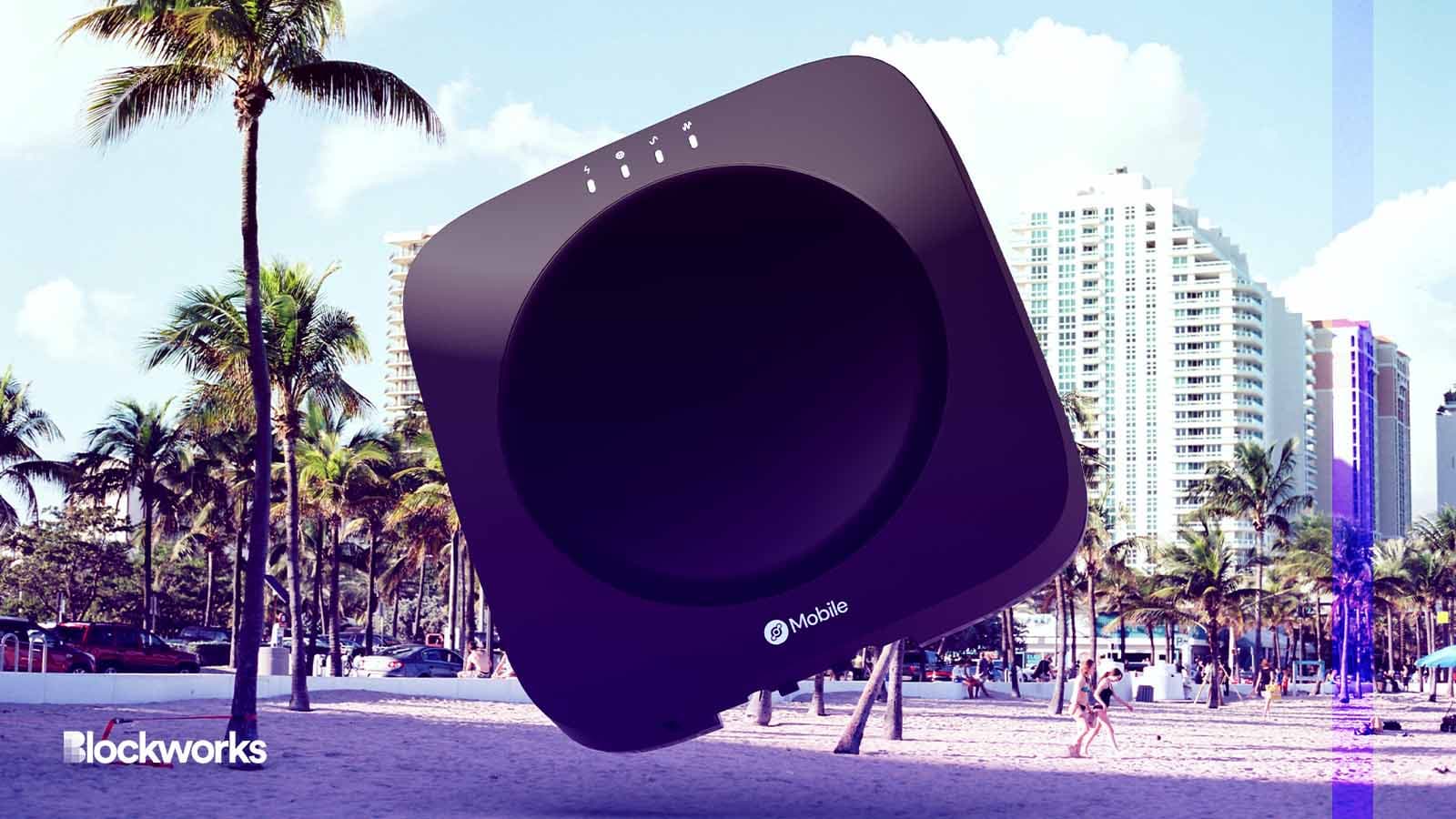 Source: Helium Mobile Hotspot
Nova Labs, the founding team behind the Helium wireless network, announced today the release of at-home hotspots for Miamians willing to shell out $250, plus a bump in their electric bill.
The hotspots are meant for deployment in commercial areas, such as cafes, where business owners could plug in a Helium hotspot and slowly accrue Helium-native MOBILE tokens. 
For Nova Labs, which debuted its Miami mobile network in partnership with T-Mobile in mid-August, the hotspots present another step in what has so far been a rocky road to economic sustainability. 
Helium has caught flack for the economics of its hotspot miners in the past as coverage providers struggled to earn the price of their mining rigs back amid tumbling MOBILE token prices. MOBILE is down almost 40% this month, per CoinMarketCap.
But as Nova Labs releases its own hotspot rigs, Boris Renski, the head of wireless, says the community has picked up a dose of bear market pragmatism.
In earlier iterations of Helium, hotspots were deployed indiscriminately, causing MOBILE returns to fall for individual miners, Renski told Blockworks. But recent proposals from Helium token owners would create tiered reward systems based on signal strength and limit the number of hotspots that can operate in the same area. 
Today's Helium is optimized "towards more realistic steady state returns versus speeding into the hype cycles, so to speak," Renski said. 
Under the Miami hybrid phone plan, users use Helium data unless there aren't hotspots in range, at which point T-Mobile's service takes over — and Helium foots the bill. Renski said Helium's pathway to profitability and scale depends on subscribers using data from Helium hotspots instead of T-Mobile's towers.
With these new hotspots, which Renski says come in at a lower price point and with easier setup than traditional CBRS cells, Helium is hoping it can move the needle.
Still, building a decentralized mobile network from scratch is a tricky financial proposition. Helium's unlimited cellular plan also only costs users $5 per month, which is useful for adoption but not for the company's bottom line.
"That's not a secret: we are losing money on every subscriber," Renski said.
Updated Oct. 3, 2023 at 5:05 pm ET: This article was updated to clarify the relationship between Helium Network, Nova Labs and Helium Mobile.
---
Don't miss the next big story – join our free daily newsletter.