Crypto's Latest Utility: Memecoins as Worldwide Lottery Tickets
Early buyers made a fortune as PEPE surged from virtually nothing to a peak market cap of around $1.5 billion in just a few weeks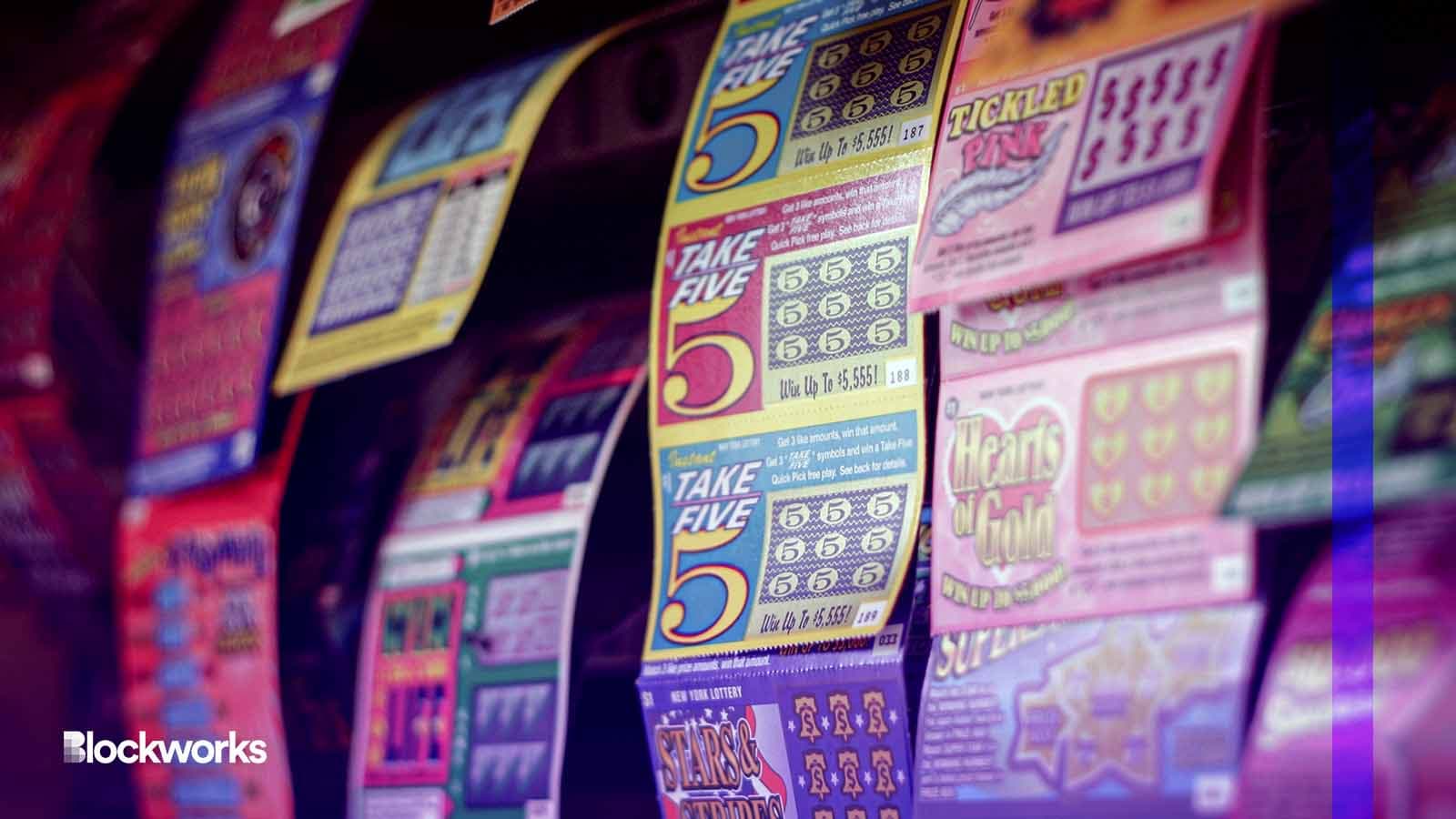 Wirestock Creators/Shutterstock modified by Blockworks
Lotteries, casino games or gambling in general — it's all about acquiring instant wealth with little or no effort. That is, except for the hard work that went into earning the money that is then lost the vast majority of the time.
The recent pepe memecoin run saw early buyers earning millions of dollars on hundred dollar bets during a period of relative stagnation in the crypto market. The coin surged from virtually nothing to a market cap of around $1.5 billion in just a few weeks, sparking debates about pump and dump schemes and market manipulation.
On a recent 1000X podcast, Avi Felman, head of digital asset trading at GoldenTree, and Cumberland's Global Head of Trading Jonah Van Bourg spoke to Blockworks about the memecoin's activity and how it could point to a crypto utility that is often considered illegitimate.
"It's been a crazy uptake in memecoinery," Felman says, "and it's all retail."
Institutions can't "touch this stuff," he says, but they can pay attention to the activity because "it's a great signal."
"The pepe blow-off and the crazy amount of capital that flew into pepe, was that a sign for the health of the market?"
Felman says there are two sides to the argument. "Memecoins generally mean blow-off. It's when you have nothing better to do with your money."
Such activities can "suck liquidity" out of bitcoin and ether, he says, after which "everything starts crashing" once the meme coin loses momentum and people eventually reallocate their funds out of BTC and ETH.
Felman suggests the other possibility is that the pepe coin craze was just an isolated event. "Pepe was the only thing that was running," he says, "and there's not that much liquidity."
A new use case?
Van Bourg looks at the situation from a "TradFi-informed" perspective. "I think it's a new use case emerging."
"To me, this is a lottery."
So far, Van Bourg says, the major use cases of blockchain have been DeFi and NFTs, along with what he calls the OG use case, cryptocurrency itself. "This online lottery, accessible to the entire world, is a use case."
Of course, most lotteries raise funds for state expenses or charities and are verifiably fair with posted odds of winning. Anonymous memecoin projects ostensibly lack a higher purpose and are much more opaque in nature, with most funds funneling into the hands of a few founders and early buyers while the majority who jump in later are left with losses. 
Unlike lotteries, memecoin schemes tend to more closely resemble Ponzis, being inherently self-serving and lacking a time-allocated win or loss window, instead depending on a game of chicken whereby a small number of in-the-know participants time their exit before the crowd catches on.
Van Bourg compares the phenomenon to his time as a commodities trader, noting that "the biggest entrepreneurs who generate the most wealth do so by taking a waste product and turning it into a useful product."
"Natural gas was literally burned at the wellhead until somebody thought, 'Hey, this is a cleaner fuel that we can use to heat our homes.'"
Vaseline is another example. "It used to be a waste product from the refining process," he says, but Exxon started selling it for consumer use and "made a fortune, right?"
"Before these conversions occur, commodities markets often dismiss this stuff as crap, as a waste of time, a problem, a waste of resources."
Sitting at an institutional firm servicing institutional counterparties, Van Bourg says he listens to people dismiss memecoins like pepe as "a waste of block space."
"Maybe not. Maybe the creators of these types of ERC-20 tokens, which are consuming so much gas and could theoretically be considered waste products, are actually useful products insofar as people demand lottery-style upside for minimal effort in this society." 
"It's human nature. I don't know. That would be one kind of crazy take on it."
---
Don't miss the next big story – join our free daily newsletter.