Pepe's Pump Has Memecoin Fans Excited — But Red Flags Abound
Pepe is the latest memecoin to entice crypto speculators, but there are concerns over whether insiders control significant chunks of its supply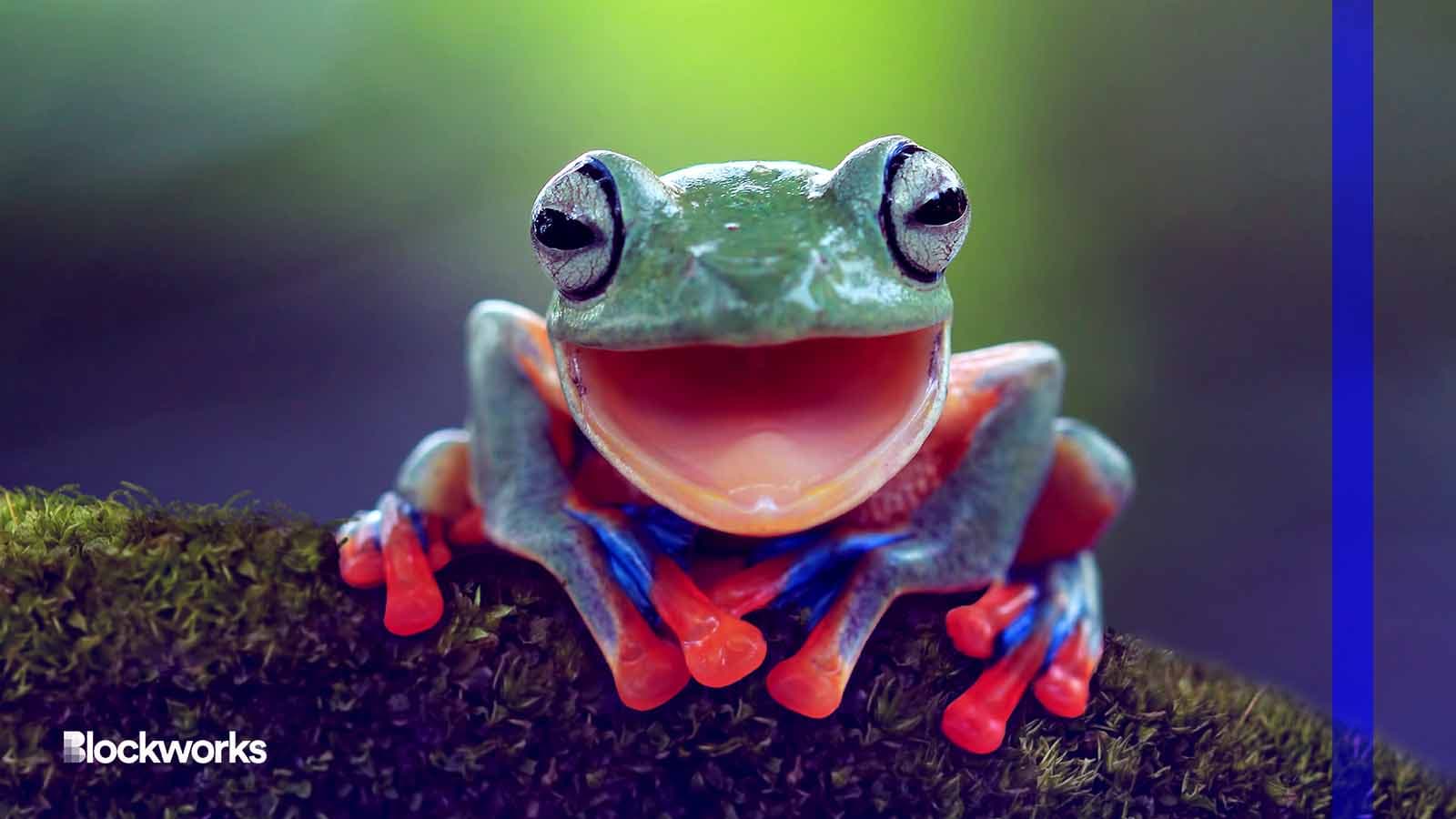 Kurit afshen/Shutterstock modified by Blockworks
Pepe is the new memecoin on the crypto block.
Some have lauded pepe's quick rise to the top-100 market cap leaderboards, anchored in a 1,900% price rally in less than three weeks.
Pepe (not to be confused with the legendary PEPECASH) is presented as an homage to the internet's favorite notorious green frog, powered by cute tokenomics meant to "make memecoins great again."
But not everyone is sold.
On CoinGecko — one of the top two crypto market data providers — pepe's market is worth about $519 million. That figure is found by multiplying its memey total supply (420.69 trillion) by its current price (roughly $0.00000122 at time of publication), placing it at the bottom of CoinGecko's front page, at rank 98.
Rival site CoinMarketCap is instead for now keeping pepe all the way on page 27, relegating it to rank 2,612.
Crypto projects of similar position command market caps of just $100,000, a tiny fraction of pepe's purported value.
Some have suggested that CoinMarketCap is intentionally ignoring pepe's true market cap, perhaps as some grand conspiracy to thumb noses at upstart cryptocurrencies and their froggy backers. 
But a CoinMarketCap spokesperson told Blockworks that the decision has more to do with difficulties in verifying pepe's circulating supply.
"By default, all unverified market caps are ranked in the same ballpark," the spokesperson said. "The situation is fluid, we're trying to gather more information."
'Mysterious PEPE whales' snapped up supply
CoinMarketCap's spokesperson cited a Twitter thread posted on Apr. 19 (a few days after the token started trading on Uniswap) by the research arm of quant trading shop Thanefield Capital. 
The thread highlighted key concerns around a set of "mysterious whales" who'd gobbled 28.9 trillion PEPE (about 7% of the total supply) within a few minutes of it trading on exchanges. 
The wallets acquired their pepe with an average cost of 0.61 ETH ($1,137) — 28.9 trillion PEPE is now worth more than $30.6 million.
However, the firm noted that if even a small fraction of those tokens were sold, pepe's thin liquidity would mean the token's price would collapse.
"This behavior raises questions about whether these wallets belong to insiders or the [Pepe developer] team, as not only did they have impeccable timing, but they are also holding a considerable amount after a significant run of 1000x," Thanefield said at the time.
"On the other hand, it is also impressive that these wallets demonstrate strong conviction by holding onto their positions even after a [massive run]."
CoinMarketCap's spokesperson told Blockworks that the pepe team claims the token's circulating supply is equal to its total supply — which would mean the wallets flagged by Thanefield should not belong to any project insiders.
The site is still in the midst of evaluating whether that's the case. CoinGecko declined a request for comment, while the pepe team is yet to respond.
In any case, there have been other red flags associated with pepe. Smart contract auditing firm GoPlus Security cited three potential security risks which had potential for pepe to double as a so-called "honeypot" — a ruse to enrich project insiders via an exit scam (otherwise known as a rug pull).
Honeypot risks included the potential for developers to suspend trading, limit transactions and blacklist addresses from interacting with their tokens. However, the owner of pepe's Ethereum smart contract later renounced ownership, effectively rendering those functions unusable, per Solidus Labs' token sniffing tool.
Why those powers were initially coded remains unclear. But if that doesn't dissuade you, then perhaps pepe's own disclosure will:
"PEPE is a meme coin with no intrinsic value or expectation of financial return. There is no formal team or roadmap. The coin is completely useless and for entertainment purposes only."
Updated May 6, 2023 at 4:45 am ET: CoinMarketCap now shows pepe's circulating supply as 391.79 trillion, having removed the 7% supply in question from its market value. Added context about pepe's smart contract.
---
Get the day's top crypto news and insights delivered to your email every evening. Subscribe to Blockworks' free newsletter now.
Want alpha sent directly to your inbox? Get degen trade ideas, governance updates, token performance, can't-miss tweets and more from Blockworks Research's Daily Debrief.
Can't wait? Get our news the fastest way possible. Join us on Telegram and follow us on Google News.
---