ZkSync launches rival to Optimism's OP Stack
The 'ZK Stack' is Matter Labs' proposed framework for building independent 'hyperchains' powered by zero-knowledge proofs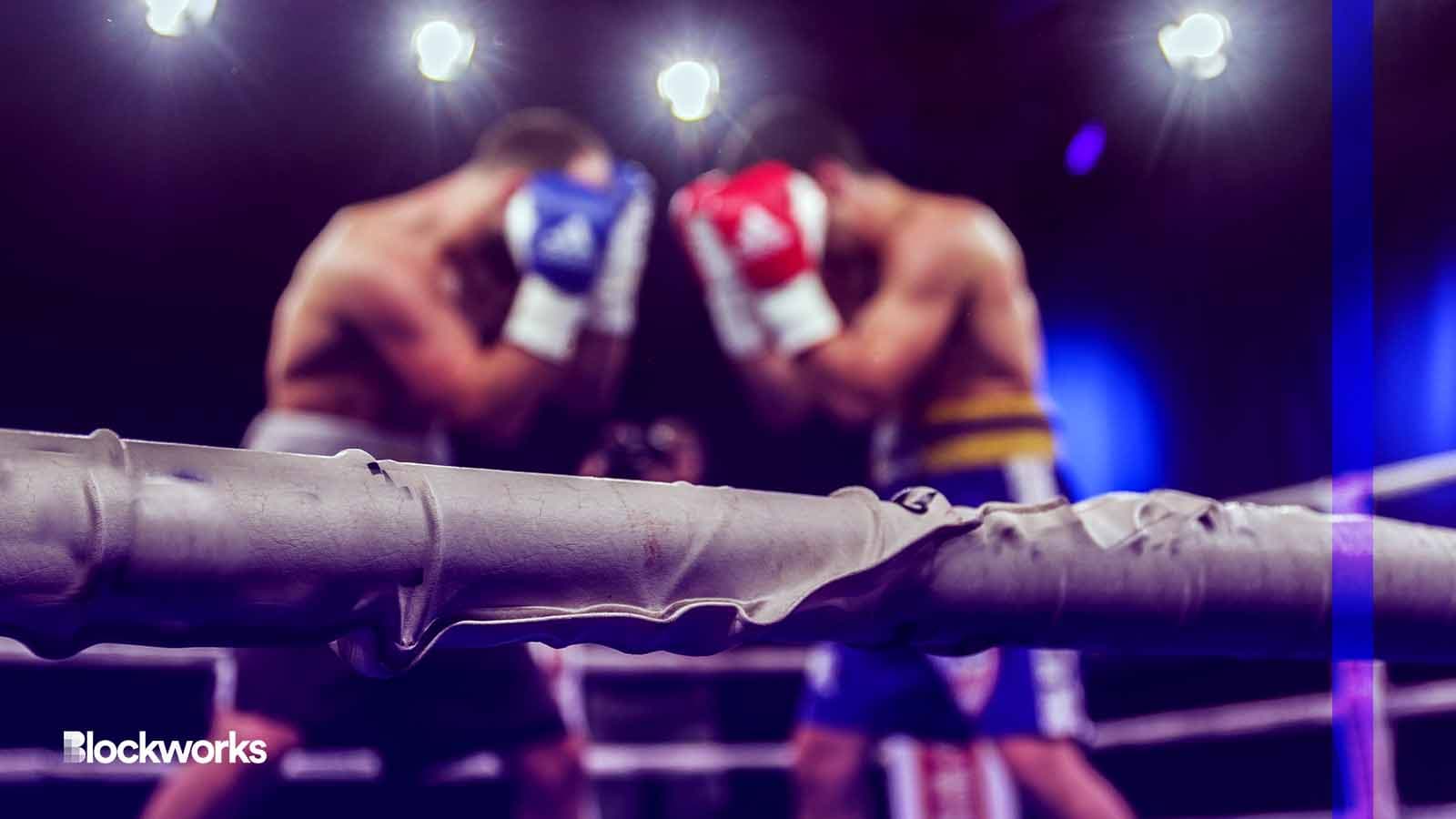 LorenzoPeg/Shutterstock modified by Blockworks
The team behind zkSync Era, an Ethereum-compatible layer-2 zk-rollup, is launching an open-source framework for building zk-rollups and layer-3s, which they call "hyperchains," based on its code.
The concept — called ZK Stack — is meant to address a subset of developers for whom sovereignty is paramount. In addition to being free and open source, resulting chains remain customizable while maintaining the security of an Ethereum zk-rollup.
Matter Labs CEO Alex Gluchowski told Blockworks that no other current solution for builders provides the combination of permissive open-source license — MIT/Apache — and scalability afforded by zero-knowledge proof technology.
"The creator (you) possesses full rights to the code and enjoys unrestricted autonomy to customize and shape every aspect of the chain," zkSync said in a blog post. "Hyperchains operate independently, relying solely on Ethereum [mainnet] for their liveness and security."
A platform to rival the Optimism "superchain" concept is clearly a goal, but one which front-loads the philosophical underpinnings of Matter Labs' "ZK Credo," released on Friday.
"It's going to be the only alternative — fully open-source alternative — to Optimism's stack that is available today for anyone to build rollups," Gluchowski told Blockworks.
Among the key features is that the ZK Stack will be modular and composable. That means builders will be able to choose among a bevy of options for the sequencer and data availability layers, but without fragmenting liquidity and users.
In principle, "a seamless trustless network with low latency and shared liquidity," will appeal to applications that don't require synchronous composability. Rather than having chains be siloed and requiring the use of often-risky cross-chain bridges, they will be able to execute user actions across a "unified liquidity network."
"If you look at Optimism's superchains, in order to build a trustless bridge between superchains, the user will have to wait seven days," Gluchowski said.
That's not good enough, he reckons.
"The latency has to be down to seconds, maybe minutes, but really, really short for the liquidity on all of those chains and for interoperability of messages between all of those chains to feel seamless to the end users."
A spokesperson for OP Labs told Blockworks the OP Stack can mitigate this current shortcoming, noting that the Optimism Foundation recently released a request for proposal on this issue.
"[The OP Stack's] modular design should allow operators to swap and add components according to their unique needs," the spokesperson said. "An OP Chain operator might opt to use a [zero-knowledge validity proof] rather than a fault proof, for example."
The ZK Stack is also well suited to applications that benefit from customizability, such as a game developer that wants to run its own sequencer, or an application-specific blockchain such as a decentralized exchange which requires super low latency.
It could also apply to private permissioned chains, such as one run by a bank, which nevertheless benefits from being connected to the rest of the ecosystem.
Decentralization roadmap
One of the goals of the initiative is community building — to attract developers into the zkSync ecosystem.
"We've been working on zkSync Era for several years to build the first [zero-knowledge] EVM-driven blockchain," Gluchowski said. "And now it's time to give it over to the community and enable everyone to build their own versions of it."
This represents a shift in priorities for Matter Labs, to onboard more independent teams to contribute to the development of the network that began with zkSync Era.
In its early months, zkSync Era — which does not yet have a native token — has seen a surge in activity and total value locked, compared to competing rollups, according to Gracy Chen from crypto exchange Bitget.
Hyperchains can natively support decentralized sequencers using any existing consensus algorithm. ZkSync Era itself expects to switch away from its currently centralized sequencer to a decentralized option, "and will make its code available to the Hyperchain developers," according to a blog post on hyperchains.
The first hyperchains are expected to go live later this year, but developers are encouraged to begin experimenting, so that once the requisite changes to zkSync Era are in place, they will be able to easily deploy their customized chains.
Updated June 26, 2023 at 1:00 pm ET: Added comment and context from OP Labs.
---
Don't miss the next big story – join our free daily newsletter.