A Majority of Stablecoins will be Non-USD, says StraitsX Co-Founder
Issuer of SGD stablecoin, XSGD, is bullish on the market for stablecoins not pegged to the US dollar.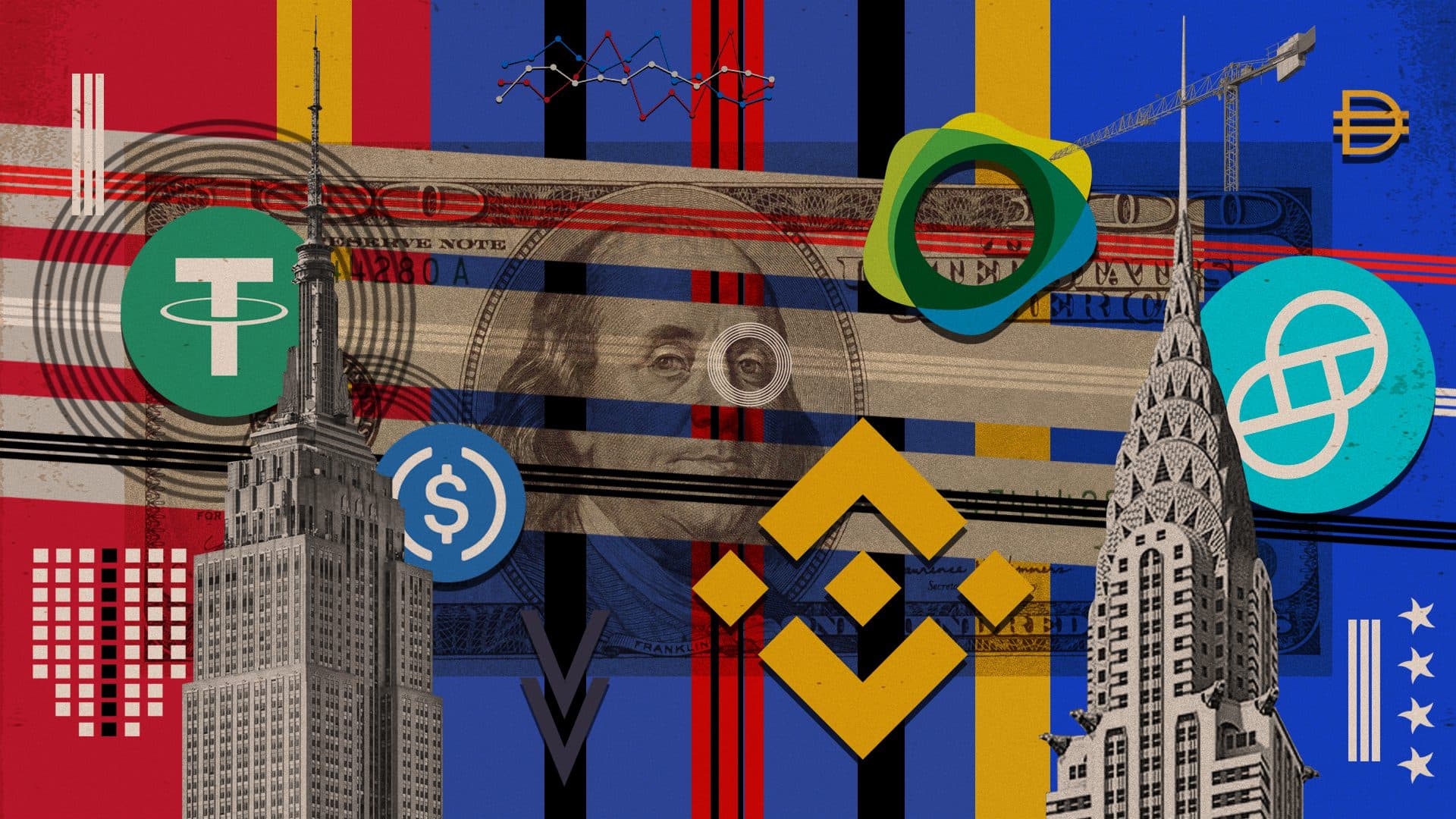 Blockworks Exclusive Art by Axel Rangel
key takeaways
XSGD is a stablecoin tied to Singapore's dollar and is regulated under the country's payment services act as e-money
StraitsX sees international demand for the XSGD, but will Singapore's policy of non-internationalization of the Singapore dollar stymie efforts?
Stablecoins are approaching a market cap of nearly $135 billion, with daily trading volume close to $75 billion. While Tether dominates the ranks as the top issuer, its competitors such as USDC, Binance's BUSD, DAI, all have something in common: their stablecoins are issued in US dollars.
Will the uncertain regulatory environment surrounding stablecoins in the US create a market for non USD denominated tokens? Can any other currency be as internationalized as the USD?
Per CoinGecko's market dominance data, USD-denominated stablecoins make up about 98% of all the stablecoin volume. This is a heavier weighting than the USD's role in international fiat markets where, according to Bank of International Settlement data, the dollar appears 88% of the time on either side of a transaction. You need to dig deep down the list to find a non-USD issued stablecoin; for an industry that prides itself on decentralization, stablecoins are sure centralized around one fiat currency — way more so than their real life counterparts they are pegged against. 
But Aymeric Salley, the co-founder of StraitsX, which issues XSGD, a Singapore-dollar based stablecoin, doesn't think it always has to be like this. In an interview with Blockworks he said that this isn't for lack of demand but rather lack of alternatives. 
"StraitsX does not believe that this current state is representative of the market demand but rather the consequence of a lack of trusted and compliant alternatives denominated in other native fiat currencies," he said.
While Singapore has a policy of discouraging the internationalization of the SGD in order to keep its value reflective of its economy, there is one very specific advantage that XSGD has, which could lead to its broad international adoption: Singapore's e-licensing framework. 
Salley explained that XSGD is licensed under the Singapore Payment Services Act, a framework that defines and licenses digitized money. The Act defines digitized money — e-money in its taxonomy — as a digital representation of the single fiat currency, which encompasses the monetary value of the fiat currency. Under their license, StraitsX can mint XSGD digital tokens, with a local bank taking full liability for the money collateralizing the stablecoin.  
This is a massive contrast to the US where stablecoin legislation is vague and unclear, and the largest stablecoin issuer, Tether, is in frequent conflict with regulators because of the uncertainty of its reserves.
There is considerable debate amongst legal experts that under US securities laws, some stablecoins would represent securities while others would be considered money transmitters.
Within Washington, there's a proposal working its way around the White House to regulate stablecoins via bank charter. But internally it's also causing significant debate, the Wall Street Journal reports, over the specific regulatory tool used to address the issue. On one side is the Financial Stability Oversight Council, which would designate stablecoin activities as systemically important and require more stringent risk management rules to be put in place. 
But the Journal says this isn't President Biden's preferred approach as sources say it would be cumbersome, and the President prefers the bank charter route. That was the path being pushed by proponents of the STABLE Act, the first legislative proposal to deal with stablecoins.
A recent report from Bloomberg also hinted that an SEC crackdown on stablecoins is coming — bolstering the argument that these would be considered securities.
All the while, XSGD — backed by Singapore's clear, crisp framework for stablecoins — is seeing its volume rise. As of last month, XSGD crossed over 1.5 billion SGD in on-chain transaction value, Salley said, and it's now listed on CEX.IO, Uniswap as well as 1inch. Its available trading pairs are also expanding, with the Indonesian exchange Indodax now listing one.
Although the XSGD has a legal green light to operate, there's the lingering question as to how much it can grow. No currency in the world has achieved internationalization like the greenback, so why would a non-USD digital token equivalent be ready for world domination?
---
Are you a UK or EU reader that can't get enough investor-focused content on digital assets? Join us in London on November 15th and 16th for the Digital Asset Summit (DAS) London. Use code ARTICLE for £75 off your ticket. Buy it now.
---