Ark Invest Buys Grayscale, Coinbase During Bitcoin Price Drop
Firm adds shares to pair of ETFs with nearly $30 billion of combined assets under management.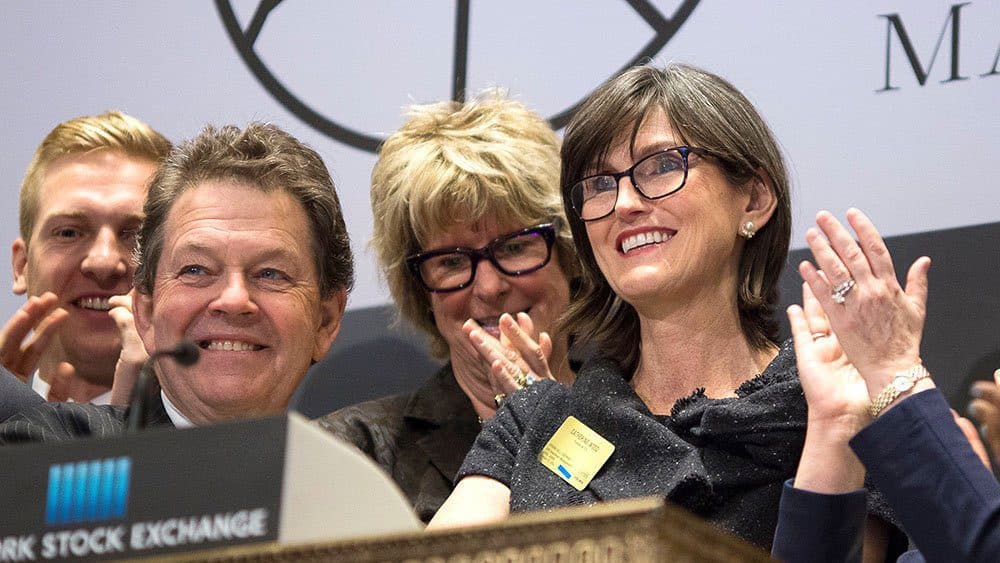 ARK Invest CEO Cathie Wood with her mentor Art Laffer on the NYSE podium on Oct. 21, 2014; Source: ARK Invest
key takeaways
Firm's CEO has said the firm believes bitcoin could hit $500,000 over long-term
Grayscale and Coinbase among top 10 holdings in ARKW and ARKK ETFs, respectively
Ark Invest bought more than 1 million shares of Grayscale's Bitcoin Trust and about 215,000 shares of crypto exchange Coinbase on Tuesday, according to reports, after the price of bitcoin hit its lowest level in months.
Bitcoin fell below $30,000 yesterday for the first time since January as China intensified regulations on bitcoin mining and forced its largest financial institutions to block all of the digital asset's transactions. 
The New York-based firm, which offers eight ETFs in the US, added the Grayscale shares to its Ark Next Generation Internet ETF (ARKW) and the Coinbase shares to the Ark Innovation ETF (ARKK), according to Markets Insider. 
ARKW now holds about 8.5 million shares of the Grayscale Bitcoin Trust; it is the fund's seventh largest holding at 4.1%, according to fund documents. Meanwhile, ARKK's allocation to Coinbase is now at about 3.5%, making it the 10th-largest holding, as Coinbase shares in the fund have reached 3.6 million. The top holding in both ETFs is Tesla.
The Grayscale Bitcoin Trust is the largest fund of its kind, currently holding more than 650,000 bitcoin, which equates to about $20 billion assets under management, according to ByteTree Asset Management data. Coinbase, one of the world's largest cryptocurrency exchanges, went public earlier this year.
Cathie Wood, Ark's CEO and founder, said last November at a virtual Barron's conference that she believes bitcoin could hit $500,000 in the long-term. She noted at the time that such a price could be reached if institutions assigned a mid-single-digital allocation to bitcoin, like they did with real estate and emerging markets. 
Paul Tudor Jones, founder and CIO of Tudor Investment Corporation, said earlier this month that bitcoin is a portfolio diversifier amid inflation concerns, noting that he favors a 5% allocation to the cryptocurrency. 
Wood stuck with her $500,000 price prediction during an interview with Bloomberg Businessweek last month, but acknowledged Tesla CEO Elon Musk's environmental concerns about bitcoin mining. 
"Since the emergence of bitcoin, we have witnessed the rise of a global battle among monetary systems, both sovereign and non-sovereign," the company's website states. "ARK believes cryptocurrencies governed by neutral, open source networks have the potential to win this battle."
If all S&P 500 companies were to allocate 1% of their cash to bitcoin, its price could increase by about $40,000, according to Ark's Big Ideas 2021 report published in January. Bitcoin's network capitalization could rise to between $1 trillion and $5 trillion in the next five to 10 years, it adds. 
Ark Invest did not immediately respond to Blockworks' request for comment.