Cryptos Rebound; US Stocks Mixed After Fed Assures No Rush to Raise Interest Rates: Markets Wrap
Bitcoin shot up 10%, rallying to $35,000, after plunging the day before to a five-month low for the cryptocurrency.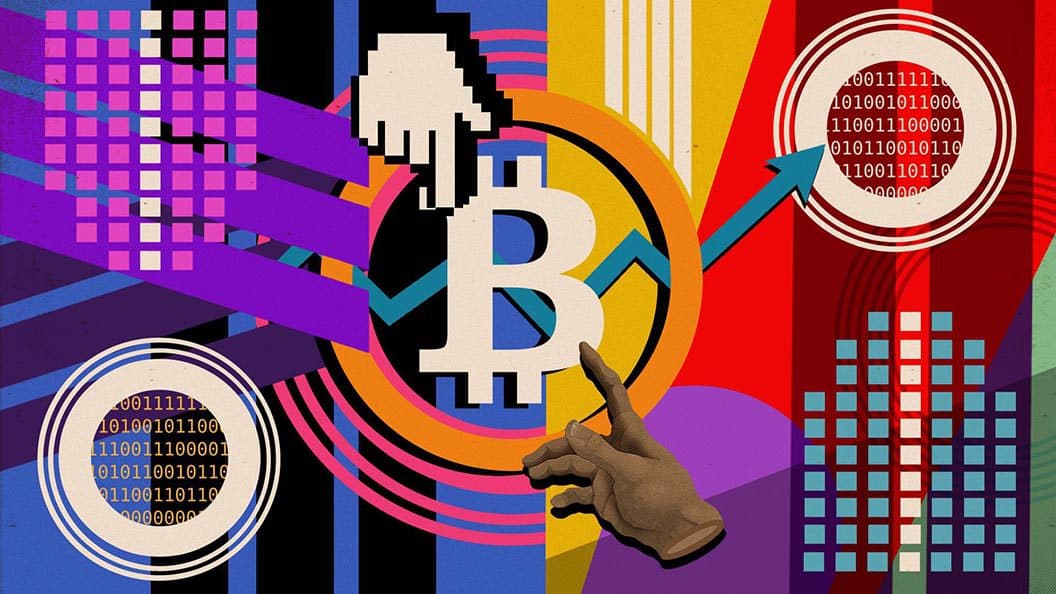 Blockworks exclusive art by Axel Rangel
key takeaways
Fed Chair Jerome Powell said that 5% inflation would be unacceptable.
Global economic growth has accelerated its fastest rate since 2006, according to PMI data
Time and time again, bitcoin has proven to be crypto's comeback-kid. 
The digital currency dropped below $30,000 following news that China had amped up its bitcoin mining regulations and forced banks to ban all of its transactions. This was the lowest the coin had been traded since January, making some investors bearish on the currency. Around 24 hours after the plunge, BTC fought back up almost 10% to $34,888.30 at 9:55 am ET. However, the coin still remains on a two-month downward trend and is valued around 40% less than it was in April.
Crypto
Bitcoin is trading around $33,149.20, inching up 0.75% in 24 hours at 4:00 pm ET.
Ether is trading around $1,934.89, advancing 0.19% in 24 hours at 4:00 pm ET.
ETH:BTC is at 0.058, up 0.91% at 4:00 pm ET.
VIX is down -2.04% to 16.32 at 4:00 pm ET.
Insight
"I expect the mining ban will mainly have a short-term effect on bitcoin. People still react strongly to actions from China that create uncertainty, so this is likely to reflect negatively on the bitcoin price. China is rolling its own cryptocurrency and has every incentive to have as little competition as possible," Ruud Feltkamp, CEO at crypto trading bot Cryptohopper said.
Equities
US stocks were steady with some marginally advancing as traders mulled over the Federal Reserve Chair Jerome Powell's comments from the day before. Powell reassured investors that inflationary pressures were transitory, adding that he had a "level of confidence" that prices would eventually come back down, he said at a subcommittee hearing on Tuesday afternoon. Powell said that 5% inflation would be unacceptable. The tech-heavy Nasdaq Composite closed at a record high after Powell's remarks then mostly traded sideways on Wednesday. Major equities like the S&P 500 and Dow Jones Industrial Average were little changed by market close.
The Dow shed -0.21% to 33,874.
S&P 500 was down -0.1% to 4,241.
Nasdaq changed little with 0.1% gains to 14,271.
Insight
"I think the market's still wrestling with where are we in terms of the Fed," said Cliff Corso, president and chief investment officer at Advisors Asset Management in an interview with the Wall Street Journal. "The market's looking for the economic clues day by day and then probably trying to graft those clues onto the projection for the Fed's mentality."
Fixed income
The US 10-year yields 1.485% as of 4:00 pm ET.
Commodities
Crude oil had an intraday high of $74.96 per barrel and rose 1.2%.
Gold was down –0.08% at $1,776.
Currencies
The US dollar strengthened 0.07%, according to the Bloomberg Dollar Spot Index.
In other news…
Global economic growth is pacing at the fastest it has in 15 years, according to Purchasing Managers' Index data released on Wednesday. Prices of goods have skyrocketed, the report indicated. But as a result, supply chain delays have ensued which have raised concerns in Europe, whose economy has significantly recovered since Covid restrictions eased. 
"The acceleration in global growth was led by the service sector, which expanded at a rate not seen since 2006. Manufacturing also continued to expand at one of the strongest rates seen over the past decade, albeit losing slight momentum," Chief Business Economist Chris Williamson said in the report compiled by IHS Markit.
We're watching out for …
The Fed will release stress tests results on key US banks on Thursday.
The Bank of England interest rate decision will take place on Thursday.
The PCE price index will be released on Friday.
That's it for today's markets wrap. I'll see you back here tomorrow.