Elizabeth Warren Has a Lot to Say About Crypto — Try Listening for Once
Warren's destructive crypto policies ignore what her constituents want, in pursuit of her own political agenda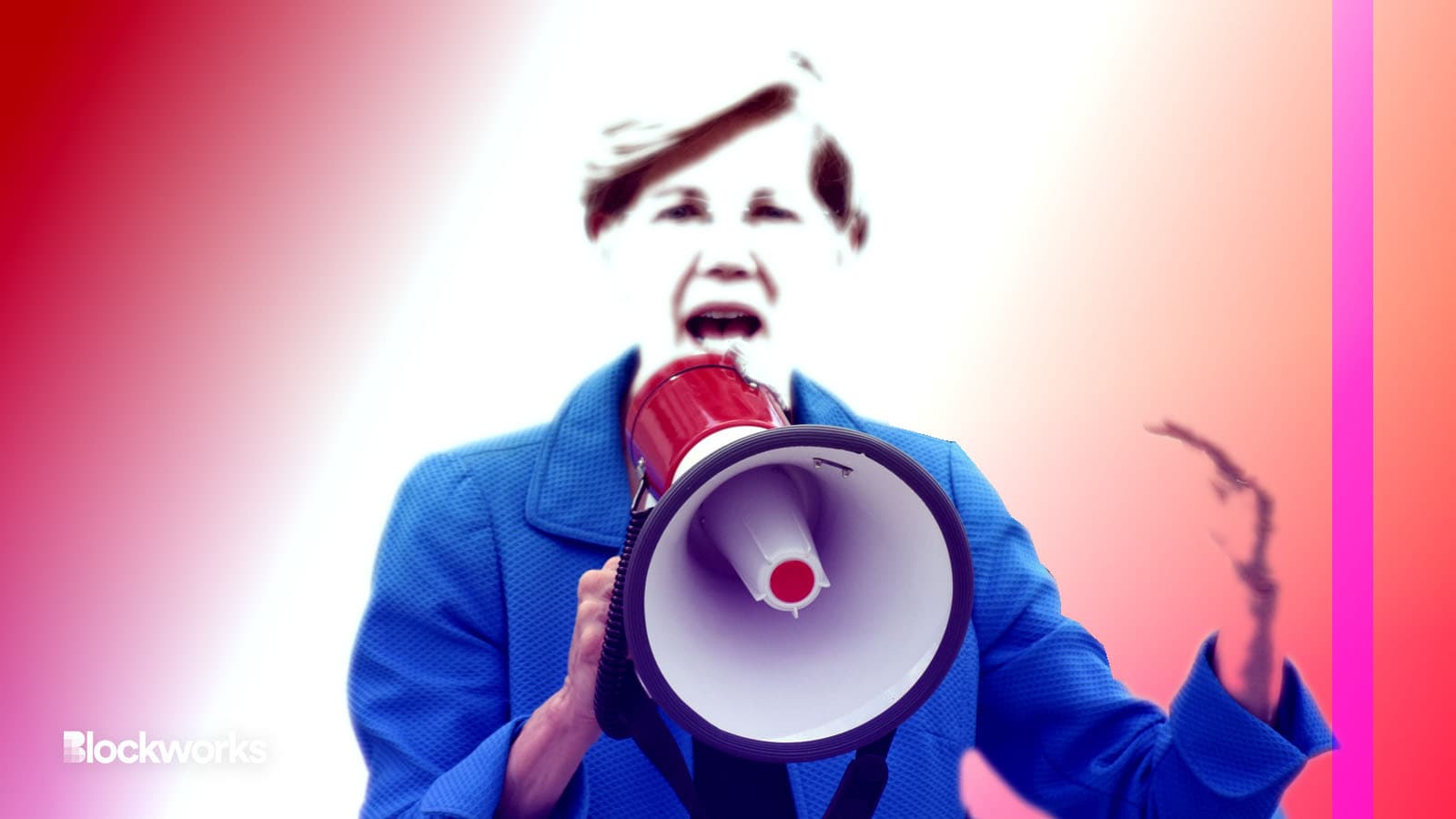 Kelly Bell/Shutterstock modified by Blockworks
In 2021, Senator Warren characterized Web3 builders as "some shadowy, faceless group of super-coders." I submitted comments on her site but never received a response. 
Warren recently declared she was "building an anti-crypto army." I once again submitted a comment, this time via Twitter. While it garnered more attention, I have yet to receive a response. 
I am Warren's constituent. I am a mom and primary earner for my working family. An educator. An organizer. Daughter of an immigrant. I've coached soccer, substitute taught during the teacher shortage, led a Girl Scout troop and chaired the family council of my children's teacher-led public school. 
As one of the millions laid off during the pandemic, I pivoted to work in Web3. I am an example that crypto is for women. My children assume this industry is dominated by people like me.
Despite misogynist characterizations of Senator Warren as an out-of-touch grandma, her campaign is strategic, if not miscalculated. I previously voted for her based on her thoughtful approach to policy. Her current willful ignorance for perceived political gain reveals an all-too-typical politician's playbook. 
Web3 is eager for regulation that discriminates between predatory scams and creative exploration. We feel the squeeze through targeted pressure on the few crypto-friendly banks, and we are nervous. I am nervous. I cannot tolerate the endless risk wrought by this purposeful destruction.
To blanket all crypto together is deliberately irresponsible. 
We could never imagine an outright ban on the internet. It is a tool for cultural diplomacy, dissent, empowerment, education, and importantly, for human connection. 
Similarly, it is foolish to build an anti-crypto army. 
Regulation is getting it all wrong
Can Web3 technology be used for scams? Yes. So too has the internet. Has the speculative gain of crypto attracted those looking for a quick buck? Again, yes. So too has the internet. 
Technology will only be as good as the people who are building it, and as good as the regulation that permits us to build it well. 
Web3 allows us to connect. Tokens are unique, digital markers signaling that we belong, that we participated, that we are aligned. Blockchains, or distributed ledgers, mean that data is not owned by any one single person or corporation (interchangeable according to the US government). We cannot be deplatformed (as sex workers and activists often are) because no single person or corporation controls the platform and the data. 
I am here to build a more expansive and collaborative internet for my children and their peers. Gen Z and Alpha are digital natives. My children are gamers and writers who intuitively build and explore digital worlds. They weave narratives between video games, books and the real world. They create Lego tableaus and videos that capture their ideas. 
There is no question of whether they will live much of their futures online, but what will that internet be? Will their creative works enrich billionaires who spin out pennies for their art? Or will the internet be as composable and malleable as the Legos my child uses today? 
Bandcamp, Patreon, Spotify, YouTube, Instagram, Amazon and TikTok all treat creativity and community as no/low-cost resources to be extracted for their profit. Users contribute to the development of something they can and will never own. There are few digital tools where individuals control the culture and community they foster online. 
We cannot separate building sustainable, collective creativity from building the required digital systems and tools. I am galvanized by Web3 technologies that are being developed in collaboration with artists and community members. We are building the ownership economy.
Web3's technological tools can be combined the way children do with Legos, to compose evolving creative systems that work for us. The same way my children build worlds that reflect their imagination, they will have tools to build digital worlds where value can be created, owned and shared. 
I am surrounded by brilliant, diverse builders working to make that internet a reality. 
If we are regulated out, only Big Tech with big lobbying engines and individuals with deep pockets will remain. I am neither. 
Senator Warren, my DMs are open. 
---
---
Don't miss the next big story – join our free daily newsletter.