ETH on the Rise; Dollar Strengthens on Job Growth Data: Markets Wrap
The dollar rallied following strong jobs figures, rising up to an almost two-week high on Friday morning.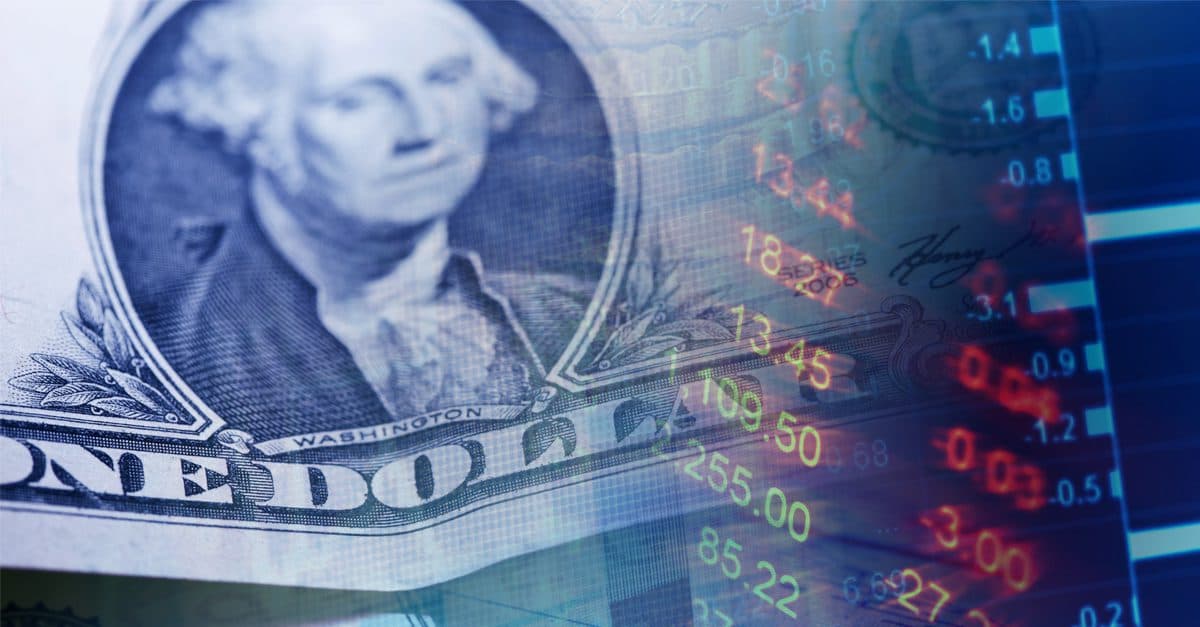 key takeaways
US added 943,000 jobs in July, according to the US Bureau of Labor Statistics
Brian Brooks, CEO of Binance.US, stepped down on Friday afternoon after three months on the job
The price of Ethereum continued to rise on Friday, following the launch of the London hard fork. Despite some opposition from miners, ETH has hiked 5% since EIP-1559 went live successfully. Ether has had a return on investment (ROI) of 18.23% over the past week, according to Messari. 
Bitcoin traded 5.5% higher amid an ongoing debate in the Senate over the $1.3 trillion infrastructure bill.
The infrastructure bill includes an amendment will require cryptocurrency 'brokers' to disclose trader information, including gains made on investments, transfers and transactions of more than $10,000, which the IRS already monitors. The provision is estimated to bring in $28 million in tax revenue.
However, the proposal's language could force cryptocurrency brokers to report customer information to the Internal Revenue Service (IRS). The proposal broadly defined "broker" as someone "responsible for regularly providing any service effectuating transfers of digital assets on behalf of another person".
In a turn of events, two groups of elected officials proposed different amendments to narrow down the definition of the term.
One proposed amendment put forward by three senators, including Senator Cynthia Lummis (R-Wyo.), clarified that digital asset miners and blockchain developers should not be treated as 'brokers' with tax reporting requirements. These parties do not have access to, for security purposes, the necessary identifying information about crypto holders and therefore should not be required to report.
Insight
Senator Lummis weighed in on concerns over the treasury's knowledge on cryptocurrency and the most recent infrastructure bill.
"I fear that their knowledge is very basic, that they're applying concepts to non-fiat currency that they're used to applying to fiat currency… I think they are taking a heavy footprint in the name of tax collection," she told Blockworks during a podcast with co-founder Jason Yanowitz. "They are saying that digital assets are not reported and that they are losing a lot of tax revenue. It's caused them to have a major influence in the drafting of this bill thus far. We are trying very hard to work with people who are more friendly to innovation in this space to push back. For many people this is a very new concept and a very new space."
In the past, a potential regulatory choke in the crypto ecosystem would spark volatility for the digital asset class at-large. However, bitcoin has made steady and modest gains since Monday. Bitcoin's ROI is 1.35% since last week while ETH continues to rise.
Crypto
Bitcoin is trading around $42,838.3, up 5.37% in 24 hours at 4:00 pm ET.
Ether is trading around $2,923.14, advancing 4.82% in 24 hours at 4:00 pm ET.
ETH:BTC is at 0.0684, increasing 0.31% at 4:00 pm ET.
VIX declined -3.36% to 16.70 at 4:00 pm ET.
DeFi
Uniswap is trading at $26.64 with a total value locked of $4,738,253,309 up 6.2% in 24 hours at 4:00 pm ET. 
Chainlink is trading at $24.21, advancing 0.1% with trading volume at $1,128,269,383 in 24 hours at 4:00 pm ET.
DeFi:ETH is 30.5% at 4:00 pm ET.
Currencies
The dollar strengthened .054%, according to the Bloomberg Dollar Spot Index, following strong jobs data and hitting an almost two-week high on Friday morning.
Jobs Data
The US economy added 943,000 new jobs while unemployment fell from 5.9% to 5.4% in July, according to a US Bureau of Labor Statistics report. 
Following the news, President Biden said at a press conference that unemployment was its lowest since the start of the pandemic. In February 2020, the number of unemployed people was at 5.7 million, according to the report.
Investors accessed the robust jobs data as the S&P 500 and Dow Jones Industrial Average closed ahead. However, the Nasdaq composite fell roughly 60 points intraday, closing 0.40% lower. Notable laggards for the tech-heavy index include Vimeo and Dicerna Pharmaceuticals.
Equities
The Dow is up 0.41% to 35,208.
S&P 500 advanced 0.17% to 4,436.
Nasdaq fell -0.40% to 14,834.
Fixed Income
US 10-year treasury yields 1.304% as of 4:00 pm ET.
Commodities
Brent crude dropped to $70.48 per barrel, declining -1.14%.
Gold fell -2.61% to $1,761.60.
In other news…
Binance.US CEO Brian Brooks stepped down late this afternoon after three months on the job. Brooks' resignation follows a series of signals from lawmakers that greater cryptocurrency regulation is coming. US Securities and Exchange Commission Chairman Gary Gensler announced earlier this week that he will be making crypto exchange regulation a priority.
That's it for today's markets wrap. I'll see you back here on Monday.
Want more investor-focused content on digital assets? Join us September 13th and 14th for the Digital Asset Summit (DAS) in NYC. Use code ARTICLE for $75 off your ticket. Buy it now.