Invesco Proposes Crypto Economy ETF
Planned offering comes as funds that would invest directly in digital assets await SEC approval.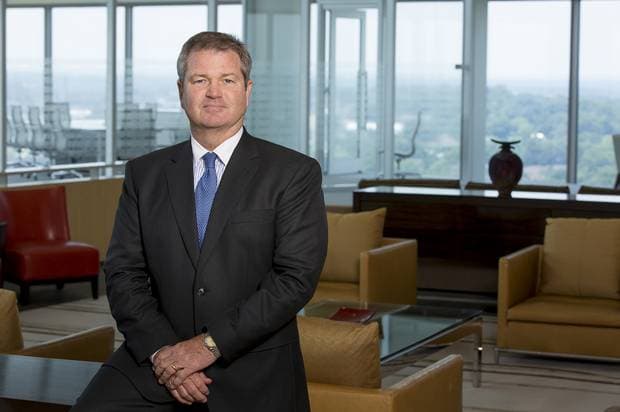 Invesco CEO Marty Flanagan; Source: Chris Hamilton for Invesco
key takeaways
Invesco's planned fund would compete against several funds including Bitwise's latest fund, largest blockchain ETF by Amplify Investments
Product a way to potentially get to market faster as regulators mull growing number of crypto products in registration
Invesco has filed to launch an ETF that will invest primarily in companies entrenched in the crypto space, as well as up to 10% in bitcoin futures.
The Atlanta-based $1.5 trillion asset manager revealed plans to launch the Invesco Galaxy Crypto Economy ETF, according to an SEC disclosure filed on June 9. The filing did not list a ticker or expense ratio for the proposed offering.
The planned fund would seek to track the Alerian Galaxy Global Cryptocurrency-Focused Blockchain Index, the preliminary prospectus states, investing at least 80% of its total assets in securities within the benchmark.
An Invesco spokesperson told Blockworks that the company could not comment on the news. "Per SEC regulations we cannot comment on products in registration," they said.
SEC waiting game
Though the proposed Invesco product would not invest directly in cryptocurrencies, it comes as other ETFs looking to do so await approval from the Securities and Exchange Commission. 
SkyBridge and First Trust filed for a bitcoin ETF in March, while others such as WisdomTree Investments, NYDIG and VanEck also have products in registration. The SEC in April postponed its decision to rule on VanEck's bitcoin ETF proposal until June.
The batch of planned US ETFs sit in waiting after Canada's first bitcoin ETF, launched by Purpose Investments in February, grew to $1 billion after about a month on the market.
James Seyffart, an ETF research analyst at Bloomberg Intelligence, told Blockworks that Invesco likely does not believe the SEC will greenlight a crypto ETF anytime soon, adding that such a fund is not in the fund manager's wheelhouse.
"They have plenty of futures based and equities based ETFs and likely have clients looking for some sort of access to the crypto market or crypto economy," Seyffart said. "Launching a fund like this allows them to give that access to clients while staying within their area of expertise."
The index the Invesco fund is set to track comprises stocks of digital asset companies, cryptocurrency futures, and exchange-traded products and private investment trusts traded over-the-counter that are linked to cryptocurrencies, the filing notes. 
The digital asset companies include cryptocurrency miners, those involved in facilitating the buying, selling and transfer of crypto assets and businesses that report cryptocurrency assets on their balance sheet. This equity component of the index is allocated an 85% weight. The bitcoin futures and exchange-traded products portions account for 10% and 5% of the index, respectively. 
Increasing demand for direct-access ETFs
Some investors may not like the volatility they are seeing in crypto assets, Seyffart explained, and so might opt for this sort of fund instead of the ones awaiting approval. He added that many see parallels with gold, and that there are billions of dollars in gold ETFs as well as gold miners ETFs. 
"There are use cases for each, but from where I sit the larger demand is for ETFs that hold actual crypto assets," Seyffart said. "In the meantime, there may be some people buying products like this because there aren't ETFs with direct access yet."
The Invesco fund is similar to several ETFs already on the US market, which Seyffart noted have been successful at gathering assets. The largest such offering is Amplify Investments' Transformational Data Sharing ETF (BLOK), which has grown to $1.1 billion in assets under management since launching in January 2018.
Most recently, Bitwise, a company looking to launch a bitcoin ETF, launched its Crypto Industry Innovators ETF (BITQ) last month. BITQ, the first ETF the SEC has approved that includes "crypto" in its name, holds 30 stocks of high-growth and profitable crypto companies, such as Coinbase, Microstrategy, Galaxy Digital, Riot Blockchain and Voyager Digital.
"All of these are ways to provide some level of access until the SEC approves a Bitcoin ETF," Seyffart said.