NFT Airline Tickets Are Beginning to Take Off
Customers of Buenos Aires-based Flybondi now have the option to activate NFT versions of their tickets via tech that uses Algorand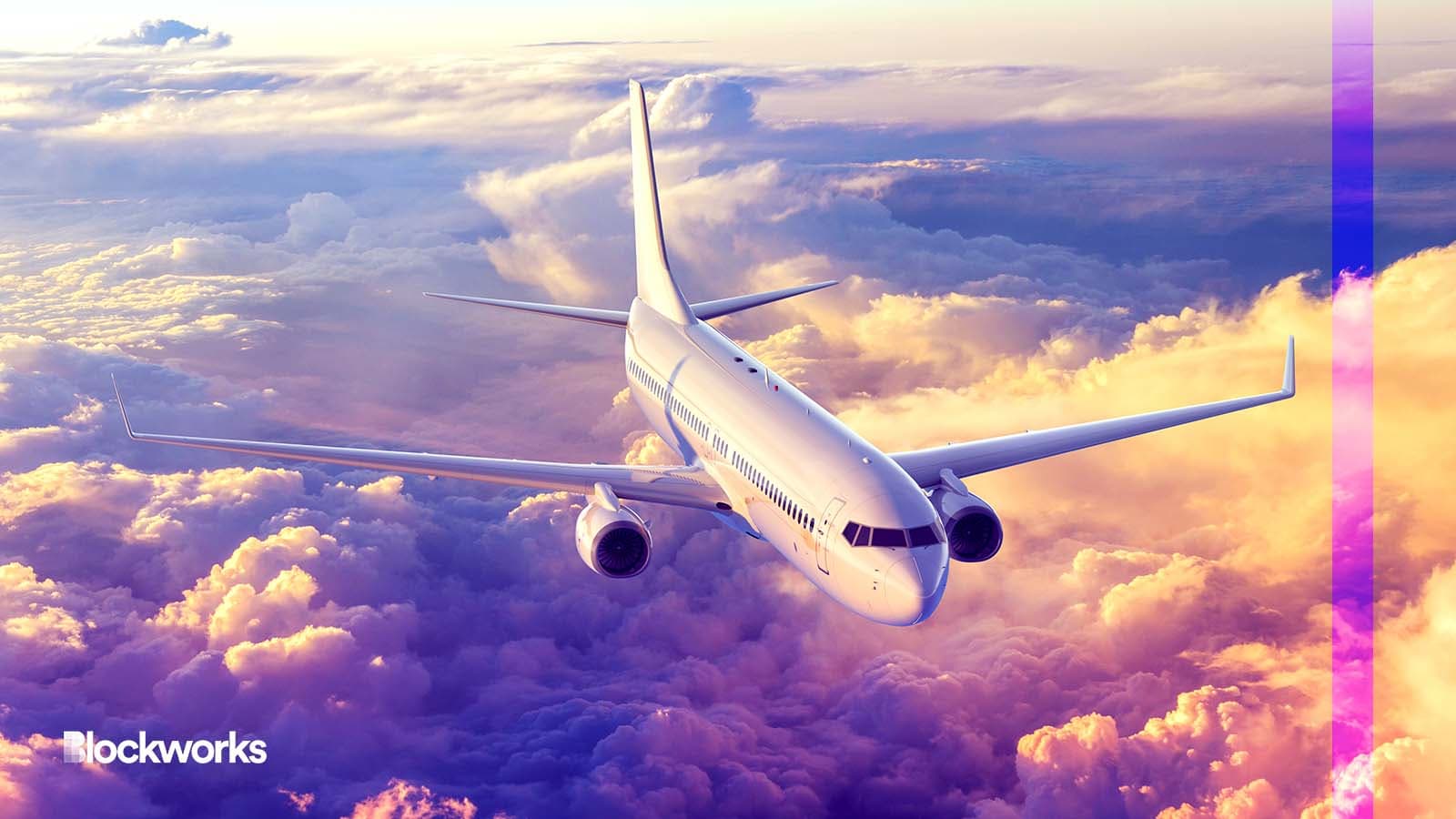 joo830908/Shutterstock modified by Blockworks
Technology startup TravelX is helping an Argentinian airline offer NFT tickets to its customers, and the firm expects a handful of other air carriers to adopt this model by the end of the year.
Customers of Buenos Aires-based Flybondi now have the option to activate NFT versions of their tickets, which allow them to make a name change on the reservation or transfer the ticket to someone else.
The new feature enables companies purchasing tickets, for example, to decide which of its staff members will be traveling later on.
"What we believe is this is going to become the new standard," Chief Product Officer Alejandro Nardi told Blockworks. "If you think about the travel industry, it's the only one where you're buying an asset but you're not the real owner of that asset. That's basically what we're changing within the industry."
TravelX's technology, called NFTicket, uses blockchain Algorand. Algorand Foundation CEO Staci Warden said in a statement the tech, which integrates ticket-related rules into the smart contract, "likely represents the largest use case of utility NFTs we've seen."
Flybondi's newest capabilities comes after the airline last September launched its NFTicket Marketplace. Flybondi connected to the marketplace at the time, making tickets available for tokenization as a sort of proof of concept. About 1% of Flybondi tickets sold monthly were tokenized. 
But starting last week, every ticket Flybondi sells is tokenized and built directly into the infrastructure of Flybondi's online platform, according to TravelX, which is headquartered in Miami.
Flybondi CEO Mauricio Sana said in a statement the new ticket distribution method is set to boost efficiency — reducing the airline's customer service costs and increasing its revenue.
Bryan DiSanto, head of Web3 brand and marketing for gaming studio InfiniGods, said the new airline tickets are significant for widening the adoption of NFTs, adding that such efforts can help airlines build loyalty.
"For decades, airlines have dictated strict travel terms and rules, in a way that I would deem to be unfairly restrictive," Disanto told Blockworks. "This represents a big step in the direction of consumer empowerment and flexibility."
How it works
TravelX executives sought to make sure there was no friction for Flybondi flyers.  
A customer buys a ticket on the airline's website with a credit card. They will then receive a confirmation email. A second email shares a link to activate what the airline calls Ticket 3.0 — the user-facing name for the NFTicket technology.  
Each user creates an account that is associated with an Algorand address. The traveler doesn't get their private keys, however, and must use the platform to modify or transfer tickets.  
Flybondi is intentionally staying away from crypto- and blockchain-related branding to avoid alienating people intimidated by the technology.
"From a user perspective, it is [Ticket] 3.0," Nardi said. "There is no Algorand here, there is no blockchain, there is no MetaMask."
Once travelers have an account, they can pay a fee — amounting to 282 Argentine pesos (about $1.34) during a TravelX demo with Blockworks — to change the name on the ticket or transfer it to someone else. FlyBondi collects a percentage of each secondary transaction fee.
This request alerts the airline and Algorand. The ticket can be transferred in minutes.
Similar to the way e-tickets work today, TravelX executives explained, an NFT ticket may not be able to be transferred within a certain time frame before departure, depending on a country's regulations.
Between 10% and 15% of Flybondi customers had initially activated the NFT capabilities of their tickets. TravelX says they expect that number to go up to 90% once they include the activation link as part of the confirmation email.
"This is the first airline," Nardi said. "They really want to go step by step and don't want to create confusion for their customers." 
What's next?
In the coming weeks, Flybondi travelers will be able to re-sell their NFT tickets via the Ticket 3.0 accounts, TravelX CEO Juan Pablo Lafosse said.
"It's going to be published on a secondary marketplace that we have built," he told Blockworks. "Anybody will be able to buy and sell tickets from other people — not only from the airline."
FlyBondi is set to receive a portion of the price increase of every resale transaction.
TravelX executives said it has met with roughly 70 other airlines — across Europe, Latin America, the US, Asia and Africa — about the NFTickets technology. It expects most low-cost carriers around the world to adopt the model in the next 12 to 18 months. 
"If the Flybondi experiment is well-received and creates opportunity, I would imagine that you'll see a large carrier follow suit in short order to grab headlines — and gain first mover advantage in the industry to gain loyalty and preference from broader groups of travelers," DiSanto said. 
Bureaucracy is likely holding back some of the larger legacy airlines, Nardi said. Such companies have also shared concerns about losing revenue linked to penalties for no-shows, for example.
"But once they understand they can offer the customers a better product, they can increase demand as they are unlocking a lot of use cases that right now are restricted," the TravelX product lead added. "The early adopters will show the data and how this is bringing value not only to the customers, but also to the airlines."
---
Don't miss the next big story – join our free daily newsletter.