On-chain Billionaires: Tracking Crypto Portfolios from Buterin to Nakamoto
An old saying goes, "Do you wanna be right or do you wanna be rich?" These folks are at least one of those.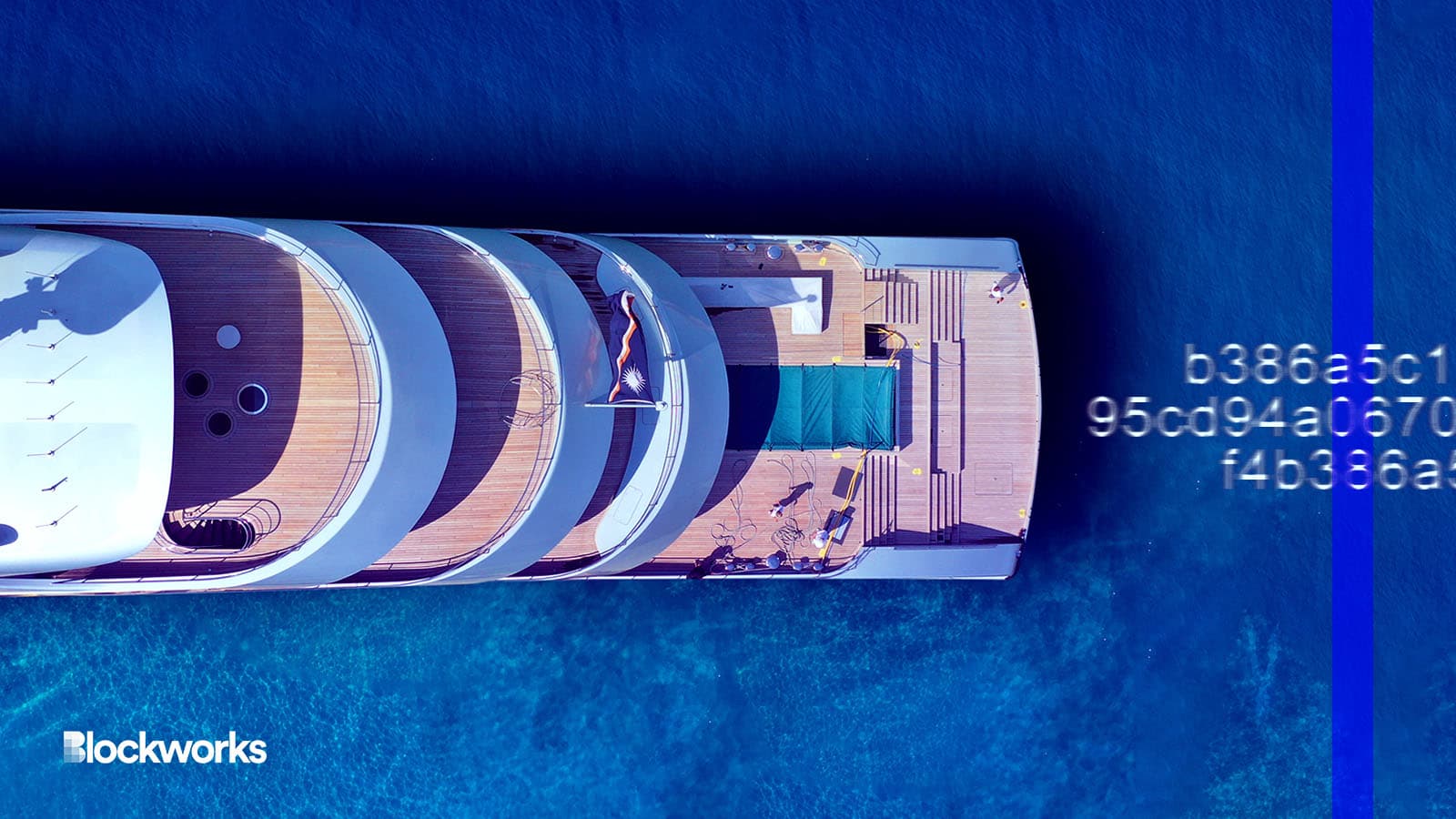 Aerial-Motion/Shutterstock modified by Blockworks
Public blockchains have revolutionized how we view money. But they've also unlocked a brand-new form of financial voyeurism.
Instead of poring over SEC filings or Forbes lists, the crypto-curious can now ogle billionaires for kicks entirely on-chain.
Luckily, there's no shortage of crypto billionaires. But most are practically anonymous, known only by their pseudonymous blockchain addresses.
There are, however, a select few crypto moguls who lay bare their portfolios for all to see, warts and all.
Ethereum co-founder Vitalik Buterin
Buterin was crowned the world's youngest crypto billionaire by Forbes in 2021 — when ether (ETH) cleared $3,000 for the first time. On-chain data can't verify the 'youngest crypto billionaire' moniker, but it does seem to corroborate those numbers. 
Buterin's known crypto portfolio was valued at about $2 billion in May 2021, per Arkham Intelligence. ETH understandably made up about half of those holdings. But Buterin has been worth far more than that, in the throes of dog coin mania.
Plucky dog coin fans and issuers have historically flooded Buterin's Ethereum addresses with immense amounts of illiquid tokens. It's a form of guerilla marketing — aiming to trick chain watchers into believing Buterin was deep in their useless memecoins.
Vitalik Buterin was a prime target for dog coin marketers during the last bull run
And so, on May 12, 2021, Buterin's crypto portfolio was worth more than $20.5 billion – which would have put him on par with the likes of Bridgewater's Ray Dalio and Google's Eric Schmidt. 
Shiba Inu (SHIB) made up $17.8 billion of those funds (87%), but there were myriad other dog coins including AKITA and HUSKY. The subsequent (and arguably inevitable) SHIB crash tanked their value considerably, and Buterin donated whatever was left to India's Covid relief fund.
Buterin now holds about $484 million in crypto in his known addresses — practically all of it ETH. Arkham Intelligence indicates Buterin has sent $74 million in on-chain assets to crypto exchanges over the years, including Coinbase and Kraken.
Ripple co-founder Jed McCaleb
McCaleb's crypto billions were dished out over nearly a whole decade. 
Until last year, Ripple Labs had sent a steady stream of XRP to McCaleb's infamous "tacostand" address, and he subsequently sold it on public markets.
Ripple initially had concerns over how quickly McCaleb sought to dump his founder's reward, which amounted to 9 billion XRP in total (worth $54 million when the case was settled, $4.2 billion today). 
The settlement saw strict rules on how much XRP McCaleb would receive per year, starting with $10,000 every week in 2015 to 2 billion XRP ($844 million) each year after 2020.
Jed McCaleb's XRP sales peaked in 2021 (source: Whale Alert)
McCaleb's 'tacostand' now holds zero XRP, having received the last tranche of payouts in mid-2022.
Chain watcher Whale Alert estimated McCaleb had sold 5.7 billion XRP over eight years, raking in $3.1 billion. The firm found that McCaleb sold XRP for an average price of $0.55 per token, or about 19% above its current price. 
Forbes today estimates McCaleb's net worth at $2.4 billion, having gone on to found rival blockchain network Stellar.
TRON founder Justin Sun
His (former) Excellency held $6.3 billion in crypto at his portfolio's peak in Sept. 2021. 
That figure would've placed Sun in the top 500 richest billionaires in the world, in line with Lululemon founder Chip Wilson and Viking Global's Andreas Halvorsen.
Sun has a reputation for degeneracy, and his portfolio at all-time high is supporting evidence. 
About 95% of his portfolio was locked inside lending protocols Aave and Curve, earning yield, as markets closed in on their record highs — including 2.63 billion USDC, 478250 WETH ($1.86 billion) and 11,000 BTC ($545 million).
Justin Sun stakes his ETH with Lido
Today, Sun's known crypto portfolio is worth $858 million. 
303,660 Lido staked eth (STETH) makes up $580 million, followed by $160 million in Sun's stablecoin USDD. 
He also holds 23,724 ETH ($46.76 million) and 6,802 MKR ($4.97 million)
Sun is indeed a prolific trader. The data indicates he's sent $22.6 billion in crypto to exchanges over the years, more than half of it going to Binance.
Satoshi Nakamoto and other anons
Bitcoin's mysteriously absent creator is believed to have mined anywhere from 600,000 BTC ($16.75 billion) to 1.1 million BTC ($30.7 billion) throughout the early years.
All those bitcoins are believed to have been spread out across hundreds of addresses, so tracking those funds directly is somewhat difficult. 
If the higher estimate is true, Nakamoto would place in the top-50 billionaires in the world, just shy of Chanel chairman Alain Wertheimer.
The notorious "1Feex" address is another notable on-chain billionaire. Since Mar. 2011, the address has held close to 80,000 BTC ($2.25 billion) once controlled by Ross Ulbricht's Silk Road marketplace. 
Craig Wright claims to own the address tied to the Silk Road hack
It's believed someone connected to the monumental heist has access to '1Feex,' although claiming the BTC would no doubt bring a certain amount of unwanted heat. 
That didn't stop self-proclaimed Bitcoin creator Craig Wright from (unsuccessfully) claiming ownership of the funds during one of his court cases last year.
Just under a dozen Bitcoin addresses not associated with crypto exchanges or other entities contain $1 billion or more. Curiously, no unattributed Ethereum addresses contain $1 billion or more ETH right now, according to Etherscan.
Coinbase CEO and other off-chain billionaires
Crypto billionaires with a majority of their wealth off-chain deserve a special mention. 
Brian Armstrong, Coinbase co-founder and CEO, currently holds about $590,000 in his known addresses, Arkham Intelligence data shows, almost all of it ETH.
Armstrong's portfolio was worth $1.23 million at its peak in early February, comprised practically entirely of DYDX, the native token for the decentralized exchange of the same name. Forbes puts Armstrong's current net worth at $2.5 billion.
Dallas Mavericks owner and prolific crypto backer Mark Cuban boasts about $4 million. USDC makes up more than half, followed by STETH and wrapped ETH. 
Mark Cuban has been making the case for crypto for years
At all-time highs last August, Cuban held $7.16 million, but 86% of it was USDC locked inside Aave. ETH, ApeCoin (APE), ENS and Rarible (RARI) made up the remainder, among others. Forbes estimates Cuban's entire net worth at $5.1 billion.
Of course, there are plenty of other crypto billionaires out there, and the featured names may very well have unknown crypto holdings. 
Still, it's clear that some prominent figures put their crypto where their mouth is.
---
Get the day's top crypto news and insights delivered to your email every evening. Subscribe to Blockworks' free newsletter now.
Want alpha sent directly to your inbox? Get degen trade ideas, governance updates, token performance, can't-miss tweets and more from Blockworks Research's Daily Debrief.
Can't wait? Get our news the fastest way possible. Join us on Telegram and follow us on Google News.
---