Ripple has cracked the SEC's exterior — sit back and watch it crumble
I'm a crypto lawyer — if I think the securities laws make no sense when applied to crypto, does anyone else have a chance?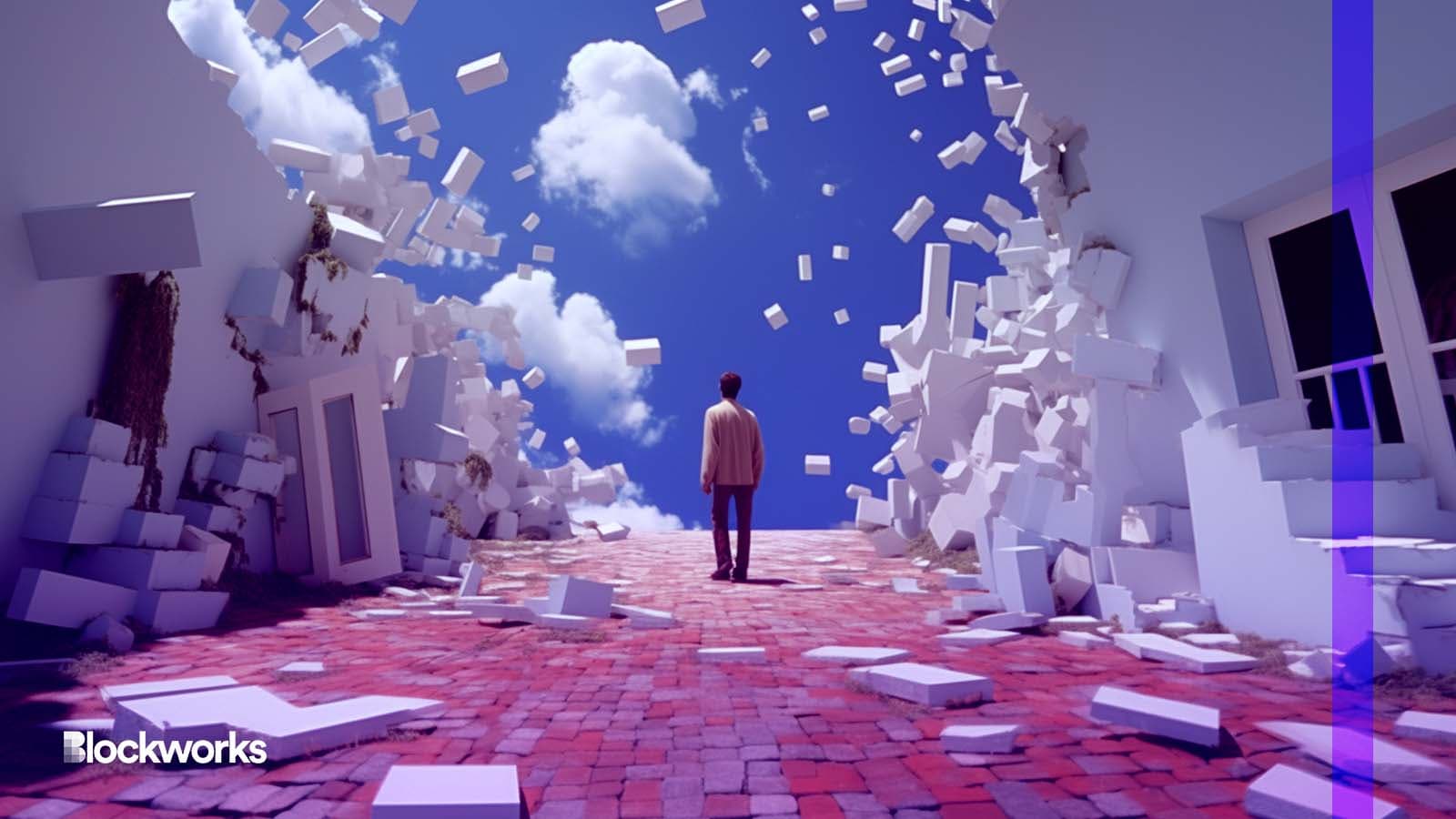 Midjourney modified by Blockworks
The sky is starting to crack.
A spotlight falls from the clouds, right next to Truman Burbank, the oblivious star of a 24/7 reality show.
Played by Jim Carrey, Truman suspects something is wrong: His dead father reappears, the radio tracks his movements, then behind-the-scenes producers send a violent storm down to prevent him from escaping the fake set of his hometown.
These producers refuse to tell Truman the truth: They gaslight him into thinking he is crazy, providing more and more implausible explanations for the chaos around him. 
Rather than acknowledge that many crypto tokens are not securities under the law, Chair Gensler has created his own version of The Truman Show storm: A tsunami of enforcement actions on the industry that risk drowning the US crypto industry.
Until last week, when a Manhattan federal court gave the SEC its first crypto loss in the Ripple case. 
The SEC sued Ripple in 2020 for allegedly selling unregistered securities when it sold its XRP token. Judge Analisa Torres rejected the SEC's claim that XRP was an investment contract (a type of security), writing, "XRP, as a digital token, is not in and of itself…an investment contract." 
Though the court sided with the SEC that XRP sold to institutional investors were securities, it sided with Ripple to hold that XRP sold programmatically on exchanges and distributed to employees as compensation and to XRP developers as grants were not securities. 
Some commentators have hailed this as an absurd ruling: Sophisticated investors are protected more than retail investors on an exchange. 
My response: Yes, this is absurd.
The nonsense of securities laws
For years, lawyers have been exclaiming that crypto exposes cracks in securities law. 
I would know. I'm a lawyer representing crypto clients and a former startup founder and CEO who developed software to help crypto organizations comply with regulations.
If I think the securities laws make no sense when applied to crypto, what chance do other non-lawyer entrepreneurs have? 
But instead of directing the SEC to engage in rulemaking or support new legislation, SEC Chair Gary Gensler, like the producers of The Truman Show, has chosen to gaslight the entire crypto industry, Congress and the American people.
Gensler appears to believe no one would notice that just a few years ago, he stated himself that "three-quarters of the [crypto] market is non-securities" and that new laws are needed to regulate crypto. He now says no new laws are needed because the laws are "clear" that almost all crypto tokens are securities — without explaining this shift. 
Gensler famously says he has an open door policy: Crypto projects should come in and register. But he fails to mention the crypto projects, like Coinbase, that tried to work with his office are only rewarded with enforcement actions. He also conveniently forgets to note that registration of tokens is practically impossible due to the SEC's current rules on disclosure, custody and exchanges.
Anything but clear
While protecting retail investors more than institutional investors may be a better policy, judges are charged with applying the law as it is — not as we wish the law was. 
Judge Torres correctly (as a matter of law) engaged in a transaction by transaction analysis of the XRP sales to come to her conclusion, and the result highlights the absurdity of applying securities laws to crypto.
This ruling — from a neutral party — exposes Gensler's gaslighting by demonstrating that the securities laws as applied to crypto are anything but "clear." 
While some or most of the decision may be overturned on appeal, that is a multi-year process. Meanwhile, it binds the SEC and provides lifeboats to its regulation by enforcement victims. 
Every single crypto defendant will now cite the Ripple case against the SEC in court. While this decision is not precedent, other judges will find it persuasive. 
Read more from our op-ed section: Gary Gensler is utterly unimportant
If Gensler is serious about the SEC's investor protection mission, then he would throw his support behind the House's McHenry-Thompson crypto market structure bill. Though the draft bill is not perfect, it is a serious and thoughtful attempt by Congress to grapple with crypto in a way that addresses the risks of this new technology while providing space for innovation to flourish. 
The Ripple case has made the SEC's facade about the "clear" applicability of securities laws to crypto come crashing down like The Truman Show set. 
To Chair Gensler, I say: 
The crypto industry has an open door policy too. Come to our offices. We'd love to chat. 
---
---
Don't miss the next big story – join our free daily newsletter.