Crypto News Outlet The Block Lays Off 27 Staff
Fallout from Bankman-Fried's funding of the company is now coming into focus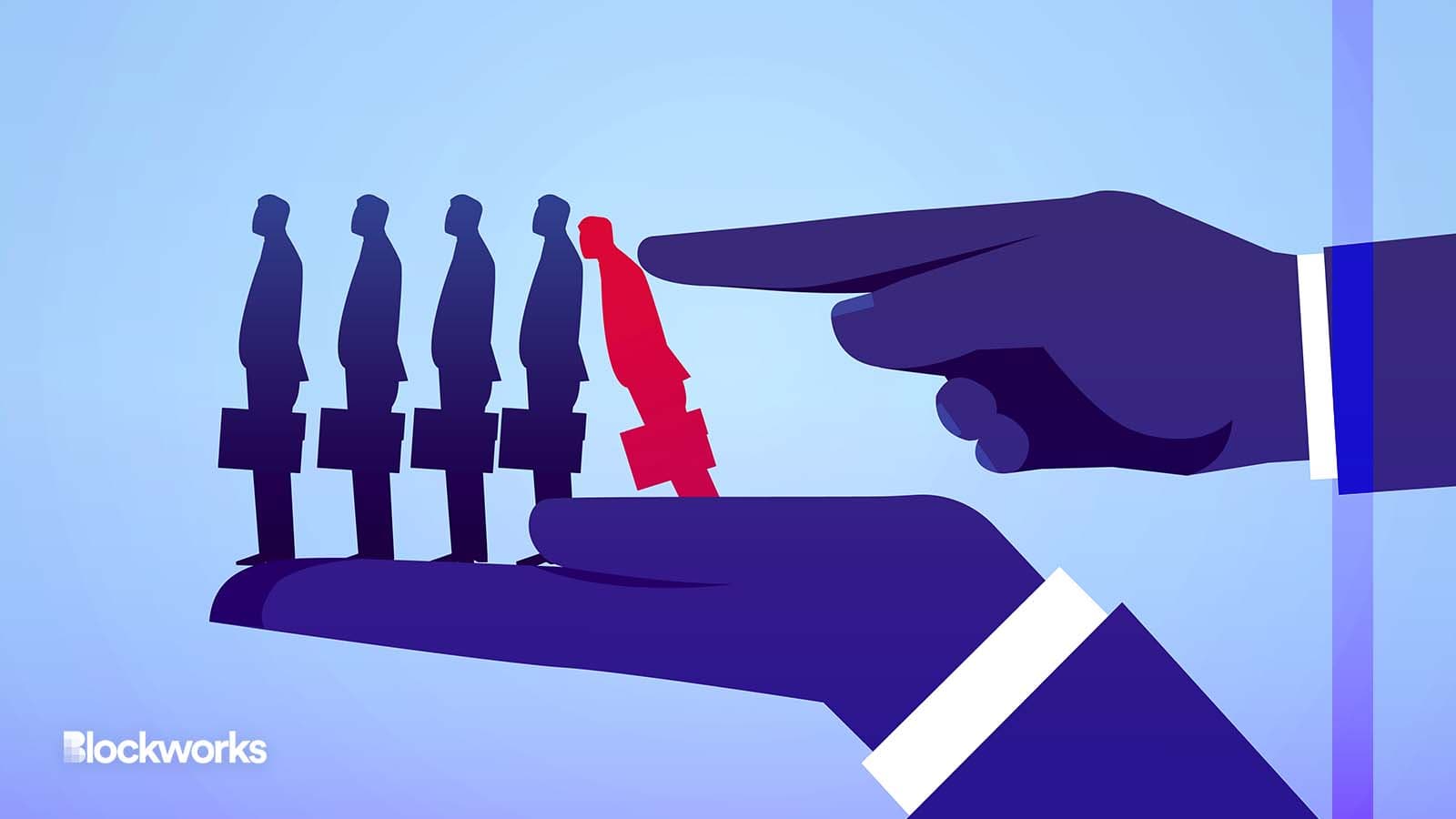 wan wei/Shutterstock.com modified by Blockworks
Crypto news site The Block cut 27 staffers on Friday, according to four sources with direct knowledge of the layoffs.
In confirming the layoffs, Bobby Moran, interim CEO at The Block, said that "Friday was a tough day for our company. We parted ways with 27 incredibly talented and hard-working colleagues each of whom contributed to The Block's success. We are genuinely sad to see them go."
The Block made headlines in December 2022 following reports that Sam Bankman-Fried secretly channeled millions of dollars in loans through his trading company, Alameda Research, to Michael McCaffrey, The Block's former chief executive.

Bankman-Fried, the founder of FTX and Alameda, is now awaiting trial on multiple counts of fraud and conspiracy.
McCaffrey did not divulge the source of the funds publicly and resigned from his CEO seat shortly after the revelations.
The layoffs were spread over multiple company functions, including editorial, research, engineering, sales, revenue, and corporate operations, with almost half coming from editorial and research, according to a source familiar with the matter.
The Block is not profitable, according to an Axios investigation, which found that a buyout of the company's investors in April 2021 led by McCaffrey was financed by loans extended by Bankman-Fried's Alameda Research. Those lines of credit reportedly were funneled to an LLC, MJMCCAFFREY LLC.
McCaffrey was succeeded by Bobby Moran, formerly the company's chief revenue officer.
"No one at The Block had any knowledge of this financial arrangement besides Mike," Moran said at the time. 
His account was confirmed by McCaffrey, who tweeted that he "didn't disclose the loan to anyone. Absolutely no one at The Block knew about the financial arrangement between my holding company and SBF, including the editorial and the research teams."
A source at The Block who was granted anonymity to discuss the situation candidly told Blockworks that "There's no way McCaffrey was the only person who knew what was happening. Or if he did, some other people were very, very, very bad at their jobs."
Following publication of this article Moran noted that "With regard to the financial arrangement between Mike [McCaffrey] and SBF, what I said in December still holds true — as far as we know, no one at the company knew about Mike's actions. We are focused on moving the company forward."
FTX is attempting to recover funds elsewhere
It's unclear if FTX will attempt to clawback the money extended to McCaffrey, although it is trying to recover political donations made by FTX executives.
There is no suggestion that The Block's journalists were tainted by McCaffrey's failure to divulge the source of his funds, or that The Block's editorial coverage was influenced by the loans. Journalists at the company expressed shock and dismay at the time.
It has been a tumultuous year for some crypto media companies, including CoinDesk, which has been repeatedly forced to report on the waning fortunes of its parent company, Digital Currency Group (DCG).
CoinDesk is one of the assets that may be sold off as a result of the ongoing Genesis bankruptcy (another DCG portfolio company).
Although initial estimates for its price tag ranged as high as $300 million, some sources now believe the sale will be for significantly less than $100 million, with at least one estimate placing the final price south of $50 million.

Updated Feb. 7th, 2023 at 7:36 pm ET: Added quotes from Bobby Moran.
---
Don't miss the next big story – join our free daily newsletter.