Major Energy Companies Are Trading Tokenized Emissions Credits
Natural gas outfit PureWest is trading tokenized emissions credits with major methanol producer Proman, a long-regarded blockchain use case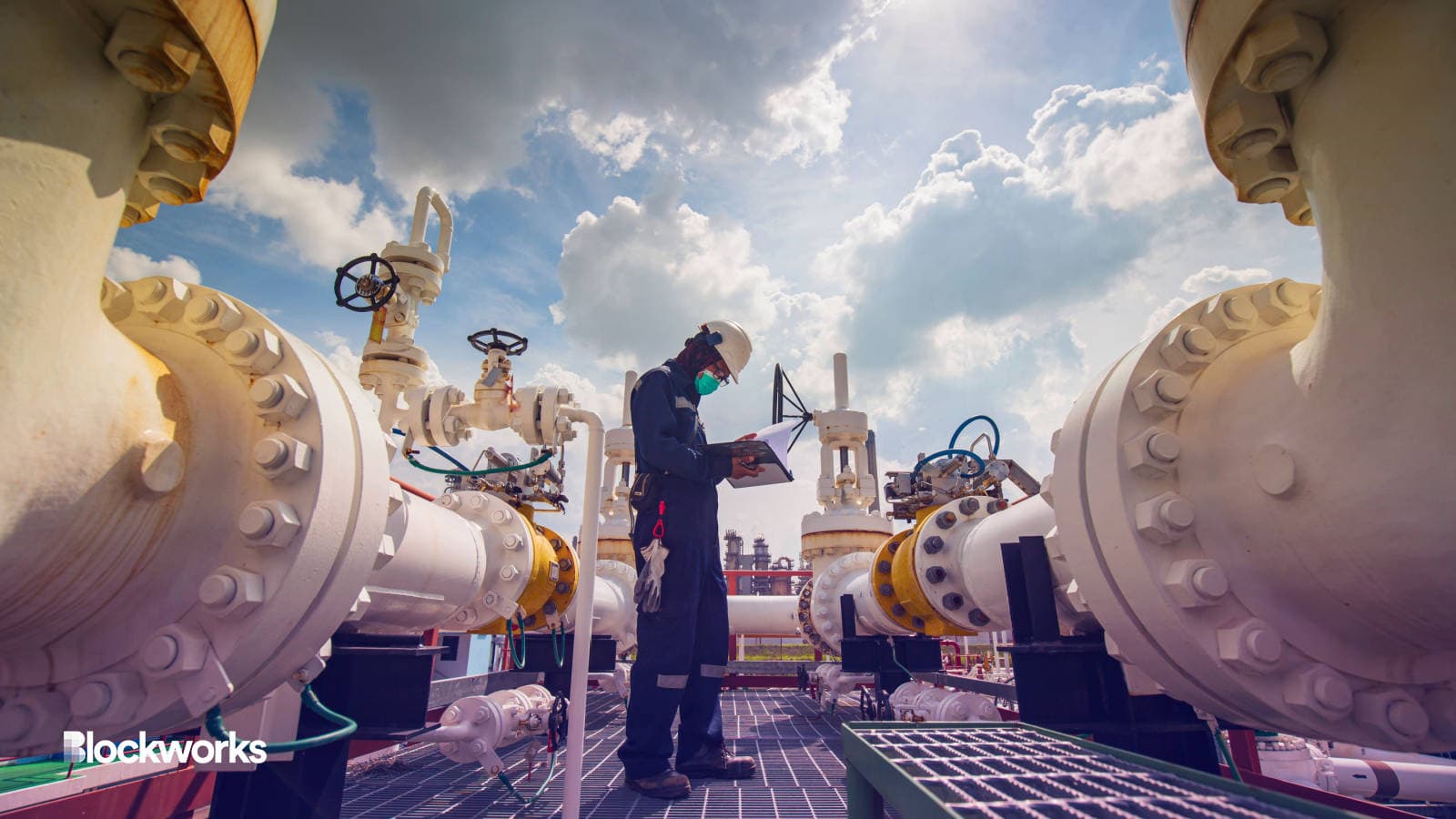 noomcpk/Shutterstock, modified by Blockworks
Natural gas producer PureWest is minting tokenized emissions credits in an effort to reduce the footprint of a methanol producer and other customers.
The Denver-based company's certified environmental tokens (CETs) reflect aggregated data collected and verified by data company Project Canary. 
PureWest is now transacting the tokenized credits with Switzerland-based Proman, the world's second largest methanol producer, the energy firm announced this week. PureWest itself is the most prolific natural gas producer in Wyoming, per its website.
The CETs are each matched to one million British thermal units (MMBtu) of gas produced and are sold on an MMBtu basis, Kelly Bott, PureWest's senior vice president of ESG, land and regulatory told Blockworks. 
Using blockchain eliminates concerns about double selling and proves that each MMBtu of gas was produced with the Project Canary-verified attributes. PureWest describes CETs as "purchasable credits stored on the blockchain for third-party users to achieve their emission reduction goals."
"With the purchase of these tokens, Proman can now purchase gas from anywhere while taking credit for our low-methane, freshwater friendly, safely and responsibly produced/certified gas when calculating their own environmental footprint," Bott said.   
"These types of transactions serve to incentivize other producers to reduce their own environmental footprint and jump into this rapidly developing market."
The tokens are transacted and stored on EarnDLT's private blockchain, which was built using enterprise blockchain platform Quorum. 
JPMorgan forked Ethereum to create Quorum in 2016 before selling it to blockchain software firm ConsenSys four years later.
Tokenization is becoming en vogue
The PureWest-Proman linkup comes after Gold Standard chose climate tech company Flowcarbon to help it finalize guidelines around tokenizing voluntary emission reduction (VER) credits. 
Gold Standard CEO Margaret Kim said in a statement last September — when the company began exploring how it should go about creating digital tokens — that "blockchain could bring innovation, transparency and greater finance to the carbon market."  
Tokenization has picked up steam in recent months, with Goldman Sachs, investment firm Hamilton Lane and Hong Kong's government among those who have revealed such initiatives.  
BlackRock's Larry Fink, CEO of the world's largest asset managers, said in a letter earlier this month that the tokenization of assets is an attractive use case for his company. He had previously called the tokenization of securities "the next generation for markets."
Most recently, Roofstock sold a Georgia home to ReaIT, a provider of fractional real estate investment in tokenized assets, in a transaction facilitated by an Ethereum-based NFT.
---
Get the day's top crypto news and insights delivered to your email every evening. Subscribe to Blockworks' free newsletter now.
Want alpha sent directly to your inbox? Get degen trade ideas, governance updates, token performance, can't-miss tweets and more from Blockworks Research's Daily Debrief.
Can't wait? Get our news the fastest way possible. Join us on Telegram and follow us on Google News.
---