Yellen Warns of Crypto Risk in First Digital Asset Speech
The Treasury secretary reiterated the goals of President Biden's recent executive order on digital assets and highlighted areas most in need of regulation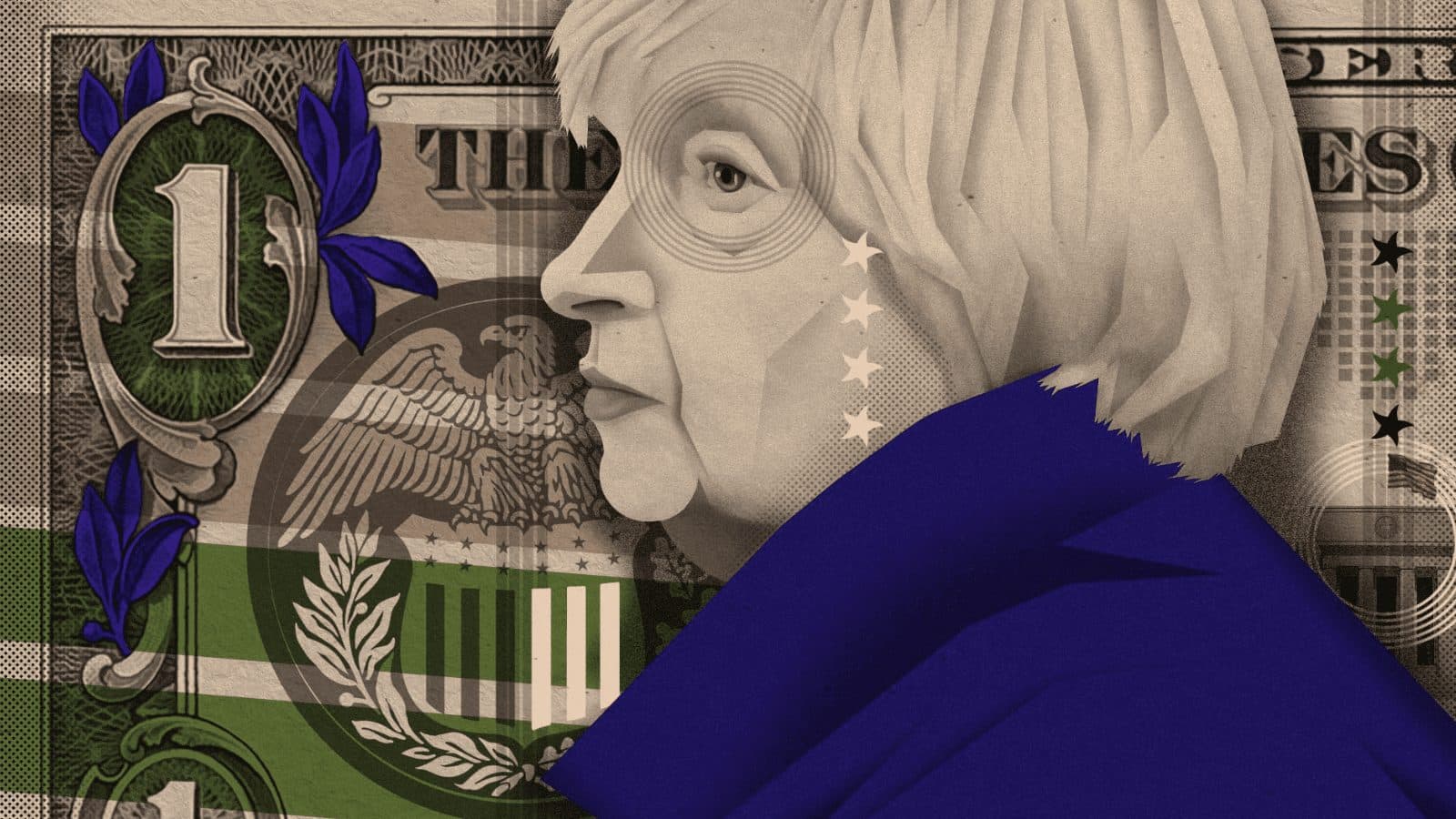 BLOCKWORKS EXCLUSIVE ART BY AXEL RANGEL
key takeaways
Stablecoins and CBDCs were a key part of Yellen's first speech focusing on digital asset regulation
The Treasury secretary made the case for "tech neutral" rules to protect consumers
In her first speech focused on digital assets, US Treasury Secretary Janet Yellen echoed sentiments from some of her fellow federal government leaders that regulation should focus on minimizing investor risk. 
"This growth in digital services has opened a world of possibilities and risks that would have seemed fantastical only a few decades ago," Yellen said, speaking at an event at American University in Washington, D.C. 
Stablecoins and central bank digital currencies (CBDCs) were a key part of Yellen's address, an unsurprising trend given recent discussions in Congress. It is imperative that stablecoin issuers be held accountable for maintaining reserves, she said, to prevent crashes. 
"This is not hypothetical," Yellen said. "A stablecoin run occurred in June 2021, when a sharp drop in the price of the assets used to back a stablecoin set off a negative feedback loop of stablecoin redemptions and further price declines."
The Treasury secretary was presumably referring to Iron Finance's TITAN token, which fell to near zero from a high of $65 in mid-June 2021, after the IRON stablecoin lost its peg to the US dollar.
Yellen did not state an opinion regarding CBDCs, but did call for further research and investigation into the role that one might play in the US.
She also highlighted the new FedNow payments program, expected to launch in 2023. FedNow "will enable payment in real time, around the clock, every day of the year within the US' payments system," she said. 
Yellen emphasized the need for "tech neutral" regulation, highlighting the importance of protecting Americans over promoting businesses. Firms that custody digital assets for consumers should be required to ensure those assets are not lost, stolen or used without authorization, she added. 
"And, taxpayers should receive the same type of tax reporting on digital asset transactions that they receive for transactions in stocks and bonds, so that they have the information they need to report their income to the IRS," Yellen said. 
Yellen's comments mirrored similar sentiments from Federal Reserve Chair Jerome Powell and Securities and Exchange Commission Chair Gary Gensler, who have both stressed the need for clear regulatory guidelines around the industry. 
"But we must also be mindful that 'financial innovation' of the past has too often not benefited working families, and has sometimes exacerbated inequality, given rise to illicit finance risks, and increased systemic financial risk."
---
Don't miss the next big story – join our free daily newsletter.