CME Group still hot on crypto after rocky 2022
Institutions are interested in the technology behind digital assets and blockchains, including tokenization, CME's head of crypto told Blockworks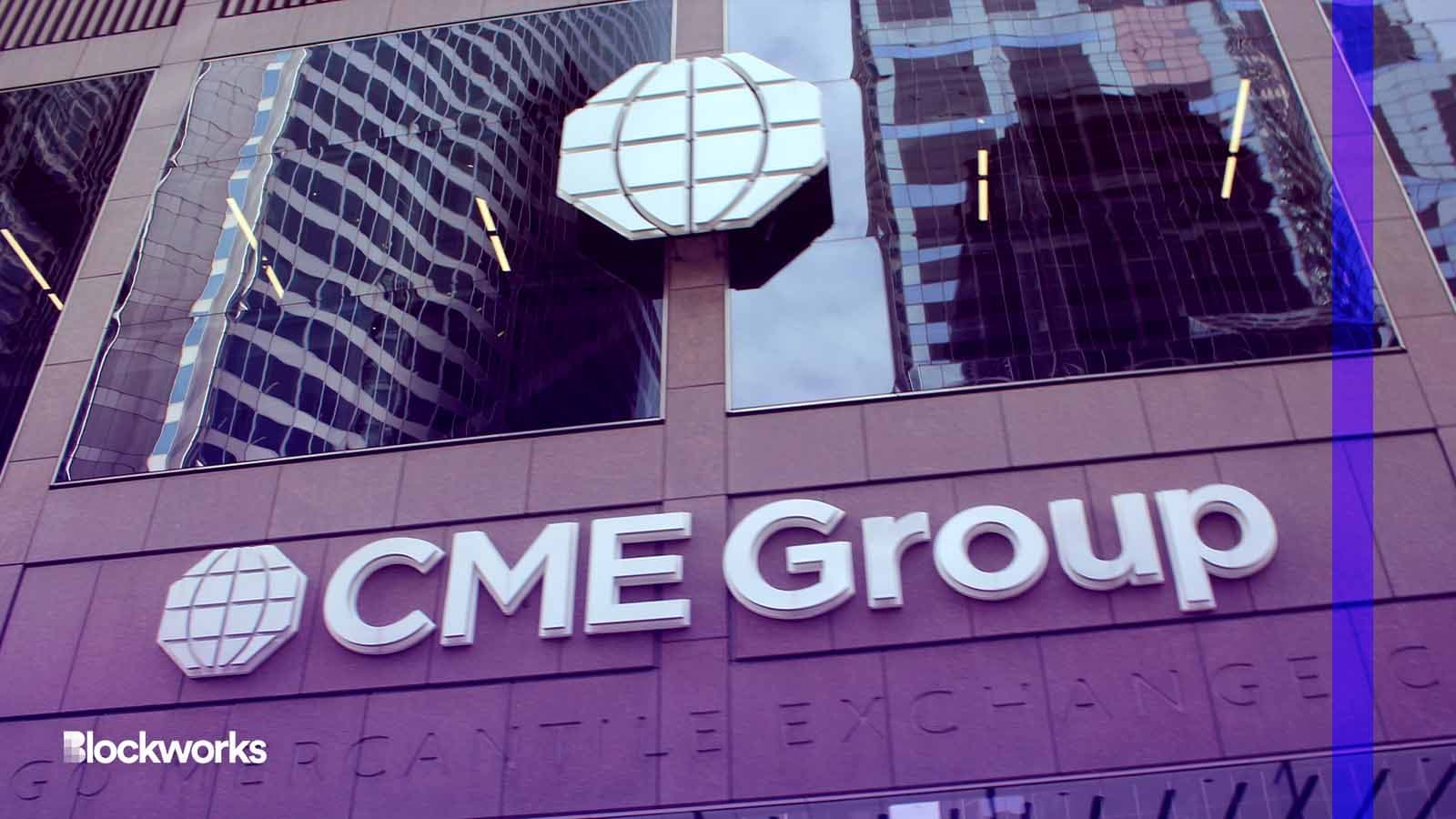 Pamela Brick/Shutterstock modified by Blockworks
Institutionally geared crypto investors have "largely" shaken off 2022's collapse and have pivoted into parsing how cryptocurrencies and their underlying technologies can drive innovation, according to CME Group's head of crypto products. 
Giovanni Vicioso told Blockworks the company was seeing an uptick in digital asset interest even before BlackRock moved to gain regulatory approval for a spot bitcoin ETF. 
In late June, CME said that it would be adding ether and bitcoin ratio futures on July 31, pending regulatory approval. 
Vicioso told Blockworks the importance of the futures ratio offerings is that with "one single trade, market participants have the ability to trade that relationship between bitcoin and ether."
CME added bitcoin futures to its event contracts earlier this year, and added ether options contracts in 2022. The company first listed bitcoin futures in 2017.
"More and more, you're seeing clients, institutional clients, really start thinking more about the technology that underpins both bitcoin and ether, and they certainly see a lot more conversations on how that underlying technology can really drive innovation — things like tokenization for example…and I think that that's really what's driving interest in our products as well," Vicioso said.
At the moment, CME does not plan to move beyond ether or bitcoin products because "it's probably a little bit too early" for their institutional clients, he said. 
Another hurdle for CME, if they were to expand past their current set of offerings, is the regulatory landscape. Vicioso said they're looking for regulatory clarity on what's a security and what's considered a commodity — until then "we're going to continue to focus on…bitcoin and ether contracts."
The SEC has yet to offer a clear regulatory structure on which digital assets fall under its purview. Instead, the agency has been heading up a "regulation by enforcement" approach as it targets crypto exchanges such as Binance and Coinbase for allegedly offering assets or services it deems as securities. 
Murky regulatory outlook
The regulatory environment may remain murky if courts offer more rulings similar to the one Judge Analisa Torres issued in the SEC case against Ripple. The judge said XRP was not a security, but its institutional sales of XRP met securities criteria. 
But, for CME, new clients have continued to appear.
Vicioso said CME has seen miners, comparable to farmers, pop up because they "have a natural need to hedge their exposure to bitcoin."
Outside of CME, miners have booked minor success, with Bitdeer's SPAC offering earlier this year bucking a downward trend.
CME has been exploring additional types of bitcoin-linked products. 
"We've also fielded interest from participants, particularly institutions, in say, like a bitcoin non-deliverable forward," he said. "So, there is interest there and that is something that we are currently exploring, but that will give us the ability, for example, to offer an [over-the-counter] exposure to bitcoin as well." 
A non-deliverable forward is a cash-settled, short-term forward contract.
As for the pipeline going forward, Vicioso said he doesn't think CME is "done yet."
"When you look at bitcoin and ether, certainly there are different things that we can do in terms of introducing and innovating, you know, products around the existing [products.] I mentioned the NDF that we're working on, but then it's also introducing different mechanisms, right, that can help drive efficiencies in the marketplace as well," he said.
---
Don't miss the next big story – join our free daily newsletter.