ETF Provider VanEck Files For Digital Assets ETF
New York-based fund issuer and asset management firm VanEck filed today with the Securities and Exchange Commission to launch a Digital Assets ETF, capitalizing on an ever-growing appetite from retail investors for exposure to the broader blockchain and crypto industry.  Digital […]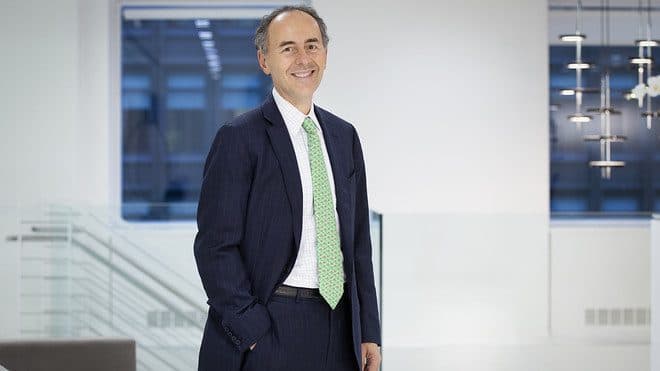 VanEck CEO Jan Van Eck | Source: VanEck
key takeaways
The ETF would hold equity in companies that generate at least 50% of revenues from digital assets
VanEck's offering differs from existing ETFs by offering more pure exposure to "picks and shovels" technology businesses
New York-based fund issuer and asset management firm VanEck filed today with the Securities and Exchange Commission to launch a Digital Assets ETF, capitalizing on an ever-growing appetite from retail investors for exposure to the broader blockchain and crypto industry. 
Digital assets is a broad term to describe everything from cryptocurrencies, to blockchain-based financial services, to tokenized physical assets and commodities. According to a filing published today by the SEC, the VanEck fund seeks to invest in companies with at least 50% of their revenues from the global digital assets segment, including semiconductor and online money transfer companies.
There are similar digital asset funds offered by other managers on the market today, but they are limited to accredited investors. The VanEck ETF would be a first for retail investors. In Canada, Montreal-based Exponential Ventures and Vancouver's 3iQ have listed a Digital Asset Fund on the equity crowdfunding platform FrontFundr.
While there are already several blockchain ETFs on the market, these funds generally hold stocks with a diverse exposure of interests in blockchain and crypto. This can range from semiconductor companies like Nvidia, AMD, and TSMC, which all have a hand in producing silicon used by bitcoin miners, to computer hardware vendors like Asus and Gigabyte, which integrate said silicon into graphics cards used in the mining process.
The issue for investors is that these companies are affected by other macro trends, such as the popularity of PC gaming, a successful iPhone launch, or fallout from COVID-19. Although some ETFs hold publicly-traded miners like Riot Blockchain, investors are hard-pressed to find pure exposure to the burgeoning technology services sector that uses blockchain technology. 
In 2019, technology market research house Gartner published a report that said blockchain technology will create more than $176 billion dollars worth of business value by 2025 and $3.1 trillion by 2030.
According to the filing, the ETF will invest in digital asset exchanges, payment gateways, mining operations, software services, equipment and technology or services to the digital asset industry, digital asset infrastructure businesses, or companies facilitating commerce with the use of digital assets, among others.
The filing also notes that the fund will invest in companies that hold significant amounts of digital assets on their balance sheets, presumably referring to firms like Microstrategy which holds over a billion dollars of Bitcoin. 

Should Coinbase's IPO prove to be a success, it would also give investors a chance to hold macro exposure to the subsequent IPOs of exchanges. 
VanEck's ETF is designed for investors who are looking for exposure to the digital assets, but unwilling or unable to put the time into physically holding assets like Bitcoin themselves.