Florida Legislature's Near-unanimous Vote Approves CBDC Ban
The bill effectively prohibits CBDCs for use as money across the state and is expected to take effect on July 1 following Governor Ron DeSantis' seal of approval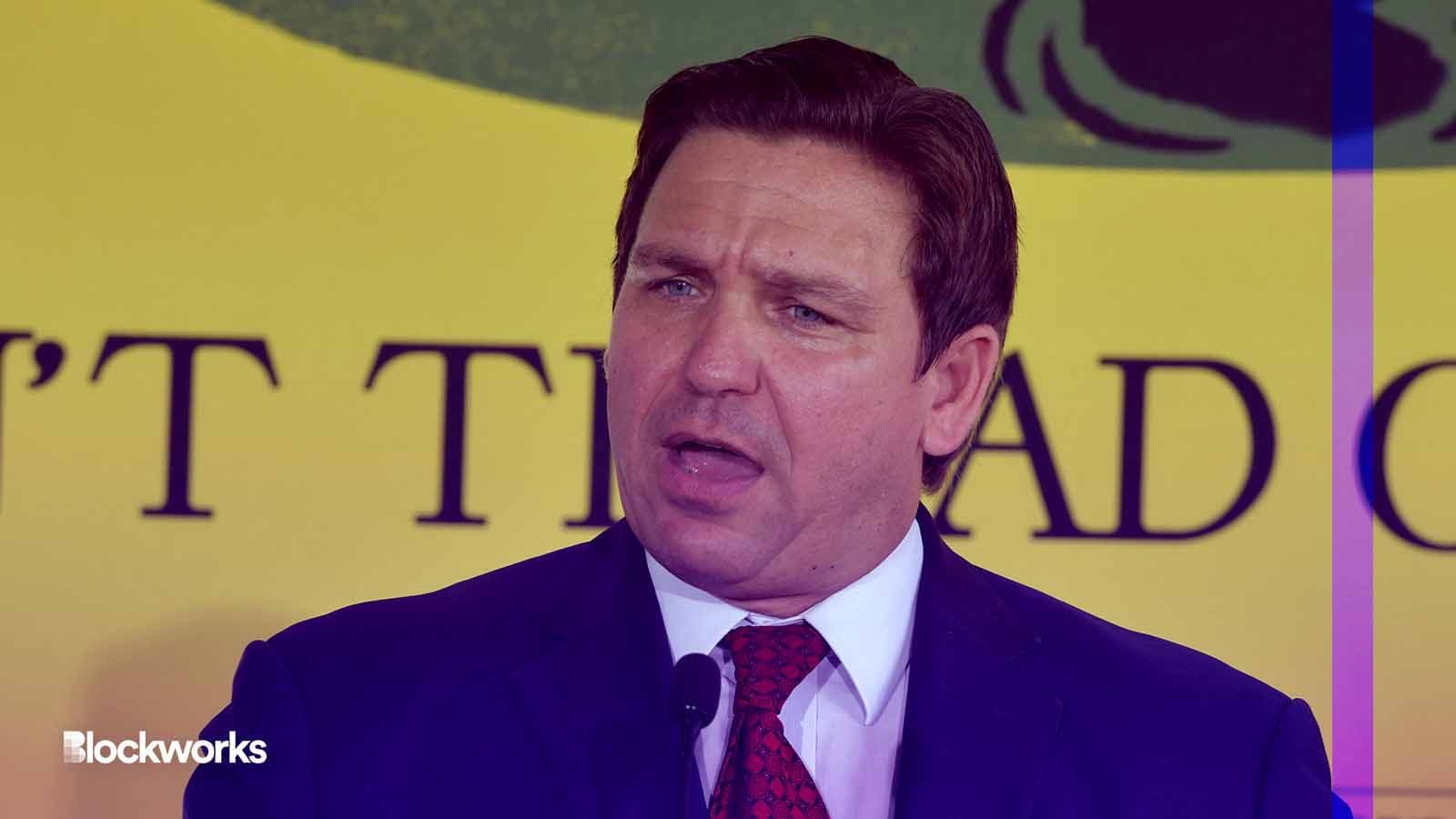 Florida Governor Ron DeSantis | Wirestock Creators/Shutterstock modified by Blockworks
Florida has responded to Governor Ron DeSantis' call to prohibit the use of CBDCs across the state.
The bill, known as HB 7049, amends the Uniform Commercial Code (UCC) to include a definition for CBDCs. 
Despite lawmakers' divided opinions on the matter, the US Department of the Treasury, under President Joe Biden, is currently outlining the technology required to develop a digital dollar.
That's prompted some states, including North Carolina, to draw up legislation that seeks to protect against what critics argue is an invasion of privacy from the nascent tech.
Following a 34-5 vote by the Senate last week, which was also supported by seven out of 12  state Democrats, the bill passed a near-unanimous vote in the House, 116-1. The only vote against the bill was cast by Rep. Felicia Robinson, a Democrat from Miami Gardens.
HB 7049 reads:
"A digital currency, a digital medium of exchange, or a digital monetary unit of account issued by the United States Federal Reserve System, a federal agency, a foreign government, a foreign central bank, or a foreign reserve system, that is made directly available to a consumer by such entities."
The bill also clarifies that CBDCs may not be included in the definition of "money" under the UCC whose definition was revised under the state's code. 
The definition effectively prohibits CBDCs for use as money across the state, according to Ian Corp, attorney at law firm Agentis.
"If the federal government institutes a CBDC, it could trump the Florida bill under the supremacy clause of the constitution," he said. That would be similar in nature to the way in which states have decriminalized marijuana while the federal government has not, Corp added. 
Even so, proponents are concerned that the bill could have wider ramifications on banning the use of bitcoin and digital assets more broadly.
DeSantis, a vocal proponent against the issuance and acceptance of a CBDC across Florida, has railed against their potential existence. The governor, among others, views CBDCs as a tool for use in state-wide surveillance of Floridians and US citizens.
Its passage in the state's legislature now means it heads to DeSantis' desk. If the governor signs it into law, it is expected to take effect on July 1.
---
Get the day's top crypto news and insights delivered to your email every evening. Subscribe to Blockworks' free newsletter now.
Want alpha sent directly to your inbox? Get degen trade ideas, governance updates, token performance, can't-miss tweets and more from Blockworks Research's Daily Debrief.
Can't wait? Get our news the fastest way possible. Join us on Telegram and follow us on Google News.
---