Investors Bullish Over Ethereum Merge Disinflation Narrative
A successful Merge could greatly reduce ETH inflation, and investors are buying options and staking ether in anticipation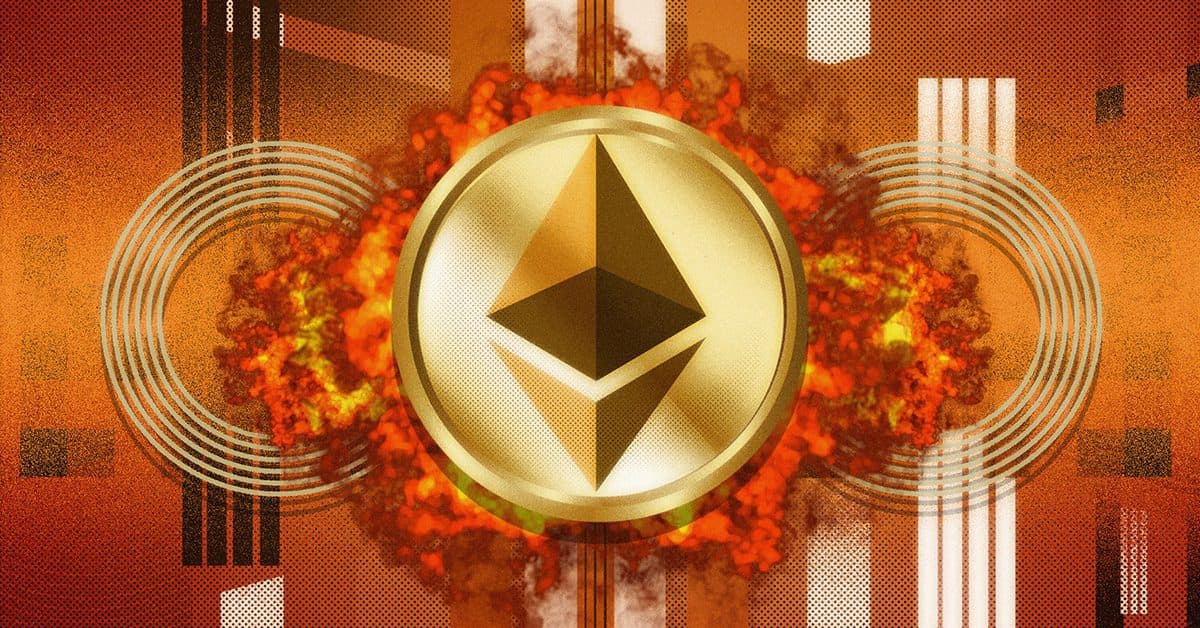 Blockworks exclusive art by Axel Rangel
key takeaways
"The network is effectively buying back shares [of ETH] and is destroying them," a crypto trader told Blockworks
Ethereum open interest has exceeded bitcoin interest for the first time ever
After many delays Ethereum Merge to Proof-of-Stake (PoS) remains at least a month and a testnet trial away, but investors are already sending ether on a bull run. The price of ether gained 59% in July, more than tripling bitcoin's 17% increase, according to crypto exchange Kraken.
Investors are betting a successful Merge will greatly reduce ether's inflation rate — and possibly even turn the token deflationary. Derivatives traders are snapping up options contracts to profit from a potential upward push on ether's price. 
Under the current Proof-of-Work system, miners are rewarded with two ETH for being first to solve a computational puzzle and create an Ethereum block.
Read more: The Investor's Guide to The Ethereum Merge
Ethereum counters its token issuance to miners by removing from circulation, or burning, a gas fee paid by buyers that varies based on network demand. Currently, more ether is created for miners than is removed through gas fees, causing inflation. But the network was briefly deflationary in the month following the launch of EIP-1559 — the improvement that started burning ether. Since then, some 2.57 million ETH have been burned to date, according to tracking site WatchTheBurn.
Proof-of-Stake instead has validators lock up, or stake, their ether in exchange for a yield on their tokens. Ethereum pays 90% less for the network's security by rewarding stakers as compared to miners because of the difference in required computer power, according to research from Runa Digital Assets.
If the gas fee exceeds the yield paid to stakers, more ether will be burned than created, leading to deflation and upward price pressure on ETH.
The PoS system "feels like a share buyback to equity investors," Max Williams, assistant portfolio manager at Runa, told Blockworks. "The network is effectively buying back shares [of ETH] and is destroying them."
How much will ether inflation decline?
The more ether is staked and the higher demand is for Ethereum blocks, the more deflationary the Merge will be.
Based on current block demand, Blockworks research estimates the Merge will not be deflationary, but greatly reduced inflation can still create investor optimism. 
"Even if it's not deflationary, it would just be a much lower rate of inflation," Williams said, citing 90% disinflation as a realistic outcome of the Ethereum Merge.
Investors are betting on ether by buying options and staking ether. 
Options allow investors to make low-risk bets on an asset's price movement within a fixed time frame. Digital asset broker BitOoda reported the current record volume of ETH option interest exceeds BTC interest for the first time ever. Crypto trading firm QCP Capital noted in a Telegram announcement that hedge funds have been major options buyers.
The Merge "is so well telegraphed that it hypothetically makes trading options a little easier because the biggest thing with trading options is just getting the timing right," said Williams. "Traders feel like they have an advantage in terms of timing."
Williams also thinks options are an attractive play amid worsening macroeconomic conditions. 
Staking ether has also been popular of late. The 13 million ETH staked as of this week are an all-time high, according to Kraken. Over 10% of ether's circulating supply is currently staked, compared to 7% in February, per CryptoQuant.
Blockworks researcher Sam Martin pegged post-Merge staking yields at 5.89% based on data from August 4.
All speculation about positive Ethereum price movement depends on the Merge — one of the most ambitious software upgrades in crypto's history — coming off without a hitch. Therefore, investors will be closely watching Ethereum's final practice merge with the Goerli testnet expected on or around August 10. If it succeeds, the mainnet Merge is scheduled to follow in mid-September.
---
Don't miss the next big story – join our free daily newsletter.