OpenSea Hits $3B in Monthly NFT Volume
Bored Ape Yacht Club sold 10,000 of their cartoon mutant primates via OpenSea in an hour on Saturday night. The sales helped to propel the NFT marketplace's stratospheric sales for August.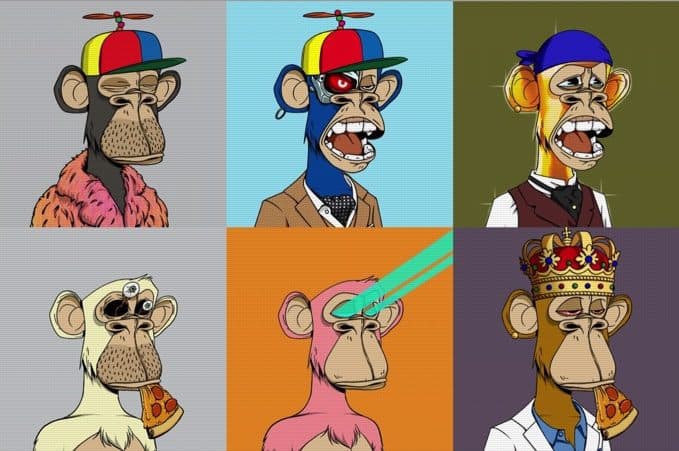 Bored Ape Yacht Club; Source: Electric Artefacts
key takeaways
OpenSea, the largest NFT marketplace which trades most of the Bored Ape Yacht Club NFTs, hit $3 billion in monthly volume or 925,000 ETH following the public sale on Saturday
NFT sales for August are now at $1.6 billion, up $740 million since last week, according to NonFungible
You've seen them plastered all over Twitter — a disinterested-looking cartoon primate, which many set as their avatars for the thousands who own them. Now, there's more of them and they're mutants.  
Referred to as the Bored Ape Yacht Club (BAYC), the popular non-fungible token (NFT) collection sold 10,000 of their "Mutant Ape" NFTs within the first hour of the public sale on Saturday.
BYAC airdropped a further 10,000 "vials of serum" that allows existing ape holders to mint their current Bored Ape NFTs into an additional token free of charge. BYAC holders were given one of three serums (M1, M2 or M3) for their apes to "ingest" which created the new set of apes. These are referred to as the "Mutant Ape Yacht Club" (MAYC) which were either a similar-looking token or an entirely different primate. 
BAYC is the fifth most profitable NFT project, having generated $320 million since being launched back in April, according to CryptoSlam 
"Similar to the rise of $Doge and other meme coins this winter, consumers gravitate toward viral trends that seem to have no real explanation other than the fact that they're 'fun'. They gravitate towards collectivism," said Streambed CEO Jenna Pilgrim. "Until now, digital artists have been given the short end of the stick when it comes to keeping track of their content, monetizing it, or proving its authenticity. NFTs have a long way to go, but the marketplaces that are emerging now are much more intelligent than their historic counterparts when it comes to consumer and rights protection."
Notable investors include three-time NBA champion Stephen Curry who purchased one of the apes for $150,000 or 55 ETH on Saturday night. The lowest selling price point for a Bored Ape is around 24.99 ETH or $79,000 a token, according to OpenSea.
Additionally, New York-based auction house Sotheby's is set to auction off Bored Ape NFTs, starting on September 2. 
The BAYC airdrop follows a bullish week for NFT news. Visa announced their first step into the metaverse last Monday with their purchase of CryptoPunk #7610 for $150,000 in ethereum. This benchmarked Visa as the first major payment network to begin an NFT collection. 
OpenSea surges
Riding the NFT wave, OpenSea, the largest NFT marketplace which trades most of the apes, hit $3 billion in monthly volume or 925,000 ETH following the public sale. In addition, the start-up has seen roughly 200,000 active wallets on its platform.
According to NonFungible, NFT sales are valued at $1.6 billion for the month as of August 18, up from $900 million reported last week. 
With popular drops like BAYC ramping up OpenSea's sales, the marketplace has to expand their 37-person staff which currently handles 98% of all NFT volume, according to a tweet from Nate Chastain, head of product at the company. 
However, the lightning-fast adoption of the digital asset incites both excitement and potential risk for its investors, according to FTX's Sam Bankman-Fried.
"[NFTs are] almost going mainstream faster than the mainstream understands what it is they're adopting, which is a weird phenomenon," Bankman-Fried said in an interview with CNBC. "It could lead to just incredibly fast and giant adoption. It could also lead, frankly, to sort of a sour taste in people's mouth if there's a crash, and no one ever quite figured out what it was."
Want more investor-focused content on digital assets? Join us September 13th and 14th for the Digital Asset Summit (DAS) in NYC. Use code ARTICLE for $75 off your ticket. Buy it now.