Regulators Turn Up the Volume on Crypto Messaging
A new research report shows that 2022 is the biggest year yet for crypto-related regulatory measures, which are up over 7,000% since 2018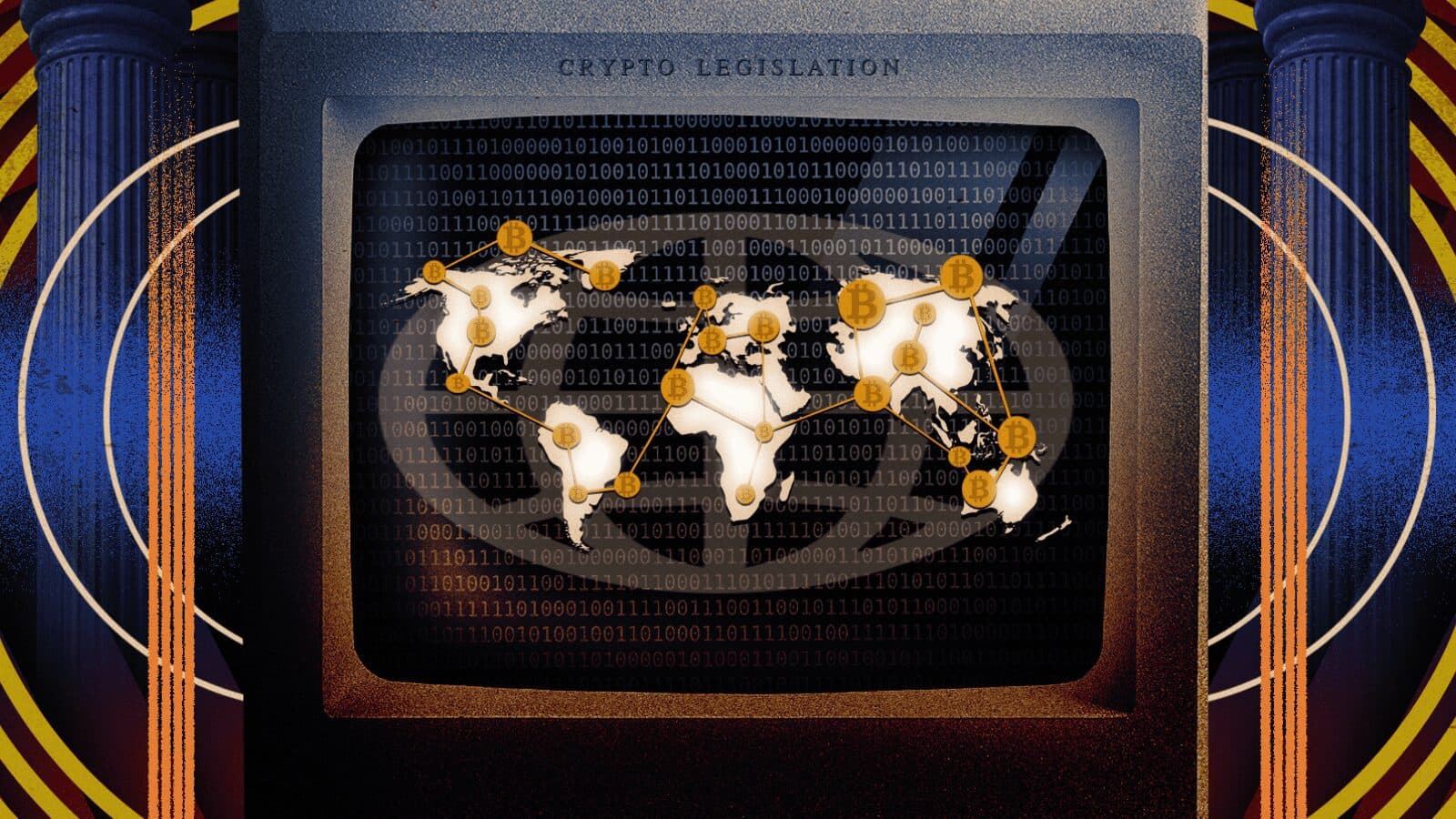 Blockworks exclusive art by axel rangel
key takeaways
Regulation so far has typically focused on general investor protection instead of specific tokens and coins
Countries in North America account for 51% of all crypto-related regulatory issuance, according to CUBE
Regulators around the world have increased digital asset-related messaging by 7,436% since 2018, according to a new report from regulatory technology firm CUBE. 
2022 is the biggest year so far, with over 4,666 regulatory issuances associated with cryptos in the first four months of the year. In 2021, there were a total of 9,872 issuances. 
"As society and traditional financial services move towards welcoming cryptocurrencies into the mainstream, regulators are acting fast to create new regulations or broaden existing perimeters to protect consumers and the wider economy," CUBE analysts wrote in the report. "It is fast becoming a financial stability risk." 
Countries in North America account for 51% of all crypto-related regulatory issuances, according to CUBE. Europe makes up 32% of total issuances. 
Discussions about the crypto industry's sustainability and environmental impact have so far made up less than 0.1% of all crypto-related regulatory issuances, CUBE researchers found. 
"This poses potential conflicts for global regulators who have universally been professing to care about environmental, social and governance factors for finance — introducing climate-related disclosure rules in many jurisdictions," analysts wrote in the report. "Regulators are simultaneously advocating for a greener financial system, while actively working to bring cryptocurrency under its wing, with negative environmental effects in tow."
Concerns about crypto's energy usage primarily focuses around proof-of-work (PoW) mining practices, which bitcoin and ether both use, although ether is attempting to move to a proof-of-stake model. PoW is notoriously energy intensive as it requires a number of participants in the blockchain network to simultaneously compete against one another to solve a cryptographic puzzle, CUBE researchers noted.
"In the US, we're not seeing the same wide-scale discussions around sustainability yet, but the effects of crypto and fossil fuel mines, for example, are starting to come to the fore at a state level at least," Ben Richmond, founder and CEO of CUBE said. "As with most regulatory measures around climate risk, it looks like any sustainability regulation will start as disclosure rules, which aren't overly onerous."
Most regulatory measures across the world so far have focused on broad investor protection, analysts noted. 
"The data shows regulators coming at crypto through a very broad lens," Richmond said. "The most referenced terms are very high level topics such as 'virtual assets,' 'cryptocurrency' and 'digital assets.'" 
Regulators are starting broad and likely narrowing down to specifics in the future, Richmond added. Few regulatory issuances are related to specific tokens, but regulators have started to take a closer look at stablecoins in recent years, he said.
The Financial Services Agency of Japan (FSA) has been active in publishing crypto regulatory measures, with a specific focus on stablecoins. In March 2021, the FSA floated regulations that would legitimize and monitor stablecoins, which later passed in June 2022. 
The United Kingdom has also taken a special interest in stablecoins. In January 2021, the UK's HM Treasury published plans for managing stablecoins in a consultation paper, which sets out a potential insolvency regime for stablecoins.
Regulators across the US have attempted to pass measures that would more closely monitor stablecoin reserves, a concern that has grown in recent months in the aftermath of algorithmic stablecoin TerraUSD's collapse. 
"Recent events in the decentralized finance space have demonstrated the volatile nature of investing and building in this nascent industry," said Alex Royle, head of compliance and regulatory affairs in Europe, Middle East and Africa at Galaxy Digital. "Now, legislators and regulators are trying to determine what rules could be put in place to better protect investors and the broader crypto ecosystem."
---
Don't miss the next big story – join our free daily newsletter.