RFK Jr's Presidential Campaign Accepts Bitcoin, Like Dozens of Politicians Before
Three past presidential contenders have accepted crypto donations, and dozens of other politicians do too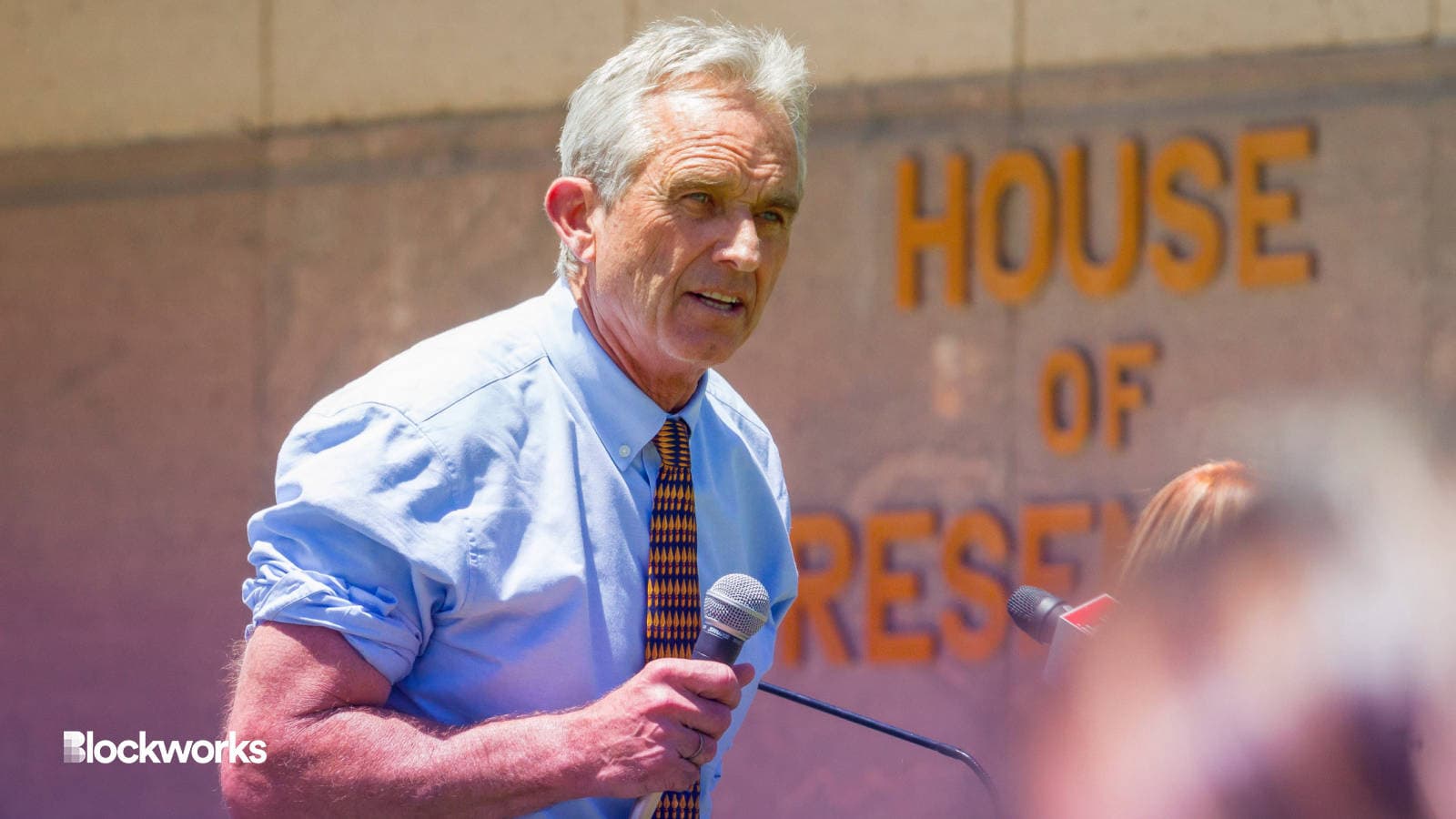 In The Light Photography/Shutterstock modified by Blockworks
Robert F. Kennedy, Jr., told a stage Friday at Bitcoin Miami that his presidential campaign would accept bitcoin donations to cheers and whistles. Novel announcement right?
Not really. Dozens of politicians, political action committees, and party organizations have already accepted bitcoin (BTC) and crypto as legitimate forms of donations. Not all lawmakers are hostile toward digital assets like Senators Elizabeth Warren, D-Mass., and Roger Marshall, R-Kan., who recently had to push back the introduction of their crypto anti-money laundering bill due to lack of support, according to insiders. 
Even past presidential contenders have accepted bitcoin, though Kennedy made the distinction that his campaign will be the first to use the Lightning Network. 
Senator Rand Paul, R-Ky., allowed people to donate to him in bitcoin for his 2016 presidential campaign, a move The New York Times deemed "secretive" at the time. 
"Presidential fund-raising, never known for its transparency, may have just become even more secretive," the NYT's Eric Lichtblau wrote on April 9, 2015, shortly after Paul announced his candidacy.
Lichtblau continued, "Senator Rand Paul of Kentucky waded into new waters when he said he would accept campaign contributions in Bitcoins, a largely untraceable virtual currency, in amounts up to $100."
Since the hesitant days of the 2016 election year, crypto has become more widely adopted by various politicians on both sides of the aisle.
Rep. Eric Swalwell, D-Calif., and Andrew Yang both accepted crypto donations for their respective 2020 presidential bids. Yang's new political party, the Forward Party, accepts 60 different crypto tokens. 
Other high-profile Republicans who are comfortable with crypto donations include Sen. Cynthia Lummis from Wyoming, Rep. Warren Davidson from Ohio, and former Republican congressional and senatorial candidates Laura Loomer and Blake Masters. 
The National Republican Congressional Committee also accepts crypto donations, becoming the first party committee to do so, Axios reported in June 2021.
Beyond the growing adoption among various politicians and political arms, making donations to candidates in the form of bitcoin has been allowed for just shy of ten years now. 
In fact, it's been expressly permitted since May 2014 by the Federal Election Commission (FEC), the regulatory agency responsible for enforcing campaign finance law in the US.
According to the 1971 Federal Election Campaign Act, a political contribution can be defined as "any gift, subscription, loan, advance, or deposit of money or anything of value made by any person for the purpose of influencing any election for Federal office."
Working under that definition, the FEC concluded "that bitcoins may be accepted as contributions under the Act."
So, when it comes down to it, crypto has been a part of American political life for a while now. And with the FTX disaster still unraveling, the SEC still providing murky guidance on whether digital assets are securities, and a presidential election right around the corner, crypto is very likely to continue to be a part of the national conversation.
Updated May 23, 2023 at 5:13 pm ET: A previous version of this article incorrectly listed Cynthia Lummis as a senator from Wisconsin. Cynthia Lummis is a senator from Wyoming.
---
Don't miss the next big story – join our free daily newsletter.