'Apple' of L1's: Solana Token Jumps More Than 110% in 30 Days
Solana has seen a fresh breath of capital flow back into its ecosystem, helping to drive speculation on its native token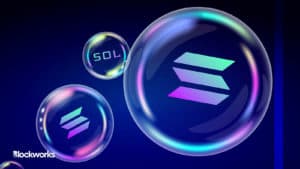 Vladimir Kazakov/Shutterstock.com modified by Blockworks
Solana's native token, SOL, is beginning to flash signs of life following a severe investor shakeout witnessed late last year.
The token is now up more than 113% over a 30-day period from its Dec. 24 low of $11.45. SOL is trading around $24.35 at 8 pm ET. 
SOL is now up 146% year-to-date with a market capitalization of roughly $9 billion, up 114% from its 30-day low of $4.2 billion.
The Layer-1 ecosystem's total value locked has also ticked 28% higher to $321 million after briefly dipping to its lowest point in nearly two years on Jan. 2 at $250 million, data from DeFi Llama show.
The number of assets currently being staked on the protocol remains muted following a major decline in November, courtesy of the market contagion woes and FTX's implosion.
Being so closely tied with major crypto funds, such as Alameda Research and Multicoin Capital, Solana experienced "unending waves of capitulation" during the contagion, Blockworks research analyst Spencer Hughes said.
Anticipation may be building around important milestones for the protocol this year including its flagship Solana Saga mobile phone with an "early" launch date expected sometime in Q1 or Q2.
Web3 development and high-frequency trading firm Jump Crypto's upcoming Firedancer validator client, designed to increase networking throughput, efficiency and resiliency, is also expected to launch sometime in 2023.
The client, billed as a second copy of the system that runs the network, would provide a backup in case the first system fails. Solana suffered three major outages last year which brought the network to its knees and often led to hours' long worth of downtime. 
Members of the Solana Foundation, the protocol's stewards, are now anticipating "a lot of performance optimization" for the year ahead, Austin Federa, head of strategy and communications told Bloomberg last week.
"Regardless of price, Solana as a network and experience continues to feel like the 'Apple' of blockchains next to other ecosystems, such as Ethereum, Atom or Avalanche," Hughes said.