Telegram trading bot tallies daily volume topping $16M
Telegram bots have seen a cumulative trading volume of over $4 billion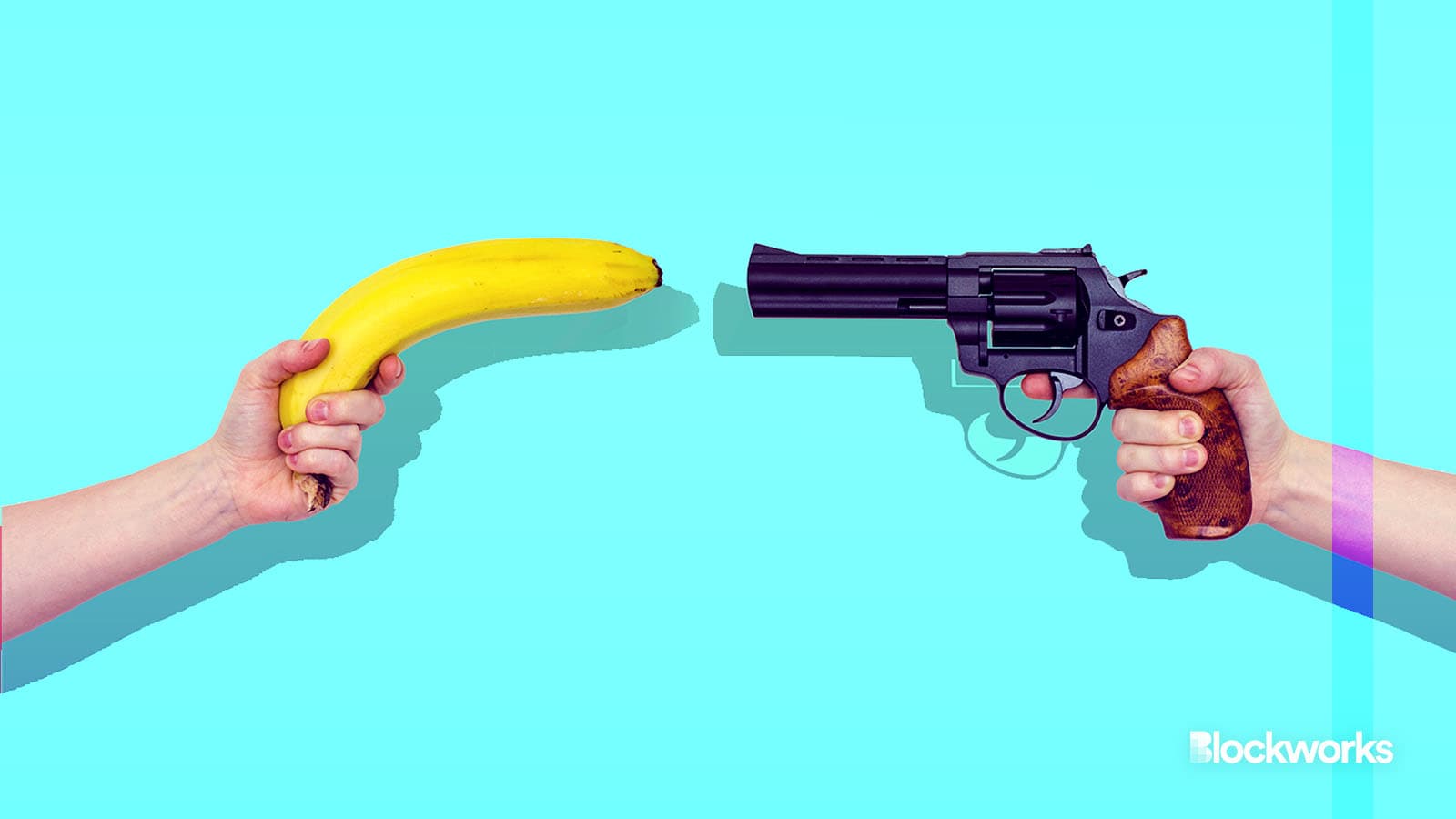 Ukki Studio/Shutterstock, modified by Blockworks
Telegram trading bot Banana Gun has seen daily trading volumes of upwards of $16 million.
The bots — automated trading agents running a preset strategy — are generally designed by developers so that users can easily trade meme coins, farm airdrops and bridge tokens. 
They are meant to simplify the trading process for users by allowing them to interact with a more simplified protocol or interface, but with the tradeoff of added custody risk.
According to data compiled on Dune Analytics, Banana Gun has a seven-day average trading volume of $9 million, rivaling a handful of popular decentralized exchanges. 
The trading bot is seeing an estimated 19,000 trades a day amongst 3,000 daily active users. It has attracted almost 46,000 lifetime users since launching in June and a lifetime trading volume of $589 million.
Blockworks research analyst Ren Yu Kong notes that Telegram bots, in general, have seen continued sustained usage, with cumulative trading volume surpassing $4 billion on Nov. 13. 
Banana Gun has been a "notable outlier," Yu Kong said, noting it "has seen its volume market share increase steadily from ~20% three months ago to ~35% today."
Recently, many telegram bots have become increasingly engaged in a features war. 
"The latest development in this war has been Unibot's upgrade of Unibot X to a standalone trading terminal, moving beyond its Telegram interface roots," Yu Kong said.
In the case of Banana Gun, the bot offers features such as auto sniper. That allows users to tell the bot how many coins they want to buy or sell and at what price, then the bot will automatically calculate the maximum profit transaction and determine whether the transaction can proceed. It also offers features that prevent rug-pulls and offers sandwich trading protections, for example.
Although Telegram bots have gained significant popularity, it is important not to dismiss security concerns and other risks when using these products. 
An estimated $60,000 worth of tokens were lost in a Unibot exploit last month after a newly deployed contract was compromised.
Malicious actors could also rely on telegram bots to execute phishing scams and lead to user wallets being publicly revealed.
---
Don't miss the next big story – join our free daily newsletter.