Amber Group Claims 'False Allegations' Against Company, Provides No Details
Amber Group is moving away from its WhaleFin product, a source told Blockworks after media reports surfaced of Amber's debt to crypto lender Vauld's CEO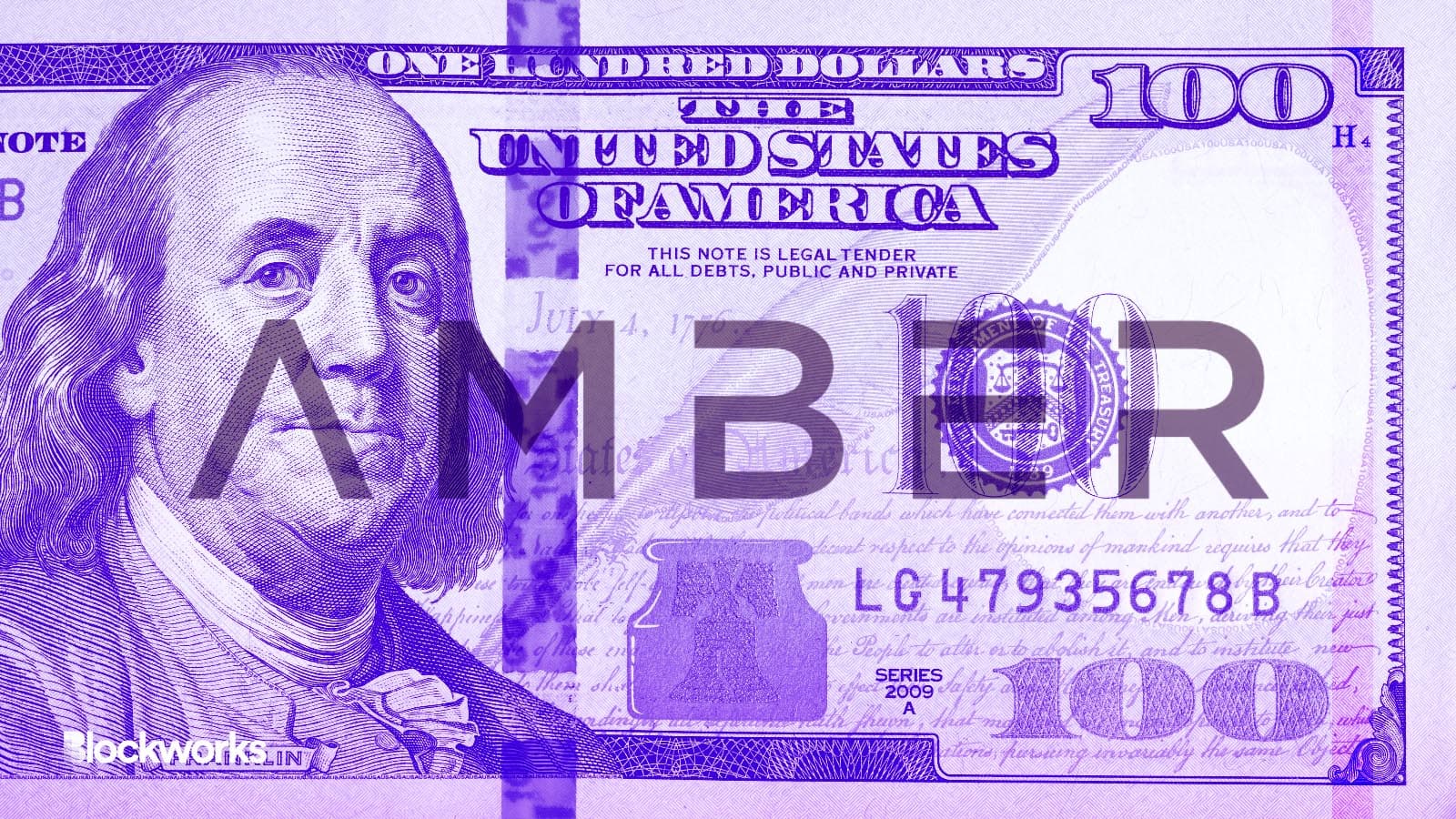 YamabikaY/Shutterstock.com modified by Blockworks
Amber Group has yet to publicly address the latest reports around its financial health, outstanding liabilities, and its retail business, despite saying certain claims against the company have been inaccurate.
Amber Group said in a Dec. 6 tweet that the company and UK-based crypto subsidiary WhaleFin, which operates a consumer-facing app, "are business as usual." But a source familiar with the matter told Blockworks that the company's Whalefin business has essentially been "shut down." 
The source, who spoke on the condition of anonymity, added that Amber Group has recently shifted focus to its institutional business.  
Last week The Block reported that Amber Group owes about $130 million to Darshan Bathija, the CEO of crypto lender Vauld, citing "a source with direct knowledge of the matter" and a legal document.
The crypto platform appeared to deny the report.
"Regarding certain false allegations against Amber today, our legal counsel will issue an official statement shortly and take potential legal actions," the company tweeted on Friday. 
But the firm had not yet shared any follow-up to the claim, as of Monday mid-day.
An Amber Group spokesperson declined to comment. 
Vauld suspended withdrawals, trading and deposits on its network in July, just weeks after it laid off 30% of its staff.
Bathija and the company did not immediately return requests for comment.
Cutting costs and raising funds  
The Financial Times reported the day before that Singapore-based Amber Group had paused its expansion plans as it is in the process of raising the second half of a planned $100 million funding round.
Cactus Raazi, who was hired as Amber Group's US CEO in October 2021, is among leaders who have left the company in recent months, a source told Blockworks. Angie Beehler, formerly Amber Group's global co-head of institutional sales and business development, and ex-Chief Strategy Officer Dimitrios Kavvathas left the company in September, according to their LinkedIn profiles.
The company is reportedly getting ready to lay off several hundred people as well.
Bloomberg reported Friday that Amber Group is set to cut its workforce to less than 400 from roughly 700 and is also seeking to end its sponsorship deal with Chelsea Football Club.
Several days prior to Bloomberg's report about Amber Group layoffs, reporter Colin Wu tweeted that the firm began to lay off hundreds of people again this month, citing former employees.
An Amber Group spokesperson declined to comment on the layoffs.
"Weathering through market cycles, we have to constantly adjust and pivot our business strategies, product offerings, and, as a result, internal teams and functions," the firm said on Dec. 6.
Amber Group said last month that it was an active trading participant on now-bankrupt crypto exchange FTX and had withdrawals yet to be processed — accounting for less than 10% of Amber Group's total trading capital. Amber Group said at the time that the situation did not pose a threat to its business operations or liquidity.
More recently, Amber Group co-founder Tiantian Kullander unexpectedly died in his sleep on Nov. 23, according to a company post. He was 30.
A spokesperson declined to comment on the impact of Kullander's death on the company.
---
Get the day's top crypto news and insights delivered to your email every evening. Subscribe to Blockworks' free newsletter now.
Want alpha sent directly to your inbox? Get degen trade ideas, governance updates, token performance, can't-miss tweets and more from Blockworks Research's Daily Debrief.
Can't wait? Get our news the fastest way possible. Join us on Telegram and follow us on Google News.
---