Catalyst smart contracts bridge gaps between layer-2 'islands,' says co-founder
Catalyst facilitates an "inter-island economy" via smart contract deployments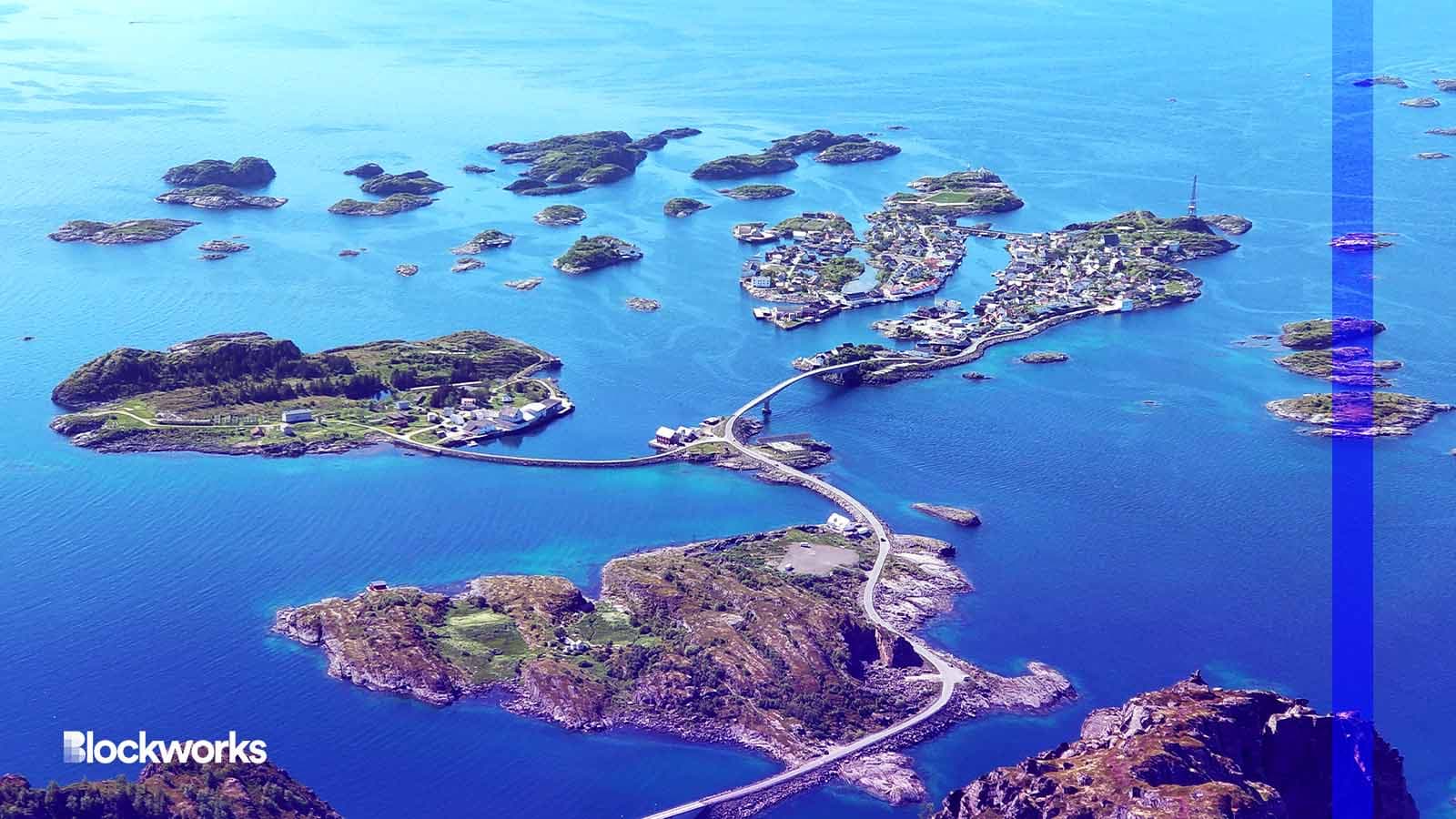 Benjamin Zocholl/Shutterstock modified by Blockworks
Rollups, appchains and side-chains are springing up everywhere lately. Many applications will likely operate on their own dedicated blockchain scaling solutions, says Jim Chang.
With the plethora of "rollup / modular chain / whatever name you want to call it" layer-2 solutions popping into existence, Chang suggests it wouldn't be ludicrous to say that, eventually, millions of chains will populate the blockchain environment, serving a vast range of applications.
The Catalyst co-founder aims to tackle a growing problem — what to do with all these isolated chains once they go live. A lot of projects, Chang says, are thinking about "how to actually create a new chain or a new rollup," but not "what happens afterwards," he says.
Speaking to Blockworks on the 0xResearch podcast (Spotify/Apple), Chang says he sees new rollups as new little islands forming in the ocean. "Maybe you have your own native currency for this island but if you don't really have a very strong internal economy," he says, "you need to be able to connect to other islands or other countries that people want to connect to, like Ethereum, like the Cosmos ecosystem, like Solana."
"Right now, that's not possible, really."
When new chains are launched, he says the first thing people ask is "How do I bridge there?" The glaring problem, Chang says, is that builders are trading off the advantages of multi-chain composability when they make their own application-specific execution environments.
With Catalyst, Chang believes people do not need to make the trade-off any more, instead using permissionless cross-chain pool creations. "When a brand new island springs up — just pops out in the middle of the Pacific Ocean — it actually already comes with a bridge," he says.
The three layers of Catalyst
Catalyst facilitates an "inter-island economy," Chang explains. Operating without any sort of base blockchain of its own, Catalyst consists of a series of contract deployments on various chains.
"One of the fundamental values of the Catalyst protocol," Chang says, "is having these execution environments leverage their own native assets in order to actually facilitate these cross-chain or cross-world economies."
The Catalyst tech stack consists of three layers, Chang explains. The most basic layer consists of smart contracts that perform the task of storing assets in vaults. The second piece is a "coordinating layer," he says, acting as a math library that calculates and coordinates liquidity transfers between vaults on different chains. 
"The last piece is our messaging router," Chang continues, which acts as an aggregator of any possible cross-chain communication and state-verification mechanisms.
According to Chang, Catalyst deployments operate in a vacuum, unaware of activities on other blockchains. They obtain information via the messaging router, which enables them to execute logic or carry out state transition functions.
"Every Catalyst smart contract just minds its own business, but once it receives a message from the messaging router from another Catalyst deployment, it's then able to do things," he says.
"And it's really the coordinator's role to make sure that what's actually being done after receiving the message is accurate."
Chang says Catalyst's value proposition is its ability to provide connectivity "to literally any other Catalyst deployment on any other chain."
"At the end of the day," he says, "we still work with individuals / consumers. We have a [user interface] that people can interact with in order to perform cross-chain swaps and liquidity transfers to whatever domain they want."
"A cross-chain economy makes the most sense."
---
Don't miss the next big story – join our free daily newsletter.